African American Queen of the Road

Bessie Stringfield: Stories of Emotional Connection (Part 3)
The original stories of Bessie Stringfield, African American motorcycling pioneer, were written in the 1990s by Ann Ferrar, a journalist, former biker and protege of Bessie. The author's narratives shed light on Bessie's hidden life, talents and achievements in America's pre-Civil Rights era. Here in PART 3, Ferrar explores the bridge between her stories of Bessie Stringfield and the emotional reactions of her 21st-century fans. Ferrar's upcoming book is "African American Queen of the Road," the definitive biography of Bessie Stringfield.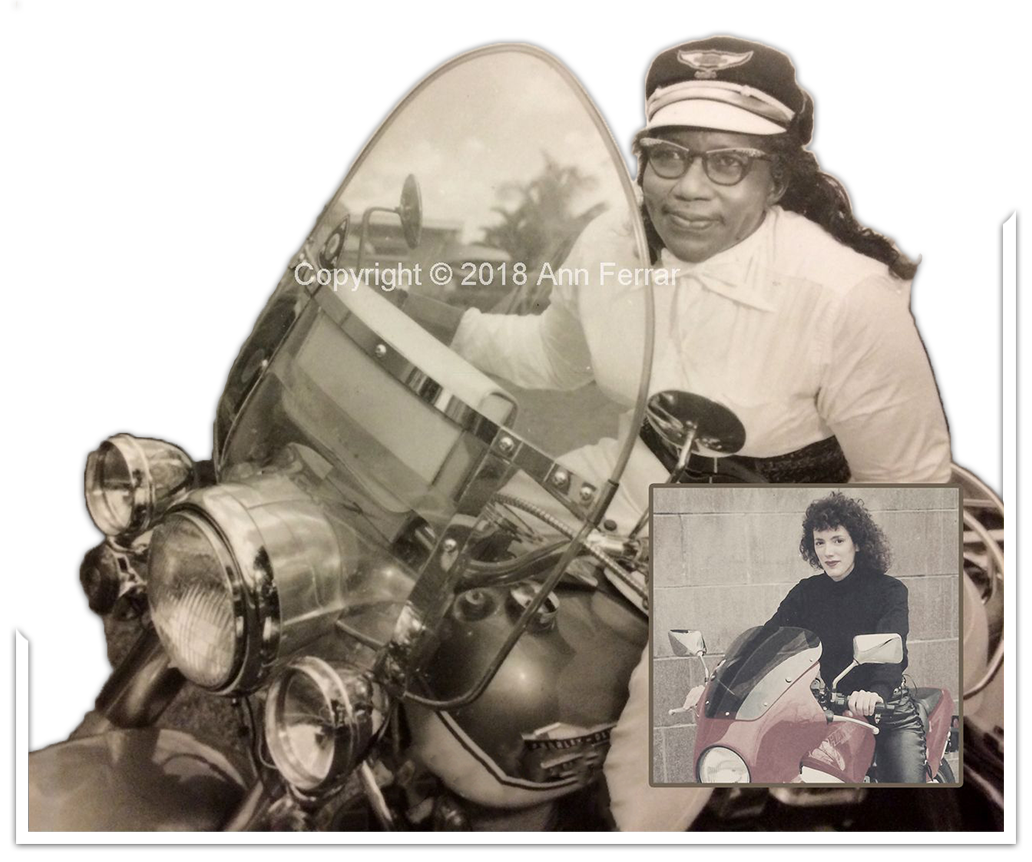 © Copyright 1990-2020, Ann Ferrar. Ann Ferrar reserves all rights to this content and her earlier stories of Bessie Stringfield, upon which this content is based. Strictly prohibited are adaptations and other derivative projects in any media. Full copyright notice with Library of Congress Registration Numbers are posted in link on menu bar. Please respect the author and the wishes of Bessie Stringfield by adhering to copyright law.
Bessie Stringfield: A Legacy Pact Between Friends
The Bridge Between My Stories and Kudos for Bessie Today
By Ann Ferrar

In my view, Bessie Stringfield's strength, resilience, love and faith-based courage in the face of bigotry and sexism are what made her so extraordinary. So, that is how I wrote and presented my late friend to the world in my original, primary-sourced stories of this African American motorcycling pioneer. Bessie was born in 1911 and died in 1993. In my earliest stories I called her a one-woman civil rights movement.
While Bessie Stringfield was not a marcher, in my narratives I described how she had chosen an unusual way to assert her freedom—that which can only be felt in the wind on a motorcycle. Bessie, always a tomboy, began riding motorcycles while still a teenager and got hooked right away. Serious bikers around the globe, female and male, know the visceral feeling of punching a hole through the wind and becoming one with the environment as it rolls by.
In Parts 1 and 2 of this website, I took a retrospective look at my original, primary-sourced stories of Bessie Stringfield's adventures between the late 1920s through the 1940s. Here in Part 3, I look back at my stories where I wrote of how Bessie forged her own version of freedom and independence in post-World War II Miami. In my narratives, I described some of her escapades aboard Harleys as bold and audacious. My first nickname for her, American Road Queen, fit Bessie perfectly. She founded and led a group of mostly black male riders in her Iron Horse Motorcycle Club. The group created many memories, though suffice it to say that not all of her neighbors were "fans."
The Miami Police Department had a certain view of Bessie, at least in the beginning. In my narratives I described how Bessie dealt with hassles from the police. With skillful moves, she demonstrated to a precinct captain that she had more than enough talent to handle her big bike in traffic. In that era, Bessie also became licensed as a practical nurse or LPN.
At one point some 60 or 70 years ago, a few local onlookers nicknamed her "motorcycle queen of Miami" and "motorcycle lady" even though people knew very little about the real woman behind these nicknames. A few years ago on social media, the pop-culture label "rebel icon" appeared in a short video and it caught on, even though Bessie's millions of new fans know very little about her today. Basically, they know only the highlights that I released in my stories with my perspectives on the meaning of her achievements in Jim Crow America. But what I have released thus far is only the tip of the proverbial iceberg of Bessie Stringfield's life.
I can tell you that Bessie Stringfield, while friendly to those in her circle, was essentially a mystery. On her bikes she was an aloof, fleeting figure cruising past the eyes of onlookers. Bessie kept her cards close to her chest. She was a private citizen, by no means a public figure. Bessie told me, "I didn't want nobody [sic] knowing my business, except for the Man Upstairs." And thus no one—not her Iron Horse buddies and not even her husbands—really knew what made her tick. They did not know much about her beyond the version of Bessie standing in front of them during different phases of her life. That's how she wanted it. I spent time with some of Bessie's closest contemporaries, including her last husband, who confirmed her secretive and independent nature.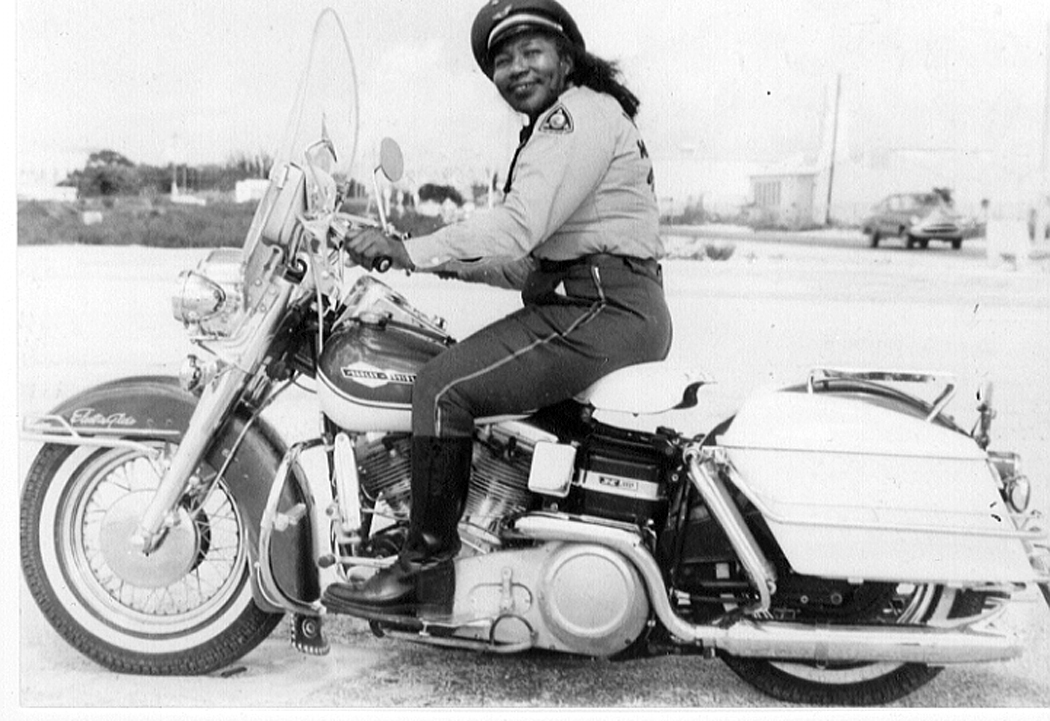 Bessie Stringfield, the local "motorcycle lady," had a way of being warm yet mysterious at the same time. That is why I was privileged when Bessie let me behind the curtain and shared her memories, which would surely have been lost upon her passing. To prevent that loss, I recorded Bessie on audio tape with her permission and encouragement while there was still time. Since then, I have kept and preserved the only sound recordings of Bessie Stringfield in existence. My tapes, along with other proprietary interviews and background materials, are the foundation of my original stories, which account for almost all that is known about Bessie today.
As a senior, Bessie was still riding Harleys for as long as she was physically able. She told me, "I told the doctor that if I don't ride, I won't live long. And so I never did quit."  But for the last decade of her life, Bessie gradually retreated as her social circle dwindled. And in reality, her chronic heart condition worsened and she was forced to retreat from the road as well. In 1993, at the age of 82, Bessie passed into what she believed would be her greatest glory, to be received by the Man Upstairs. In one of our last recorded conversations, Bessie told me, "They say my heart is three times the size it's supposed to be." I have always felt this is an apt metaphor for an unconventional woman whose heart and spirited determination have touched so many lives.
For me, as the author-originator, interpreter and steward of the Bessie Stringfield story, it has been fascinating to watch the gradual building of the bridge between my narrative stories of Bessie and how she is perceived and admired by fans around the world today. Quietly I have watched how Bessie has risen in stature from hidden figure to posthumous global legend. Her legacy far transcends motorcycling. Today, Bessie Stringfield is regarded as a culturally significant figure to a new generation that recognizes her bravery as a woman of color and her defiance of traditional gender roles. It's what every legitimate author wants: to know that her stories on a worthy subject have made a lasting impact.
African American women bikers have emailed me to say they feel an emotional connection to Bessie Stringfield. Black women and their male peers hold Bessie up as a role model of cultural pride and legacy; they are proud of her for being unapologetically black. I have received hundreds of emails, Facebook messages and comments posted online from people of all races, including many who have never been on a motorcycle. I have heard from readers from across the USA, Canada, South America and Europe, and all the way from Australia, New Zealand and India. I have been asked to speak about Bessie via interviews for media ranging from The New York Times and Harley-Davidson's century-old Enthusiast magazine, to the German news magazine Der Spiegel, to Vice.com for the LGBTQ community. Admiration for Bessie Stringfield could not possibly be more simultaneously diverse and universal!
From the emails and messages I receive, it is clear that one doesn't have to be a biker, or a person of color, or a woman, to be inspired by Bessie Stringfield. I have been asked by fans to "please hurry up" and finish the biography, which contains my previously unpublished stories and explorations into hidden corners of Bessie's life, known only to her and me. This material does not exist anywhere else.  In response to these readers and the avid worldwide interest in Bessie, I am returning to my private audio tapes, journals, research findings and other proprietary materials in my allegorical memory box. I am weaving all of those elements into the long-form biography African American Queen of the Road: Bessie Stringfield—A Journey Through Race, Faith, Resilience and the Road.
_________
"Quietly I watched as Bessie Stringfield rose from
hidden figure to posthumous global legend. Her legacy
far transcends motorcycling."
—Ann Ferrar
_________
On another level, the worldwide popularity of the inseparable conjoined twins—Bessie and my stories on Bessie—has given her an unexpected and sometimes runaway afterlife in cyberspace. Neither Bessie nor I could have predicted this when we made our personal legacy pact 30 years ago. Back then, not all communities across the USA (and indeed, across the world) were even wired for the internet. The launch of social media was still years off in the future.
Fast-forward to today's digital age. Along with the well-deserved recognition and kudos for Bessie, my stories about her were shredded and fed into the voracious internet content-mill. As a result, I became anonymous and my subject, Bessie Stringfield, was tossed into the generic category of "public figure." The label of public figure has no validity for Bessie Stringfield. The term was manufactured from robotic counting of 20 million views of a three-minute video about Bessie, which went viral in 2017.
The video, a simple montage of still shots, was posted on Facebook (and later on YouTube) by an independent company called Timeline, with whom I have no affiliation. The quotes and captions on Bessie were sourced entirely from Hear Me Roar  but the first, viral version neglected to mention this. Practically overnight, Bessie—or rather, a symbolic, highly condensed version of her—became posthumously famous among 20 million people who had never heard of her before, and who were unaware of the origin of her story. Only in the internet age could this happen.
Bessie Stringfield, the flesh-and-blood woman and my late friend, rightly deserves every bit of kudos that she has received for her achievements against the odds. Yet internet fame on a superficial level is different. Sometimes it can affect the integrity of Bessie's memory. There have been several different instances of this; here, I will share just one because it is so absurd. Last year, a major hotel chain / credit card partnership approached me, asking if they could use Bessie to promote their brands. In saying an emphatic NO, I pointed out the irony of their request: that in her heyday, Bessie would have been turned away from their hotels and denied credit from their bank.
As you can see, I take my role as the author-originator and steward of the Bessie Stringfield story quite seriously. I owe it to Bessie, to myself as the biographer whom she chose to write her life, and to her African American and other peers, who generously shared their own perspectives with me. They educated me in a very personal way. In preserving Bessie's memory, I am blessed to have known her and those good people, who were so warm and supportive of my mission. When the book comes out, there will be a lot of people to thank, including those who were closest to Bessie but whom are no longer living.
When I met Bessie Stringfield in 1990, she was 79 and in declining health, having cut off all family and marital ties decades earlier. Bessie knew she had a legacy to leave, but there was no one in her small circle to preserve it, nor any historians who had ever found her, nor anyone else who saw the significance of why the world needed to know about Bessie Stringfield. That's when I walked into her life as a witness with my respect for her elder status and her achievements, and my passion for keeping Bessie's story alive in the best way that I knew how: through my creative writing. When Bessie gave me the gift of her life story, we formed a personal legacy pact. We became a duet on a worthy mission that was as fulfilling for me as it was for her. Bessie and I had an inter-generational human connection whereby we used our respective gifts to bring her hidden story to life on the page and later on the web.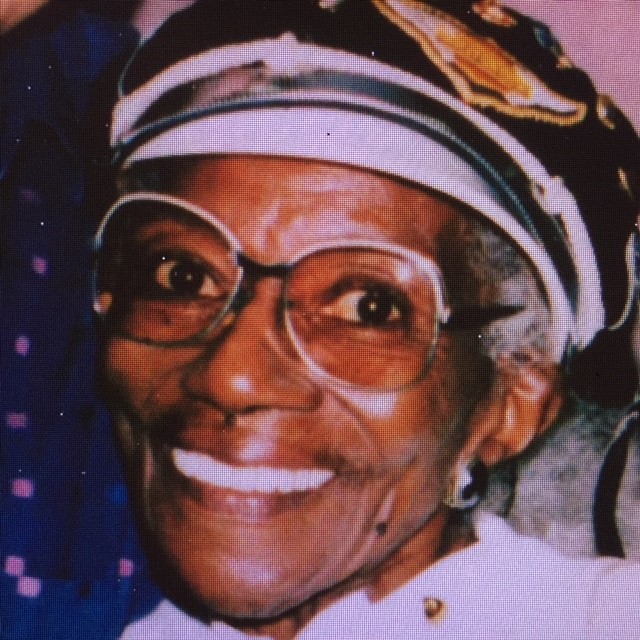 My position as the only knowledgeable source for the complete spectrum of Bessie's life—including that which is celebrated, that which is still unpublished, and even that which is controversial—comes with additional responsibilities. My first responsibility is to my surrogate Aunt Bessie Stringfield and that which she shared with me in confidence. For instance, she kept secrets about her past that she chose to escape from.
Bessie told everyone she'd been born in Kingston, Jamaica, that she was brought to New England by her biological father, abandoned there, and then adopted by whites. Yet Bessie was born in the southeastern region of the United States to mixed-race parents and it was she who left. However, when Bessie gave me the gift of her life story, she asked me not to write about certain sensitive things until well after her death. I have respected Bessie's wishes, both as a friend who made her a promise, and as the biographer whom Bessie chose and trusted to keep it.
I held fast to that promise in 2018 when a major international newspaper wanted to feature Bessie in a new series of obituaries, meant to pay belated respects to notable yet overlooked women of color. The newspaper discovered my unprecedented work on Bessie Stringfield in Hear Me Roar by searching their archives and pulling up an article by one of their reporters. (See Stevenson, Jed: "Hear Me Roar: A Woman's Symphony on the Road," New York Times, July 28, 1996.) 
For the 2018 obituary series, the newspaper asked me to reminisce about Bessie and I did. However—even when pressed—I would not discuss the sensitive matters Bessie had confided to me. I explained that the gray areas of Bessie's early life need to be handled with the nuance and context that only my long-form biography will allow. Surprisingly, the resulting obituary left no room on the canvas for the unfinished parts of Bessie's portrait to which I had alluded. Rather, the obituary simply dubbed the gray areas "untruths." This was parroted by web encyclopedias. For now, I'll only say this: Everyone will just have to wait for the book.
© Copyright-protected material
© Copyright-protected material
If Bessie Stringfield was ahead of her time when she lived, then clearly her time is now. In this 21st-century age of renewed female empowerment, and celebration and long-overdue recognition of black lives, Bessie has come out of the shadows in this generation's quest to find inspiring figures from the past. Childhood-educators and museums have contacted me about her. On a personal note, Bessie Stringfield was perhaps the most unexpected role model who ever came into my life, the first woman outside of my blood relations whom I came to call Aunt. She inspired me to be resilient on the road and in womanhood and to push through obstacles with advice that was not within the grasp or the experience of my mother and the other traditional older women in my family. So on these levels, Bessie looked upon me as her surrogate niece and protege. Even today, when faced with certain challenges, I still ask myself, What would Aunt Bessie have told me to do? 
By osmosis, from listening to Bessie and reading between the lines of her speech, my mind became keen to view America from more of a multi-layered perspective. Hearing intimately from Bessie the events that she and her peers had lived through served to heighten my awareness of all that lies beneath mainstream (white) history. Yet I had to fill in quite a lot of gaps on my own, since Bessie's manner of speaking was never linear. Her memories were fragmented and incomplete at any given time. Often she answered my questions in medias res or not at all. Bessie was perfectly capable of clamming up if she didn't want to talk about something or if her recall was sketchy on a particular subject. I never pressed her; that's not what friends do. It took a long time to gently draw out Bessie's memories and later to sift through the fragments and make sense of them piece by piece.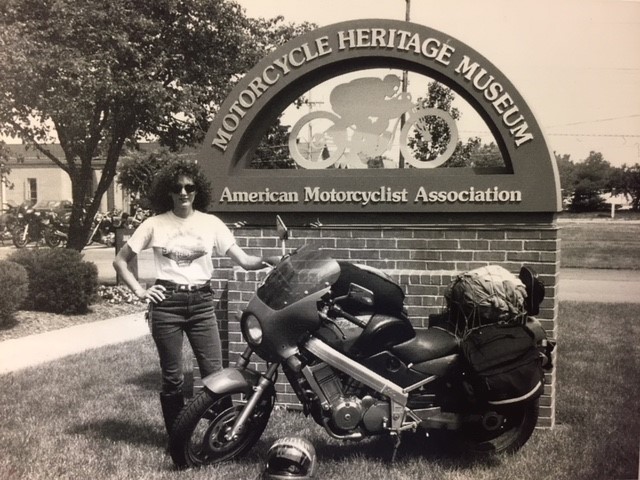 Bessie is still inspiring me to assert my own voice, as I have done here on this website, both as the bonafide author-originator of the Bessie Stringfield story and as a reflective, mature woman who learned a lot from Bessie and her peers who lived through the pre-Civil Rights era. There are absolutely no latter-day, cyber-substitutes for the in-person, human connection between Bessie Stringfield and me in the final years of her life. Our friendship and our joint effort, based on mutual trust and respect, led to the authentic stories that I have written about this great, yet overlooked, woman through the years. In my upcoming biography African American Queen of the Road: Bessie Stringfield—A Journey Through Race, Faith, Resilience and the Road, I am delving into the still-unpublished stories that I have in my proprietary tapes, transcripts and files, while exploring other untold corners of Bessie's life.
I just wish Bessie were here to see that her legacy lives on in me and in countless other people in the 21st century, including African American female bikers who are riding motorcycles in greater numbers than ever before. As a sisterhood, they have taken up the torch and declare, "We stand on her shoulders." As for me, I was blessed to be an actual part of Bessie's later life—to be a genuine part of her story—and to share our friendship in her twilight years. Socially and culturally significant figures sometimes take their place in history only after enough time has passed to enable appreciation and recognition. That is the case with Bessie Stringfield.
My early narratives about Bessie's hidden life and achievements were ahead of the curve when I wrote them in the 1990s. Bessie Stringfield left her mark on humanity for her bravery, determination and grace in the face of prejudice based on race and gender. I was the writer and respectful friend who noticed—and who worked diligently with the elderly woman to capture her memories before it was too late. I was the recordist and an avid witness to a slice of living history in my surrogate Aunt Bessie Stringfield. Bessie has a legacy for her courage and achievements against society's odds. I did not let her slip into obscurity. That is my legacy. — Ann Ferrar
© Copyright 1990-2020, Ann Ferrar. Ann Ferrar reserves all rights to this content and her earlier stories of Bessie Stringfield, upon which this content is based. Strictly prohibited are adaptations and other derivative projects in any media. Full copyright notice with Library of Congress Registration Numbers are posted in link on menu bar. Please respect the author and the wishes of Bessie Stringfield by adhering to copyright law.
Like & share our Facebook page to help more people find these authentic stories of Bessie.