An Introduction to the Coming Biography
African American
Queen of the Road
The Untold Story of Bessie Stringfield
A Memoir of Race, Resilience and the Road
By Ann Ferrar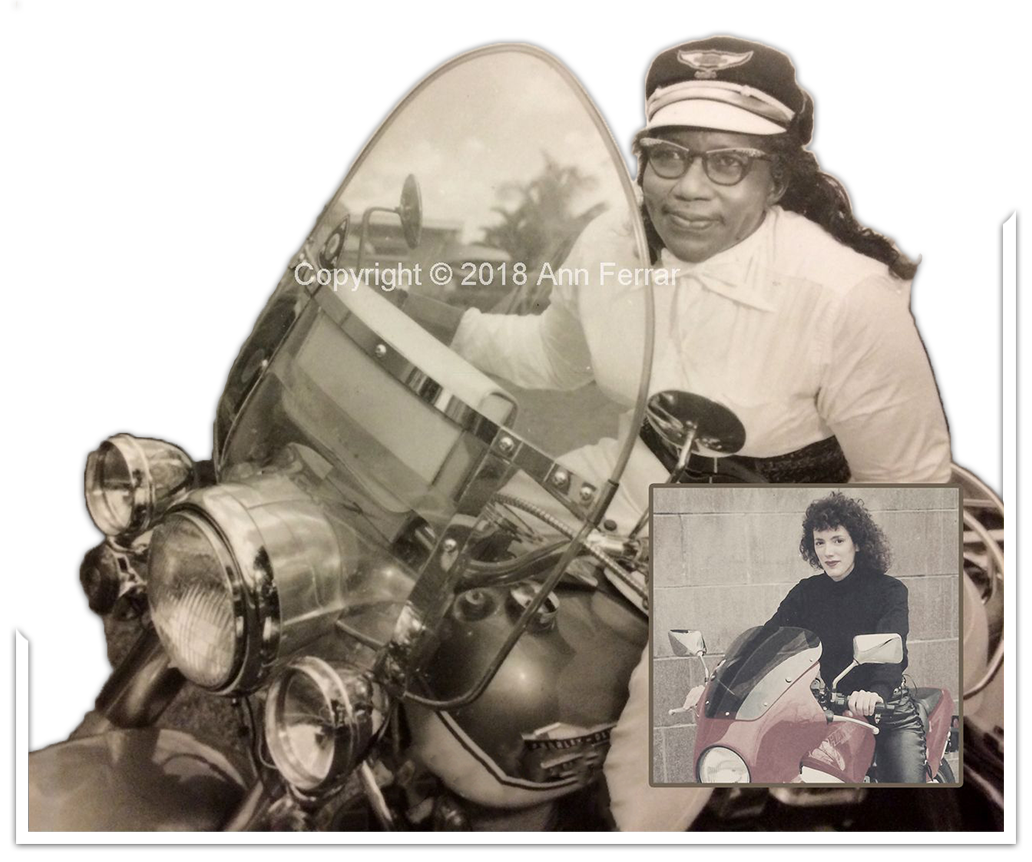 All content (text and visuals) Copyright © 1990 - 2019, Ann Ferrar. Bessie Stringfield gave express written consent to her life rights to Ann Ferrar in 1990. Ferrar reserves all rights to the story of Bessie Stringfield as expressed. Ferrar is the author-originator, primary source and sole rights-holder of this material from African American Queen of the Road: The Untold Story of Bessie Stringfield, A Memoir of Race, Resilience and the Road. This material is based, and expands upon: Ferrar's earlier copyrighted stories published in print and online; the exclusive oral history of Bessie Stringfield recorded by the author containing anecdotes, dialogue and quotes as told by Ms. Stringfield to Ms. Ferrar; exclusive interview transcripts; and other primary materials researched and acquired by the author. Ferrar is the author-originator and sole rights-holder of all defining story elements, including, but not limited to: story-lines (plots), chronicles and perspectives on Ms. Stringfield, her achievements and life events. All of Ferrar's stories and story elements on Bessie Stringfield, past and present, are proprietary to this author; therefore, derivative works in any form by other parties are strictly prohibited. Ferrar's works on Bessie Stringfield must not be pirated, plagiarized, imitated, nor adapted to other media; the author's works must not be aggregated and disseminated by other parties without prior written consent from, and clear citation of, the author. Ferrar's works and photographs must not be duplicated, scanned, stored, or otherwise exploited. As Ferrar's works and properties on Bessie Stringfield are proprietary, they are protected from theft under multiple, current Library of Congress Registration Numbers listed at bottom. Please respect the author and the wishes of Bessie Stringfield, and comply with U.S. and International Copyright laws.
Writing an Untold Life: Race, Gender and Resilience
In the Authorized Biography of Bessie Stringfield
© By Ann Ferrar

Bessie Stringfield (1911-1993) was a daring woman of color who rose above racial and gender barriers in the pre-Civil Rights era of the United States. Bessie navigated restrictions in a most unusual way—as a long-distance motorcycle rider when it was rare for any woman, and unprecedented for an African American woman. Bessie toured the USA eight times on her vintage Harley-Davidsons and was a World War II courier. Relying on her courage, resilience and faith, she rode alone on primitive roads despite the risks to lone female travelers. She faced the obstacles and dangers imposed on African Americans in the era of segregation. Yet despite her overcoming social and civil barriers, Bessie Stringfield was undiscovered, unknown even to African American and women's historians. But she was not unknown to me. I had the good fortune to call Bessie Stringfield my friend, mentor and muse in the last three years of her life. She asked me to preserve her story, and by extension her legacy, in my writings. Thus, back in 1990, Bessie gave me the gift of her life story.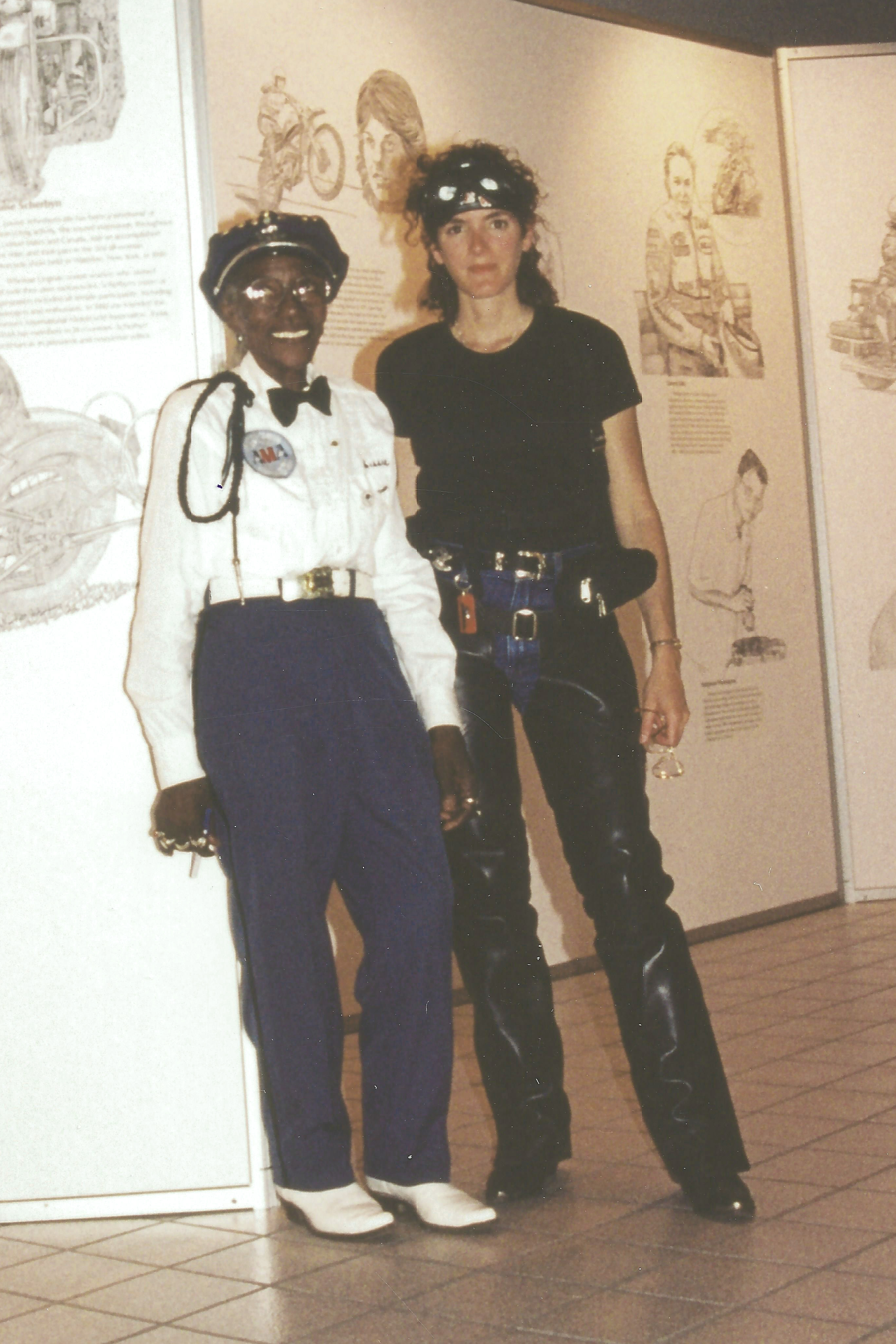 With Bessie's blessing, encouragement and permission, I became the only author to record Bessie's oral history on tape, capturing the voice and the stories of Bessie Stringfield as told by the woman herself. No recordings or literature on the life of Bessie Stringfield could be found elsewhere. When Bessie gave me the gift of her life story—known more tangibly these days as her life rights—I began to write of her achievements and challenges over six decades on 27 Harleys and one Indian Scout motorcycle. That is why most of what is known and repeated about Bessie Stringfield today can be traced directly back to the seminal stories written by a single author (this one). And that is why, despite appearances on the web, Bessie Stringfield is not a public figure. There is much more to Bessie's life that I have never released anywhere.
My work as the only biographer of Bessie Stringfield began as a personal legacy project for a deserving hidden figure, though Bessie did not live to see herself in any of my stories. The first one I wrote was her eulogy in 1993, published as an article in American Iron, an international magazine for devotees of American-made motorcycles. My next story, Bessie B. Stringfield: The Color Blue, had an even broader global reach. It was featured in Hear Me Roar: Women, Motorcycles and the Rapture of the Road. This was my debut book of narrative non-fiction, published in 1996 by Crown, an imprint of Random House. A quarter-century later, Bessie/Color Blue formed the basis for a video that went viral on social media, earning 20 million views.
In my original writings, I described events, actions and choices Bessie made to overcome racial and gender barriers in her day. My stories on Bessie portrayed how over 60 years, she rode at least a million miles in all kinds of conditions. By today's standards, Bessie's bikes were primitive and unreliable. Some circumstances she found herself in were treacherous because of rutted, muddy roads. Other circumstances were treacherous because of racial prejudice in the early and mid-20th century South, where "Jim Crow" and "the Klan" were pervasive in the lexicon and in Southern life.
Photos are from the collection of Ann Ferrar and must not be reproduced.
Now, readers of my original stories have sought me out. They have asked me to reveal more of the woman behind the limited information on the Internet. In response, this website was created to introduce African American Queen of the Road—The Untold Story of Bessie Stringfield, A Memoir of Race, Resilience and the Road. This is my book-in-progress; it is Bessie's exclusive authorized biography. (Please note that the book is not an endeavor in self-publishing; the fine publishing house will be announced later.)
I want to make it clear that not all of Bessie's road trips involved struggle against racism. Bessie was drawn to the open road for the feeling of freedom and a wanderlust for seeing the country, but not just the vistas. She wanted to meet the melting pot of America and was rewarded with many life-affirming encounters with whites and other ethnic groups. In the colloquial language of her era, Bessie assured me, "All along the way, wherever I rode, the people was [sic] overwhelmed to see a Negro woman ridin' a motorcycle."
Many well-wishers even in the South were impressed with her "nerve," as she put it. During the difficult or dangerous times, Bessie drew upon her faith in her deity and constant companion, whom she referred to as the Man Upstairs. I could tell she had a wellspring of courage and an ability to form empathetic bonds with people who did not look like her. There were times when Bessie received help from white people who protected her from the bigotry of less evolved whites in the Jim Crow South.
When situations warranted it, she called upon her faith in her deity and on mankind's better angels to survive through the rough times. Yet today, for reasons best left to academic professors, Bessie's experience with diversity is absent from articles that recycle my primary work all over the Internet, and it is absent from rhetoric and written materials dispensed by some groups who celebrate Bessie in the name of legacy. But which legacy is being celebrated? Bessie Stringfield's, which was complex and rounded, or theirs, which is selective and limited? In my original prose portraits of Bessie, I drew upon all that went into her personhood, that which showed her "nerve" but also her vulnerability, humanity, and appreciation of diversity, as well as her ability to move past society's restrictions based on race and gender. That is how I saw and heard Bessie Stringfield first-hand, and thus how I wrote her life and her multi-faceted truth first-hand.
Bessie told me that in the 1950s and '60s, she had a couple of monikers among locals in her home base of Miami, Florida. Depending on who was talking, she was the Negro Motorcycle Queen and later the Motorcycle Queen of Miami. Unabashedly, she rode her Harleys around town. Sometimes Bessie had a group of black male riders in her wake; they were members of the former Iron Horse Motorcycle Club, which she founded and led in the 1960s. She even did trick riding at shows and carnivals, vignettes of which I wove into my original stories.
In my eyes, Bessie Stringfield had an aura even as an elderly woman. From the moment I met her, I saw that beneath her age and physical frailty, her spirit and strength still resided in the present moment. That's why meeting Bessie was like an unexpected jolt of electricity, as when you touch something dormant that you didn't realize was statically charged. Our first encounter had taken place when she was 79, with a lifetime of wisdom and experience contained in her memories and tiny frame. I was 35, in the prime of my own womanhood and writing career. I knew almost instantly that this amazing yet understated woman would became a heroine in my writings and a role model for me personally. Bessie became like my surrogate aunt.
It has been fascinating to watch how, from the seeds of my primary, published narratives on Bessie, over time she rose in stature from hidden figure to posthumous global legend in the age of the Internet and social media. Today, Bessie Stringfield is regarded as a culturally significant figure to a new generation that recognizes her bravery as a woman of color and her defiance of traditional gender roles. She stands out in their quest to find inspiring hidden figures from the past. Educators and museum directors have started to notice.
Yet as with other larger-than-life figures, Bessie Stringfield as an actual person remains enigmatic. That is because despite superficial appearances today, Bessie Stringfield is not, and never was, a public figure. Rather, she is the object of avid public curiosity even to the point of fascination. In 2018, a frustrated fan of Bessie's wrote to tell me I'm equally responsible for what is not known about the late woman. To a degree, part of that is on Bessie and part is on me. Bessie asked me not to to write about certain things until well after her death. Respectfully, I have kept parts of the story at the bottom of an allegorical memory box for a quarter-century. The details behind the events, anecdotes, vignettes and direct quotes from Bessie that I have  written into my published works still reside in my private tapes of Bessie, my notepads and journals of the period between 1990 and 1993, and in a few other hidden places.
Now, readers of my original stories have sought me out. They have asked me to reveal more of the woman behind the limited information on the Internet. In response, this website was created to introduce African American Queen of the Road—The Untold Story of Bessie Stringfield, A Memoir of Race, Resilience and the Road. This is my book-in-progress; it is Bessie's exclusive authorized biography.
By combining two literary forms, biography and memoir, I am delving deeper into Bessie's life. The biography/memoir is borne of my personal relationship with Bessie and my primary research and documentation of Bessie's life, which are proprietary to this author. I also interviewed and spent time with some of Bessie's closest contemporaries from the past, including those who are no longer among us. In documenting the memories of Bessie and those peers while they were still able to share, and in exploring other hidden areas known only to Bessie and me at this point, I am writing a book that cannot be written, imitated or adapted by anyone else in print or in any other media. (And any such attempts to draw upon my past and present works on Bessie Stringfield are prohibited by copyright law.)
© Copyrighted Material; All rights reserved by the author.
Bessie chose to exercise her freedom on motorcycles, but clearly, her legacy transcends the sport. Readers write to tell me they are are in awe of Bessie's daring. On social media, the late woman has a global fan base. Her admirers post comments like, "Wow, Bessie was a badass woman!" I get it. Bessie was strong and the word reflects today's movement for women's empowerment. African American women have written to tell me me they feel an emotional connection to Bessie. They view her as a symbol of freedom and a role model for being unapologetically black. "Rise and ride" has become a mantra among a new generation of black women bikers who see themselves as torch-bearers of Bessie's legacy. She has inspired them to embark on their own long-distance road trips. Some of these women even view Bessie as an avatar of who they aspire to be. On social media I've seen the declaration, "We stand on her shoulders."
Yet Bessie died in 1993, before the vast majority of her 21st-century admirers had ever heard of her, and before many of her millennial fans were even born. So today, I find myself in the unexpected position of keeper of the keys. I met Bessie in 1990, about three years before her passing. I, too, was a biker back then. The day of our first encounter was the start of a conversation between us that lasted almost until her death. As I peered into Bessie's past, I became more and more impressed with her risk-taking and explored this in my stories. In my view, with her wanderlust Bessie had strayed far from her station in life, taking risks in defiance of disapproving relatives in the Southern USA, where she was from. I wrote of how Bessie skirted limits placed on race and gender to lead an unconventional life. But I found it almost equally impressive that she slid seamlessly back into traditional "feminine" roles in order to get by.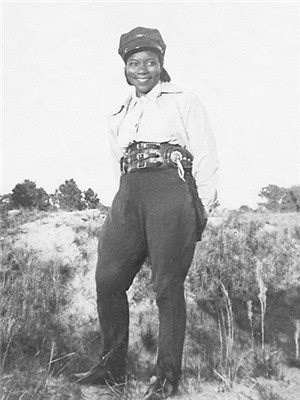 Photos are from the collection of Ann Ferrar and must not be reproduced.
From my close-up perspective as her biographer and friend, Bessie Stringfield was both a product of her era, yet simultaneously, she was ahead of her time. She was a solo act of contradictions who became a Roman Catholic, but married and divorced six times. I had never met anyone like her. I wrote of how she did tricks on her motorcycles and then stints as a housemaid. The younger Bessie had been bold and even audacious, and she had certainly withstood her share of racial prejudice. Yet she did not allow society's mistreatment of African Americans to define or limit her or the way she interacted with whites or other ethnic people. Throughout her life, Bessie Stringfield maintained a balance of grace and dignity along with strength and persistence. She kept her composure but she also kept secrets about conflicts in her past.
Over the last three years of her life, 1990 to early 1993, Bessie and I had many conversations that informed my perspectives and thus my writings about her. Likewise, our talks informed her perspectives of me. We talked about how we were each in our prime during our most adventurous, respective road trips. But our journeys and defiance of convention were half-a-century apart and we were each treated differently by society because of our skin colors. That is why awareness and sensitivity to race—specifically as Bessie lived it—have always been a foundation of my writings about Bessie Stringfield. Her story cannot be conveyed in a meaningful way without exploring how race and gender impacted her life.
Bessie and I took to the open road in two different periods of time. Yet for each of us, our motorcycles were a timeless expression of freedom and exhilaration. They were also an exercise in daring, sometimes for better, sometimes for worse. Choosing a motorcycle to feel alive, free, and to seek adventure comes with placing oneself in a vulnerable spot, especially for women riding alone. But if I was at risk for bodily injury or death on my bikes, or harm at the hands of other people, the risks to Bessie were much greater because of her skin color and the times in which she was traveling. I had so much respect for her persistence and bravery.
The setting for my first encounter with Bessie in 1990 could not have been more apropos. It was a niche motorcycle museum in the small suburb of Pickerington, Ohio, the heart of the country as it were. In a modest exhibit on female bikers, a hand-drawn portrait of Bessie was part of the display. I was there doing research for Hear Me Roar, my first book in which I explored this little-known facet of women's mobility and gender role-reversal. I wrote about Bessie and other women who had broken the gender barrier on motorcycles in various ways, including on the race track. My story about Bessie was called Bessie B. Stringfield: The Color Blue.
© Copyrighted Material; All rights reserved by the author.
On that first day at the museum, Bessie and I began exchanging stories as we stood in front of the hand-drawn portrait of Bessie in her youth. I had arrived by motorcycle with a club called Women in the Wind. I wore goggles pulled up over my head—much like the museum portrait of the younger Bessie. Except the biggest challenge I'd faced that day on the road was the wind whipping my wild hair into my mouth.
Very quickly I knew that the elderly woman with whom I was speaking had risen above obstacles that might have defeated a weaker person. I perceived that long before the Civil Rights and women's movements, Bessie had already bucked convention in a society where suppression of both women and blacks was the cultural "norm." But there was little "normal" about this elder despite her diminutive, unassuming appearance. The brief paragraph on the museum wall could never convey what Bessie's achievements meant in our larger society, nor could it reach a broad or permanent audience.
I became determined to write about Bessie Stringfield in more detail. My goal was to introduce Bessie to an array of readers around the USA and eventually the world—especially the majority who would not be inclined to search in Miami or the milieu of motorcycles for bold black women. In 1990, Bessie Stringfield gave me the gift of her life rights with permission for me to record and write her life. Thus, my work to preserve and convey Bessie's story began, first on the blank page and then online. With Bessie's blessing, friendship and cooperation, we started our legacy project woman-to-woman, as one. A quarter-century later, it is clear that we created something that became larger than ourselves, as Bessie's story spread to inspire so many in this generation, far beyond Miami and the motorcycling community.
When I met Bessie, she was 79, a female biker and a retired LPN (licensed practical nurse) who was not well versed in the art of written communication. After sixty years of gripping and manipulating the hand-controls of her Harleys, arthritis in her fingers made even letter-writing difficult. Bessie liked to talk. Her rotary phone was her friend. That's when I walked into her life as a writer and a fellow biker who identified with Bessie on that tomboy level. Bessie was comfortable entrusting her life story to me because we identified in key areas of gender, attitude and behavior that were unconventional in any era, regardless of race. Today we might call it chemistry.
Bessie knew that I, like her, had been a stubborn, rebellious daughter who dug in my heels against the pull of my family's ethnic and social traditions. Before the 1980's or even the early 1990's, arguably nearly any woman who threw a leg over a motorcycle and roared away from family was different by default. Female bikers were (still are) saddled with certain labels concocted by onlookers who don't know what it means for women to feel free and in control of their own motorcycles. Before the 1960's or even the 1970's, almost any black woman who rode a motorcycle might as well have been from Mars in the eyes of both white and black society.
I understood the labeling of female bikers and how it felt to ride my motorcycles as if in a fishbowl. In the early 1990's and into the 21st century, some people were so intrusive as to presume my sexuality, or even my level of lawfulness, simply because I rode a motorcycle. Bessie knew what this felt like, too. We had a common love of motorcycling and felt that we, as women, belonged at the controls as much any man. This initially brought us together. From there, we chose a worthy goal that enabled each of us to call upon our respective gifts. In the Southern tradition, Bessie could be a raconteur when she felt like it. Her stories were circular, not linear, so it took a while to arrive at the end of any story, and sometimes not at all. Bessie perhaps did not so much tell me her life story as she laid it out on a table for me, bit by bit like a giant puzzle, leaving me to piece it together. Thus, I wrote my observations and drew my conclusions in the way of a thoughtful writer navigating uncharted territory. There was no precedent for what I wrote about Bessie Stringfield because there was no precedent for her. She was truly that singular.
Was there even a precedent for our friendship? Here was an elderly, bold but prayerful Southern black woman who was born before women had the right to vote. Bessie had ridden her Harleys for the army during WWII and throughout the era of segregation. She shared her life story exclusively with me, a white New Yorker 44 years her junior, raised in a sheltered family in a homogenous neighborhood. I was a teenager during Woodstock and a college student during the women's movement and Vietnam protests of the early 1970's. Perhaps opposites do attract. Bessie told me about her unusual life, and with my writings, I brought Bessie's story to life on the page and online when she was gone. Writing Bessie's life and being there for my elderly mother are perhaps my life's two greatest achievements. Except I'm still not done on either count.
I was intrigued that Bessie's racial heritage actually was mixed and took hold in the Southern USA, with strong influences of Black Baptist in humble beginnings in the Jim Crow era. But she later became a Roman Catholic and abandoned her past. My ancestral roots were in Southern Italy and equally humble. I am the granddaughter of Ellis Island immigrants, born into Catholicism in a post-World War II, working class Italian American family in Brooklyn, New York. What two women, and what two backgrounds, could be more ostensibly mismatched?
Still, we connected on mutual respect, curiosity and a shared love of the open road on two wheels. Bessie gave me the gift of her story because my ethnic tradition of respecting one's elders was so apparent. She recognized the old soul in me. My white skin and Brooklyn accent were irrelevant to the pact that we made and the personal legacy project on which it was founded. Had I not taped Bessie's oral history, nor written her life on the page and on the web, Bessie's legacy would surely have been forgotten in the sleepy Miami neighborhood where she had settled. She saw my passion and determination to prevent such a loss from happening.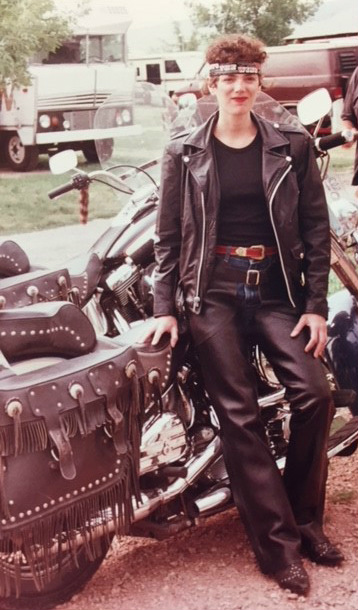 As noted earlier, the biography of Bessie Stringfield cannot be written by anyone else. Since I have never released the rest of her story anywhere, all the Google hits on Bessie —including those with higher search-engine results—merely lead to articles that go in circles. These recycled articles aggregate and disseminate material from my primary works, ranging from events, anecdotes and vignettes, to quotes from Bessie as told to me, yet somehow my name gets omitted. Quotes and anecdotes are inserted into these articles as if Bessie were speaking aloud to no one, or to some unnamed "reporter(s)." I've even seen my perspectives and conclusions about Bessie repeated by people who never met her, and by some who believe clicking around the Internet among these repetitive articles qualifies as research. But despite the web's sense of entitlement for quick, effortless information, my stories, story elements and other material on Bessie are NOT, and have never been, in the public domain. My stories on Bessie Stringfield and all the elements that have gone into my writings are proprietary to this author.
Hence the detailed ©Copyright  notices at the top and bottom of this site, which clarify what authors' intellectual and creative properties consist of. These notices apply to all my works in print and online. My stories obviously consist of far more than a mere list of facts about Bessie. This is why my stories are protected by multiple copyright registrations, and why these detailed notices are necessary due to Internet piracy and other forms of plagiarism. The upshot is this: The Internet cannot provide any more answers on Bessie Stringfield, especially not when it comes to the nuances of Bessie's life. That is why ethical, serious readers—from students and academics to museum directors and other professionals—have sought me out. Since I have never been engaged in self-promotion, seeking me out has meant scrolling down past the search-engine hits that contain the recycled aggregates.
© Copyrighted Material; All rights reserved by the author.
When Bessie and I made our personal legacy pact in 1990 and I began writing her life, neither of us could have predicted that Bessie's achievements would have such a resounding impact today. We did not foresee that in 2002, Bessie would be inducted into the American Motorcycle Hall of Fame. My stories on Bessie had informed the voters and the speech at her induction ceremony, and were posted on the Hall of Fame website for the world to read about her ever since. We did not imagine that in 2014, when a handful of black women bikers learned of the late Bessie Stringfield from my stories in print and online, they would assemble hundreds more women for annual long-distance rides in her name. We could not have known that in December 2016, my story on Bessie from Hear Me Roar  would be condensed anonymously into a short video that went viral on Facebook, earning an astonishing 20 million views.
Bessie and I could not have predicted that in 2018, The New York Times would search their own archives to find a 1996 article reporting on my work about Bessie in a piece titled Hear Me Roar: A Woman's Symphony on the Road. The paper then recognized Bessie with an obituary in May, 2018 in a series on notable yet overlooked women of color. And we could not have known that recently, educators would begin to introduce Bessie to children and young adults. A quarter-century after her death, all this and more has come to pass. I have received inquiries about Bessie from readers and professionals from across the USA and Canada to Europe (England, Spain, France, Germany) and Down Under (Australia, New Zealand).
For professionals and for Bessie's admirers, especially those who were unaware, until now, that I am the author-originator of the first stories on Bessie, I have added an Author's Afterword to this site. Titled "Writing Bessie's Life," this last piece is an essay in which I'll tell the backstory behind my writing of the authorized biography of Bessie Stringfield. I'll share some of my creative and intellectual process and the nuts-and-bolts of how Bessie's hidden story went from my analog tape recorder, pen, notepads, and my personal affection for Bessie, to 21st-century pixels in cyberspace—how she went from hidden figure to legend among millions who never knew her. Bessie's rise from obscurity to posthumous fame was made possible by the Internet and social media. Today, this affects Bessie's memory in ways peculiar to the 21st century. For me, Bessie's biographer—the person whom Bessie trusted to write her life as it was—this has presented some added and quite unexpected challenges.
Clearly, the personal legacy pact that Bessie and I made a quarter-century ago has far exceeded its goal. I wanted Bessie to be known by historians and devotees of black, women's and motorcycling history, as well as by general readers, academics and students inclined to explore those areas. The intense interest in Bessie Stringfield among a new generation shows the timeless power of her story to inspire. Bessie's experiences and achievements in a society stacked against her strike a particular chord among those who have experienced prejudice in their own lives and are especially relevant in today's social climate.
Yet even from the grave, contradictions follow Bessie Stringfield. As I mentioned earlier, despite the posthumous recognition and mass admiration for Bessie, she is still not a public figure. Paradoxically, as a multi-dimensional person who lived and who died, Bessie Stringfield remains alluringly unknown, the object of keen public curiosity. What the public knows about Bessie Stringfield is akin to mere Sparknotes of her life. This is why, especially since the viral video, I have received a stream of emails from people who want to know more. Fans and professionals alike have expressed their admiration for, and fascination with, Bessie Stringfield.
As her friend, I am heartened to know that Bessie has such a huge popular fan base in the 21st century. But as an author-originator, I did not foresee that some fans—and the voracious web culture at large—would run with my stories on Bessie to the point of running away with them in different directions. So, in my Afterword "Writing Bessie's Life," I'll discuss how pass-along, uncredited aggregates of my work and 20 million video views have exposed Bessie to pop-culture spin and even to some distortion of what she represents. I will explore some conflicting ways in which race has impacted how the late Bessie Stringfield is viewed by some ardent fans on the Internet and social media. In the early 1990's, Bessie and I could not have anticipated any of this would occur a quarter-century after her death. 
Throughout the site, I have shared some background about me. Since I find myself in the position of keeper of the keys, Bessie's fans and new readers should know who I am and why she entrusted her life rights to me. I was part of Bessie's life in her final three years as her friend, the recordist who listened, and the journalist who saw the importance of preserving and writing her story beyond the radius of Miami. As her biographer, a researcher and narrative storyteller, I am the only primary source for the complete spectrum of the life of Bessie Stringfield—from her birth to death, for what is known and as-yet untold. On this website, however, I will not reveal the still-hidden material in my tapes of Bessie, my journals and other corners. That is the purpose of my forthcoming book, so I ask readers to be patient. For now, I invite you to turn the page for selected glimpses into Bessie's exclusive authorized biography, African American Queen of the Road—The Untold Story of Bessie Stringfield, A Memoir of Race, Resilience and the Road. — Ann Ferrar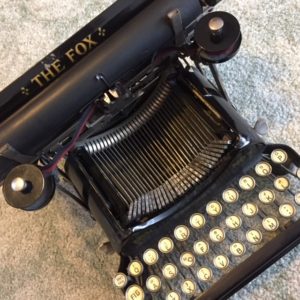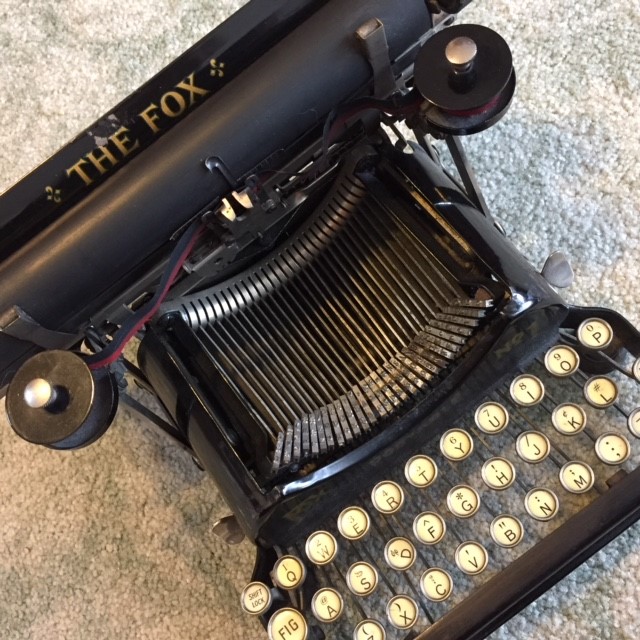 © Copyrighted Material; All rights reserved by the author.