African American Queen of the Road

The Original Stories of Bessie Stringfield
Narratives of Resilience and the Road by Ann Ferrar
The original stories of Bessie Stringfield, African American motorcycling pioneer, were written by journalist and former biker Ann Ferrar in the 1990s. The author's narratives shed light on Bessie's hidden life and achievements in the pre-Civil Rights era of the United States. They sparked the global fascination with Bessie that exists to this day. Here is a retrospective of those stories and a preview of the author's upcoming, long-form biography of Bessie.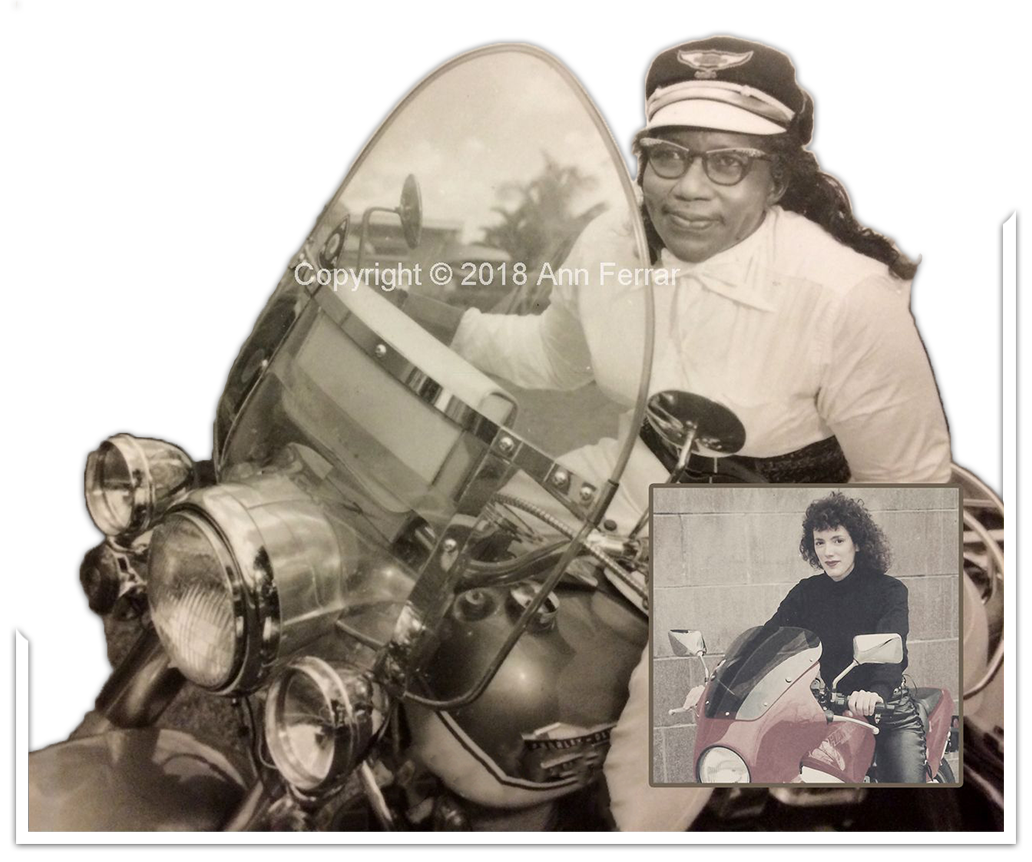 © Copyright-registered and protected material. Ann Ferrar reserves all rights to this content and to her earlier stories of Bessie Stringfield, upon which this content is based. The author's stories, seen here and elsewhere, are not in the public domain. Thus, strictly prohibited are derivative, adaptive and imitative works by other parties in any media, non-fiction or fiction. Detailed copyright notice with Library of Congress Registration Numbers are posted at end. Please respect the author and the wishes of her late friend Bessie Stringfield by adhering to restrictions.
The authentic stories of Bessie Stringfield (1911-1993) were borne of Ann Ferrar's exclusive sound recordings of Bessie, conducted and recorded by the author for her 1996 debut book, "Hear Me Roar: Women, Motorcycles and the Rapture of the Road." Taped during the women's friendship in the early 1990s, these are the only recordings of the late Bessie Stringfield in existence. Akin to lyrics and melodies in a song, Bessie's quotes and anecdotes in these private tapes are indelibly woven into Ferrar's published stories, past and present. These prose works bear the author's creative stamp and expression of thought on the life of Bessie Stringfield.
Here, read the backstory of the legacy pact between the two women that led to Ferrar's story "Bessie B. Stringfield: The Color Blue." First published in "Hear Me Roar" and again for the American Motorcycle Hall of Fame, this piece and others by Ferrar have inspired a new generation that recognizes Bessie's courage in quietly breaking through racial and gender barriers in the pre-Civil Rights era of segregation.
Ferrar's works are the only original, authentic, primary-sourced stories on the life of Bessie Stringfield. She was nicknamed "motorcycle queen of Miami" by some local onlookers at one point, but Bessie was a very private woman, an obscure figure until the two women met and Ferrar began documenting and writing Stringfield's life with Bessie's permission.
Ann Ferrar's next book, "African American Queen of the Road: Bessie Stringfield—A Journey Through Race, Faith, Resilience and the Road," is upcoming. A long-form biography, it includes as-yet untold parts of Bessie's life known only to Bessie and Ann. Also upcoming is the 25th Anniversary Global Edition of "Hear Me Roar." Release dates for both books are TBA.

A Woman on the Road Surmounts Challenges of Race and Gender
My Original Stories on the Hidden Life of Bessie Stringfield
By Ann Ferrar

I met and befriended Bessie B. Stringfield in 1990, three years before the end of her long life. At age 79, Bessie was thin as a wisp and tiny at less than five feet. She was barely recognizable from the young, robust black woman biker she had been in her prime. Yet there was something about Bessie that drew me to her and made me look past the frailty of her advanced age. Bessie had been born into a modest home in the southeastern region of America in 1911. In my eyes, she had an unusual aura. I saw that beneath her age and fragility, her spirit and strength still resided in the present moment.
I was 35 when we met and still a novice biker in my native New York City at the time. I hung on her every word while Bessie told me how she rode her Harley-Davidson motorcycles across the United States eight times, alone except for her deity and constant companion, Jesus, whom she called the Man Upstairs. Even with divine providence, I was amazed that Bessie had made these solo road trips in the early- and mid-20th century, before Civil Rights had taken hold as a mass movement, and when both racism and gender vulnerability were threats to her safety. I felt the diminutive Bessie had a certain gravitas. Right away I knew that I would record and write her brave yet hidden life. So, with Bessie's blessing, encouragement and permission, that's exactly what I did.
Bessie Stringfield was under the radar, an obscure figure, unknown to the larger public and overlooked even by black and women's historians. But she was not unknown to me. So I recorded Bessie on audio tape and shed light on her achievements and her character in my prose. Bessie did not live to see herself in any of my stories. The first one I wrote was her eulogy when she passed away in 1993.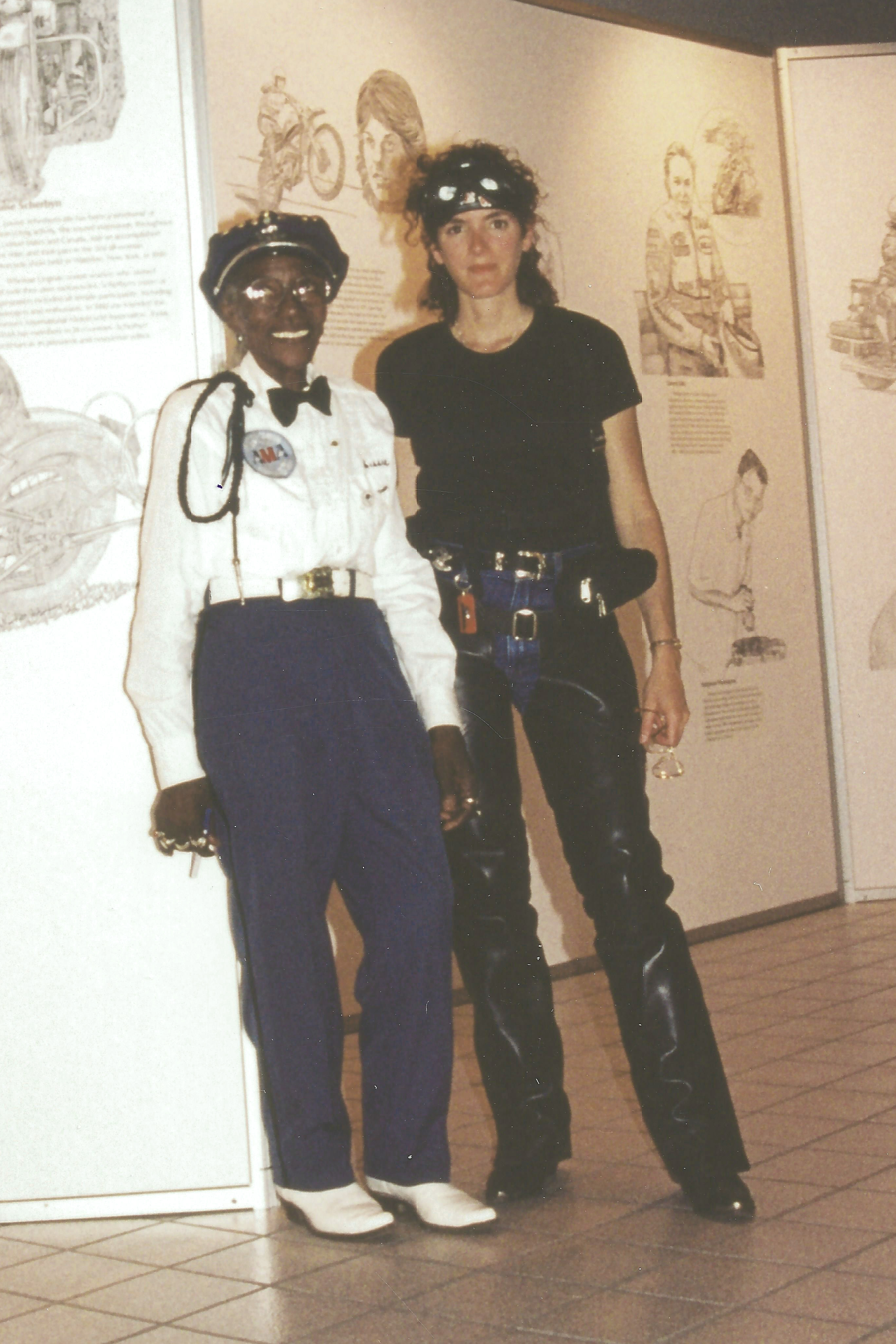 In my narrative stories, I described how over 60 years, Bessie racked up about a million miles on the 27 Harleys and one Indian Scout motorcycle that she owned and rode in her lifetime. I described Bessie's favorite mode of travel, known as gypsy touring. In the 1930s and beyond, she planned her routes—NOT!—by tossing a penny over a map and riding to wherever it landed. Suffice it to say that gypsy touring was not the safest mode of travel for African Americans back then, given that the nation was marred with signs such as "no coloreds allowed" and worse.
Today, I look back on my favorite, best-known stories of Bessie Stringfield. Some of you may have rediscovered them in various places, including inside my book Hear Me Roar, which has become a cult classic since its release a quarter-century ago. Or you may have seen my stories about Bessie on the web, at the American Motorcycle Hall of Fame, or in print biker periodicals, including American Iron and American Motorcyclist, throughout the years.
Here, I talk about what Bessie means to me as a role model, both in life and on the road. Bessie was the elder woman who became like my surrogate aunt. She was also my mentor and creative muse. I explore what Bessie means to a new generation that is inspired by her courage and determination against daunting odds. And in revealing the origin of the Bessie Stringfield stories, I share some of the nuts and bolts of how I wrote them.
With my first-hand knowledge of the woman, I knew that Bessie's understated bravery and the significance of her achievements could not be conveyed in a meaningful way without exploring how race, gender, faith and social circumstance affected her life. So, to craft my stories, I drew upon: the dialogue of our exclusive recorded interviews; our many other anecdotal conversations; the notes I wrote in my journals during our friendship; and personal interviews with Bessie's closest African American and other contemporaries, all of whom were so generous and supportive of my mission.
Along with my additional findings from further research into the hidden corners of Bessie's life, I had gathered a solid base of exclusive material. Building on this foundation, I elucidated, commentated and created story-lines of her life in my short-form published works. I am expanding on all these elements in my upcoming long-form biography, African American Queen of the Road: Bessie Stringfield—A Journey Through Race, Faith, Resilience and the Road.
All photos are from the collection of Ann Ferrar and must not be reproduced.
From the get-go in my stories dating back to the early 1990s, I wrote of how Bessie navigated her way around restrictions on race despite segregation, and of how she rejected conventions of gender and even familial ties. Bessie turned her back on disapproving relatives who scolded her for such "unladylike" behavior. Dismissing their dictate that "nice girls didn't go around riding motorcycles," Bessie left while still a teenager and never saw them again. Instead, she chose a path that was unusual for any woman, and unprecedented for an African American woman. That is how I wrote and presented Bessie's unknown life in my copyrighted stories.
In a recorded conversation between Bessie and me in February 1991—two years before her death—Bessie recalled the tomboy stubbornness of her youth. "I wanted a motorcycle and I got it!" she insisted to me, as if I were one of her Baptist aunts and their argument were only yesterday. She then conceded she had no idea how to ride her first machine, a 1928 Indian Scout.
"Who taught you to ride it?" I asked her.
Bessie replied with conviction: "I wrote letters to the Man Upstairs. I put the letters under my pillow and He taught me. One night in my sleep, I saw myself shifting gears and riding around the block. When I got out on the street, that's just what I did!" Bessie was a natural from the start and I never doubted it.
In my narratives, I wrote of how Bessie dodged the hard-balls that rednecks and even the Klan itself had flung at her along the way. Yet in an era so full of threats and great challenges to people of color, inwardly I wondered if Bessie was so full of wanderlust that she had given way to reckless abandon. But I simply asked, "What if the penny landed someplace where you knew it might be, or would be, Klan country? Did you do another toss?"
"Nope," she replied on my tape. "A penny makes a wide circle on a map. I could ride anywhere I wanted inside the circle or around the edges if I had to." But then she added, "Nobody killed me, thank God."
This is an excellent spot for me to clarify an important theme in my writings about Bessie—why I included the word "race" in the subtitle of the forthcoming biography and what it means for me to explore how race influenced Bessie's life, among other vital factors. I want all my readers to know that it is not  my view of race as a white woman who was still in the cradle when Rosa Parks sat down on that bus. Rather, it's Bessie's experiences of race as she described them to me and as they informed my perspectives of the woman and what she had lived through. It's what Bessie and her closest peers, including African American elders and others with whom I spent time, taught me. It was eye-opening and even humbling at times.
Here, I'll quote Ms. Austin Channing Brown, author of the book I'm Still Here: Black Dignity in a World Made for Whiteness. Her first chapter begins with a frank, albeit blanket, observation: "White people can be exhausting." In my role as the author-originator of the Bessie Stringfield story, and as Bessie's messenger, if you will, I pledge not to tire anybody out:)
As people have gotten word of the forthcoming biography, it has been gratifying to hear from some prominent African American women bikers and opinion-leaders, who have written to let me know they appreciate my mission. They say they feel an emotional connection to Bessie. They view her as a role model of cultural pride and have explained to me why they are proud of her for being unapologetically black. They tell me that even they cannot imagine how hard it must have been for Bessie to ride in the oppressive days of Jim Crow. By her example, Bessie inspires them on their own long-distance voyages today. On social media, one group of black female bikers has declared, "We stand on her shoulders."
________________________
"For me, meeting Bessie Stringfield
was like a jolt of electricity, as when you
touch something dormant that you didn't
realize was statically charged."

—Ann Ferrar
_______________________
Many other users of the internet and social media today may not realize that my early narratives about Bessie Stringfield sparked the worldwide fascination and admiration for her that extends into the 21st century. I am, in verifiable fact, the bonafide author-originator of the Bessie Stringfield story and have been its steward for 30 years. The authentic, first-hand material that I gathered directly from Bessie and her closest peers resides only in my personal audio tapes of Bessie and in my voluminous papers, transcripts and files. This genuine, unprecedented material did not come from anywhere else. My stories are the only works primary-sourced straight from Bessie herself, and they predate all the imitative, reductive and repetitive pieces that pop up in search engines and web encyclopedias today.
Yet like Bessie in her day,  I too have flown mostly under the radar. But then this website went up a few years ago, and more recently I was asked to step in as editor of Bessie's fan page on Facebook, simply called Fans of Stringfield.  So, by now I have heard from readers from New York to New Zealand, ranging from schoolchildren of generation Z to African American seniors who remember their own lives in the decades of segregation, who have graciously shared their memories with me. Most people who have contacted me have never been on a motorcycle. It is wonderful to see that clearly, Bessie Stringfield's legacy far transcends motorcycling.
The more I listened to Bessie's experiences and as I grew to know her, I felt she deserved a more regal nickname, even if just between us two. Into my head popped the title of one of my favorite classic films, The African Queen, a saga of grit and triumph over impossible odds if ever there was one. That was it! Though Bessie was of mixed heritage, to me she was The African American Queen of the Road. One day, when I trotted that out in conversation, Bessie cackled with glee and bemusement.
Characteristically, she said, "If you say I am a queen in your mind, I won't take away how you feel. But if I am any kind of queen, it is because Jesus put me there. He is the King. His mother Mary is The Queen. I know those Dominican nuns in Brooklyn taught you that." I had gone to Catholic school and since Bessie had converted to Catholicism, faith came up a lot.
Given everything that Bessie had lived through, and almost as if her sheer audacity wasn't enough, I pointed out to readers in my stories that she made the bulk of her long-distance road trips well before the age of interstate highways, and when her vintage Harleys, primitive by today's standards, often had mechanical problems. Somehow she persevered astride those heavy bikes on many an unpaved, rutted road. I wrote of how Bessie, with her can-do attitude, did hill-climbing and stopped at the odd carnival here and there, where she did trick or "fancy" riding moves.
My very first narrative story—the 1993 eulogy—described how Bessie rode the walls of a vintage motordrome, which is a huge barrel constructed of wood. The eulogy was published as a feature article called "Bessie Stringfield: A Tribute to a Life-Long Harley Girl" in American Iron, an international magazine for devotees of American-made motorcycles. I expanded on that eulogy to write a narrative for my 1996 debut book, Hear Me Roar: Women, Motorcycles and the Rapture of the Road. I named the story "Bessie B. Stringfield: The Color Blue," for her favorite color. Later, my story helped Bessie become inducted posthumously to the American Motorcycle Hall of Fame in 2002, by informing voters of Bessie's character and achievements against the odds.
I adapted my "Bessie/Blue" narrative for the Hall of Fame museum website, where it was posted intact with my copyright from 2002 to 2017. This story introduced Bessie to countless readers around the world. If you missed the first, longer version of my story on the museum website, you're out of luck. I finally had to abridge it because it was too popular for its own good. Too many people lifted and spread it verbatim without my permission and without my byline. Then from this pirated, anonymous state, my story was broken up by others into its elements, which were then re-aggregated and recycled exponentially in cyberspace. Which explains all the repetitive, reductive knock-offs that appear in the search engines and encyclopedias. (The same thing happened to photos of Bessie from my collection.)
© Copyright-protected material. Full notice with Library of Congress registration numbers are posted at end.
© Copyright-protected material. Full notice with Library of Congress registration numbers are posted at end.
In my stories, I wrote that Bessie was an unusual woman of color who had chosen a path especially challenging for all  women in her era. She broke with female tradition and also managed to choose a free-spirited life path that was not even feasible for most women back then. I wrote of how there was no movement of women—black, white or otherwise—for whom Bessie could tear down the floodgates. Large groups of females did not rally behind Bessie on motorcycles. Most African American women, as well as most whites and women of any ethnicity, were not positioned in society to let loose, hop on a Harley and ride away from maternal duties and/or "women's work."
It did not escape me, however, that Bessie slid seamlessly back into traditional "feminine" roles when the need arose. Bessie could be the maid, cook, practical nurse and even a nanny to white children at times, but with a twist. I described how Bessie showed up for work on her Harley. Further in my view, the fact that Bessie held jobs as a domestic made her behavior in the flip side of her life all the more risky and daring. I can tell you that Bessie Stringfield was a solo act of contradictions: She became a Roman Catholic but married and divorced six times, against the strict rules of the Church.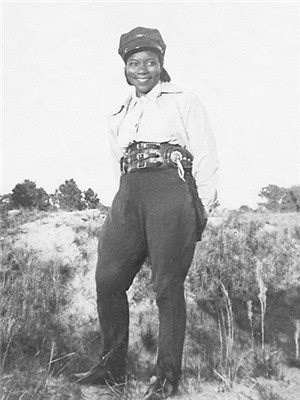 All photos are from the collection of Ann Ferrar and must not be reproduced.
"If you kissed, you got married," Bessie told me by way of explanation.
With good nature I bantered, "Yes, but what about all the divorces? Who are you, Miss Hollywood, Elizabeth Taylor?"

"If I had a big diamond, I could be," she quipped. "But I don't need any diamonds. All I need is the Man Upstairs." It was true. Jesus was the only man to whom she ever made a lifelong commitment.
When Bessie and I struck up our friendship, I was living in an apartment in TriBeCa on the lower west side of Manhattan, my motorcycle parked in the lot beneath my building. Bessie was in declining health but still very much alive during the first three years of my two-wheeled travels—1990 to early 1993—for my book Hear Me Roar. I finished writing and photographing the book in 1995; it was published in 1996 by Crown Trade Paperbacks/Random House in New York, and reissued by Whitehorse Press of New Hampshire in 2000.
I had written first drafts of Bessie's 1993 eulogy for American Iron magazine and my story "Bessie B. Stringfield: The Color Blue," and all the other stories in Hear Me Roar, with my low-tech pens on blank legal pads. I wrote, or rather scrawled, in old-fashioned Catholic school longhand while drinking endless cups of coffee at Socrates, my favorite Greek neighborhood diner. I sat in a booth by a window at odd quiet hours. Sometimes I'd stop at the diner at the end of a long day-ride. I parked my Honda Hawk GT650 on the sidewalk within my line of sight outside the window.
And that is exactly how, when and where the authentic stories of Bessie Stringfield were born: straight from the only sound recordings of Bessie in existence, to the blank pages of one writer's pads in Lower Manhattan. Returning to my apartment, I fine-tuned my cursive drafts by writing and editing myself in now-defunct word processing software, using my buzzy desktop computer with its box-shaped monitor and floppy disks for backups. The eulogy got sent by snail-mail to American Iron. By subway I took the paper print-outs of the Hear Me Roar manuscript to the offices of Crown/Random House, which published the first edition of Roar. One guy in my circle of biker buddies dubbed me the Literary Biker Chick. I've been called a few things; I wish that one had stuck. I once told Bessie that in a sense, we were a pair of literary biker chicks, her part being oral and mine being written.
The first time I encountered Bessie Stringfield was at a motorcycle museum in Ohio. For me, meeting Bessie Stringfield was like a jolt of electricity, as when you touch something dormant that you didn't realize was statically charged. At age 35, I was more than 40 years younger than Bessie. As a journalist and life-long student of women's and 20th-century American history, I recognized Bessie Stringfield not as a light that had dimmed, but rather as a daring woman of color who had risen above racial and gender barriers in the pre-Civil Rights years. And as a female biker myself, I loved that she had done it from a very unusual and under-appreciated vantage point: the saddles of her motorcycles.
In the 1950s, Bessie bought a house in a mostly black community in Miami-Dade, Florida, where she would spend the rest of her life. I was born some years later in Brooklyn, New York, a late baby boomer who was in grade school at the start of the modern women's movement in the 1960s. As a college student, I benefited from the efforts of those feisty women who paved the way for me. I was all in. So, I viewed Bessie in a different light than did her peers in the local African American community where she lived. I saw her as an undiscovered feminist who had predated the modern women's movement. Yet when I met her, Bessie Stringfield was a hidden, unheralded figure, unknown to the larger public and overlooked even by African American and women's historians. I said to myself, That just isn't right.
From the first day I met her, I saw the elder Bessie Stringfield as an avatar of living history standing right in front of me, smiling up and talking to me about her unsung past, but in a very understated way. I knew that Bessie—who was nearly invisible as so many  elderly women are—had an amazing story to tell. But nobody's ears except mine were attuned to what this tiny, unassuming elder had to say. It was the start of a fascinating conversation and a friendship between us that lasted until her passing in early 1993.
________________________
"I believed ... the world needed to know
what a kick-ass biker Bessie had been in a
milieu that was largely male and white."
________________________
The most vital and prescient thing I did to preserve Bessie Stringfield's legacy—and have a solid foundation for my creative writings—was to record Bessie on audio tape with her permission while there was still time. My privy audio tapes of Bessie are the only sound recordings of the late Bessie Stringfield in existence. They are protected and copyright-registered in the Library of Congress but are not available to the public. To navigate my way through Bessie's memories, I developed and expanded upon the raw material I had elicited from her on tape and in our many other conversations, supplemented by interviews with her peers and other research into hidden corners known only to her and me. I translated Bessie's life from my primary vantage point and crafted all these elements into original story-lines for publication.
Thus, Bessie Stringfield's life story and my stories about Bessie Stringfield's life are verifiably inseparable. They are the literary equivalent of conjoined twins, which is why they are not, and have never been, in the public domain. Rather, they are proprietary works that I created from scratch with exclusive material that did not exist anywhere else. A good analogy is that Bessie is like a protagonist or heroine in a novel written by a single author, in that Bessie would not exist in the mind of a global audience today if that novel had never been written. Due to the vagaries of the internet, I must remind everyone that my stories and story-elements about Bessie are the intellectual and creative property of this author.
As for my own solo adventures on two wheels, with dogged persistence, advice from Bessie and other seasoned riders, and getting my license via a motorcycle safety course, I grew into an assertive urban biker and a long-distance motorcyclist in my own right. I rode for 18 years on six different motorcycles, covering 35 of the lower 48 states and parts of Ontario, Canada. I, too, rode tens of thousands of miles alone, with nothing but the drone of the wind and my engine inside my full-face helmet. And so, I believed there was another facet of Bessie's story that cried out to be told. The world needed to know what a kick-ass biker Bessie had been in a milieu that was largely male and white. In my stories, I wrote of how Bessie handled gender bias when she donned a disguise to join the fray—and win—an all-male flat-track race, but was denied the prize when she took off her helmet.
During the first three years of my road trips for the original edition of Hear Me Roar, often I phoned Bessie from spartan motel rooms in the evenings to chat. She enjoyed hearing of my adventures and travails and giving me advice and encouragement. I told her about the amazing, diverse group of women bikers whom I met from across the USA. Bessie never ran out of tales to tell me from her riding days. Likewise, she enjoyed hearing of my experiences, such as the colorful biker rallies I attended and the motorcycle field games at which I excelled. Bessie and I shared stories with doses of humor and our calls always ended with a prayer for our mutual health and safety. In her frail but spirited voice, she liked to sing her favorite hymn to me, Precious Lord, Take My Hand.
While we were both bikers, many of our experiences were worlds apart. For starters, we rode during different eras with different societal norms based on gender expectations and skin color, to name just two. Bessie and I traded stories of her experiences as a black Southern woman on a persnickety Harley in a segregated era, and mine as a white woman born in Brooklyn, New York, zooming along the asphalt slabs of America on a high-tech bike. I rode on paved roads and had my pick of motels and diners. I was alone, but not alone in society as Bessie could be when trying to find access even to life's bare necessities in the South.
Unlike Bessie, throughout my journeys I was never denied lodging, gas or a restaurant meal. Never did I have to ride my mechanically sound bike on a creepy back road as the only route available to avoid the Klan. Never did I have to swerve around beer cans deliberately tossed in my path by rednecks. And unlike Bessie, I was never stalked by a bigot in a pickup truck who ran me off the road, wrecking my bike and scraping me up. This unnerving incident, which I related in my early narratives about Bessie, has struck a chord among African American bikers today. They point out, and rightly so, that our society has not made nearly enough progress toward equal justice in the decades since Bessie was forced off her bike. Unless you've been living under a rock and are oblivious to current events, we all know how glaringly true that is. Our nation still has a long way to go before the scales will finally be balanced.
I asked Bessie how she got through the tough times and how she felt about the people who harbored ill intent toward her. Bessie did not need to ponder the answer. "I knew Jesus Christ and I know Him now," she said to me. "Those men did not know Jesus Christ. He was always with me. They couldn't see Him, but I felt Him. Oh, I was tested a few times to find the good in some people. In the end, no matter what happens in our lives, it's got to be about love. That is the final conclusion you must always try to attain."
Bessie's faith, open-mindedness and capacity to love are why she experienced an abundance of positive, life-affirming encounters with people of all races in her 60 years of riding around America. She met many locals who were curious and friendly, and white gas station owners who were impressed at her "nerve," as she put it. Some—even in the South—were so taken with Bessie that they filled her tanks for free. I asked Bessie about this many times, to be sure I was hearing her straight, to be sure she wasn't softening the fabric of white society or its racism for my sake. In the colloquial language of her era, Bessie assured me, "All along the way, wherever I rode, the people was [sic] overwhelmed to see a Negro woman ridin' a motorcycle."
Still, Bessie told me that in the South she had to look over her shoulder. "If you had black skin, you couldn't get a place to stay," she said into my tape recorder, adding, "I slept with people's children a lot because no one would rent me a motel room." I wrote of how sometimes, Bessie slept on her bike at gas stations, using her rolled-up jacket as a pillow across the handlebars, while resting her feet on the rear fender. Bessie gave me a couple of exuberant photos of herself stretched across her bike, along with other vintage pictures snapped at different stages of her life. In the photo on this website, she is vamping for the camera, but alone on the road, finding a place to spend the night was a serious matter.
"Weren't you afraid, being so alone and vulnerable out there?" I asked her.
"I was not alone," she replied. "When I get on the motorcycle I put the Man Upstairs on the front. I'm very happy on two wheels." Bessie often spoke to me of her riding days in the present tense, even though a chronic heart condition had kept her off motorcycles for several years already.
Today, people have asked me, what of the Green Book, the guide for black motorists that began circulating in 1936. Well, not all of those black-friendly motels and guest houses approved of a single, unescorted woman biker who was doing something so far afield from what was expected of her. Nor were there always lodgings along her routes. Nor were some even open when Bessie began her travels.
Alongside Bessie Stringfield in the pages of Hear Me Roar, I featured roughly 100 daring women bikers from across the United States, spanning from the turn of the 20th century until the mid-1990s. I wrote of women who began pushing the envelope of gender role-reversal as soon as the motorcycle was invented. In the ensuing decades, some women broke records on the race track while others had extreme, life-changing adventures riding to the far ends of the earth. Since the first edition was published, a lot more has happened among those bikers and among the next generation, hence the forthcoming 25th Anniversary Global Edition of Hear Me Roar.
All of these female bikers—those from the first edition and those being featured in the coming anniversary edition—are role models of strength and grit. Yet even among the amazing women whom I met and photographed, and even among the early pioneers whom I discovered in my archival research, it was the diminutive, singular Bessie Stringfield who was larger than life. I said earlier that I felt Bessie had an unassuming gravitas. In my eyes, she had earned it, since she had to face more than just gender bias in a male-dominated milieu. On top of everything, Bessie Stringfield had to get past racism aimed personally at her and which was systemic as well. She did it with grace and dignity, never letting others define her or dampen her zest for life. What a woman. What a human. What an inspiration.
In my view, Bessie's strength, resilience and faith-based courage in the face of bigotry and sexism are what made her so extraordinary. In my earlier works I called Bessie a one-woman civil rights movement. While she was not a marcher, I described how Bessie had chosen an unusual way to assert her freedom—that which can only be felt in the wind on a motorcycle. Serious bikers everywhere, female and male, know the visceral feeling of punching a hole through the wind and becoming one with the ever-flowing environment as it rolls by. And for every biker, there are personal meanings of why we choose to ride. I'd venture to say that in most cases, universally it boils down to freedom regardless of gender and race. Among women regardless of race, it's also very much the experience of independence and being in control.
I am the daughter of an American World War II army sergeant and a mother who did her part for the war effort on the home-front. I am gratefully aware of the all-hands-on-deck  sacrifices made by the Greatest Generation. So I was especially awed by how Bessie earned her spot as a civilian courier, or dispatch rider, on the home-front during the Second World War. My stories narrated how Bessie trained rigorously alongside black men, the only woman in a small unit in the segregated army. I described a skill peculiar to the pre-interstate era: how to weave a makeshift bridge with tree limbs and rope to get a motorcycle across a shallow swamp, though she never had to do this in the line of duty. I wrote of how Bessie, with a borrowed military crest on the front of her own 61 cubic-inch Harley, traversed America's rough roads to carry documents and mail in her saddlebags among domestic bases.
Then I covered Bessie's escapades in post-World War II Miami, where she founded and led a group of mostly black men in her Iron Horse Motorcycle Club. The Miami PD had a certain view of Bessie, at least in the beginning. My stories reported how Bessie dealt with hassles from the police and demonstrated to a precinct captain that she had more than enough skills to handle her big bike in traffic. She also became licensed as a practical nurse or LPN (which is different from a registered nurse or RN).
At the same time, I can tell you that Bessie Stringfield, while friendly to those in her circle, was essentially a mystery. On her bikes she was an aloof, fleeting figure cruising past the eyes of onlookers. Bessie kept her cards close to her chest. She was a private citizen, by no means a public figure. Bessie told me, "I didn't want nobody [sic] knowing my business, except for the Man Upstairs." And thus no one—not her Iron Horse buddies and not even her husbands—really knew what made her tick. Nor did they know much about her beyond the version of Bessie right in front of them during different phases of her life. I spent time with some of Bessie's closest contemporaries, including her last husband, who corroborated her secretive nature and confirmed that his wife was not a public figure. That is why I was so privileged when Bessie welcomed me behind the curtain and shared her memories, which were in danger of being lost upon her passing.

My unprecedented stories are the only original, authentic, primary-sourced stories covering the full spectrum of Bessie Stringfield's life. And I am the only writer who can reveal the still-hidden stories that lie beneath the surface of the private Bessie Stringfield. At one point more than a half-century ago, some local onlookers nicknamed her "motorcycle queen of Miami" even though people knew very little about the actual woman behind the moniker. A few years ago on social media, the pop-culture label of "rebel icon" appeared in a short video and it caught on, even though millions of new fans know even less about her today.
For me, as the author-originator and narrator of the Bessie Stringfield story, it has been fascinating to watch how Bessie has risen in stature from hidden figure to posthumous global legend. As noted earlier, her legacy far transcends motorcycling. Today, Bessie Stringfield is regarded as a culturally significant figure to a new generation that recognizes her bravery as a woman of color and her defiance of traditional gender roles. It's what every legitimate author wants: to know that her stories on a worthy subject have made an impact.
________________________
"It has been gratifying to hear from
prominent African American women bikers who
feel an emotional connection to Bessie."
________________________
Many other readers, regardless of race and gender, have expressed their admiration for Bessie Stringfield. Emails have come into my inbox from across the United States, Canada, England, France, Spain, Germany, Australia, New Zealand and India. The majority have never been on a motorcycle. So it is clear that one doesn't have to be a biker, or a person of color, or a woman, to be inspired by Bessie Stringfield. I have been asked to speak about her for outlets ranging from Harley-Davidson's century-old Enthusiast magazine, to the German magazine Der Spiegel, to Broadly.vice.com, aimed at the LGBTQ community. Admiration for Bessie could not be more simultaneously diverse and universal than that!
The worldwide popularity of the inseparable conjoined twins—Bessie and my stories on Bessie—has given her an unexpected and sometimes over-the-top afterlife in cyberspace. Neither Bessie nor I could have predicted this when we made our quiet, personal legacy pact 30 years ago. Back then, not all communities across the country were even wired for the internet and the launch of social media was still years away in the future.
Fast-forward to today's fast-paced digital age. In recent years, along with the well-deserved recognition and accolades for Bessie, my stories about her were shredded anonymously and fed into the voracious, 24/7 internet content-mill. When the vagaries of the web got out of hand, my subject, Bessie Stringfield, was loosely tossed into the broad umbrella category of "public figure." The label of "public figure" has no validity in Bessie's case, as she fits neither the dictionary nor legal definition of a public figure. Rather, the label was randomly ascribed to her only in recent years by volunteer web encyclopedias and social media (neither of which are authorities on anything). The label was manufactured as a result of robotic tracking and counting of 20 million views of a two-and-a-half-minute video about Bessie, which went viral in 2017.
The video, a simple montage of still shots, was produced by an indie company called Timeline, with whom I have no affiliation. The quotes and captions on Bessie were sourced entirely from Hear Me Roar but the viral version neglected to mention this. Web encyclopedias have never checked nor cited the easily traceable narrative origin of the Bessie Stringfield story. So practically overnight, my late friend—or rather, a symbolic version of her condensed into two-and-a-half minutes—became posthumously famous among 20 million people who had never heard of her before. Only in the internet age could this happen.
Bessie Stringfield, the actual woman (not the one-dimensional "rebel icon" in the video) rightly deserves every bit of kudos that she has received for her achievements and character. Yet internet fame on a superficial level is a very different animal that led to the unfounded "public figure" label. Why is this troubling? Because it has led to ramifications that affect the integrity of Bessie's name and memory. There have been several instances of this; here, I will share just one because it is so absurd. Last year, my head nearly exploded when a major hotel chain / credit card partnership approached me, asking if they could use Bessie to promote their brands. In saying an emphatic NO, I pointed out the irony of their request: that in her heyday, Bessie would have been turned away from their hotels and denied credit from their bank.
As you can see, I take my role as the author-originator and steward of the Bessie Stringfield story quite seriously. I owe it to Bessie, to myself as the biographer whom she chose to write her life, and to her African American and other peers, who generously gave me their time, welcomed me into their homes and shared their thoughts. They educated me in a very personal way. In preserving Bessie's memory, I am blessed to have known her and those good people, who were so warm and supportive of my mission. When the book comes out, there will be a lot of people to thank, including those who were closest to Bessie but whom are no longer living.
My being the only knowledgeable source for the complete spectrum of Bessie's life—including that which is celebrated, that which is still unpublished, and even that which is controversial—comes with responsibilities. My first responsibility is to Bessie and that which she shared with me in confidence. For instance, she kept secrets about her past that she chose to escape from.
Bessie told everyone she'd been born in Kingston, Jamaica, that she was brought to New England by her biological father, abandoned there, and then adopted by whites. Yet Bessie was born in the southeastern region of the United States to mixed-race parents, and it was she who left. There is much more material in my private tapes of her, in my journals, and in other hidden corners known only to Bessie and me, which I have never released anywhere. I have kept the material at the bottom of an allegorical memory box since her passing. When Bessie gave me the gift of her life story, she asked me not to write about certain sensitive things until well after her death. I have respected Bessie's wishes both as a protective friend who made her a promise and as her biographer whom she trusted to keep it.
Things got touchy in 2018 when a major international newspaper wanted to feature Bessie in a new series of obituaries, meant to pay belated respects to notable yet overlooked women of color. The newspaper discovered my early, unprecedented work on Bessie Stringfield by searching their own archives and pulling up an article by one of their reporters (See Stevenson, Jed: "Hear Me Roar: A Woman's Symphony on the Road," New York Times, July 28, 1996. And FYI, for a description of Hear Me Roar's first edition, simply search for the title on Amazon.) 
For the 2018 obituary series, the newspaper asked me to reminisce about Bessie and I did. However—even when pressed—I would not discuss the sensitive matters Bessie had confided to me. I explained that the gray areas of Bessie's early life need to be handled with the nuance and context that only my forthcoming, long-form biography will allow. Surprisingly, the resulting obituary left no room on the canvas for the unfinished parts of Bessie's portrait to which I had alluded. Rather, the obituary simply dubbed the gray areas "untruths." This was parroted by web encyclopedias. For now, I'll only say this: Everyone will just have to wait for the book.
© Copyright-protected material. Full notice with Library of Congress registration numbers are posted at end.
© Copyright-protected material. Full notice with Library of Congress registration numbers are posted at end.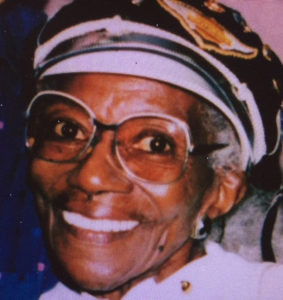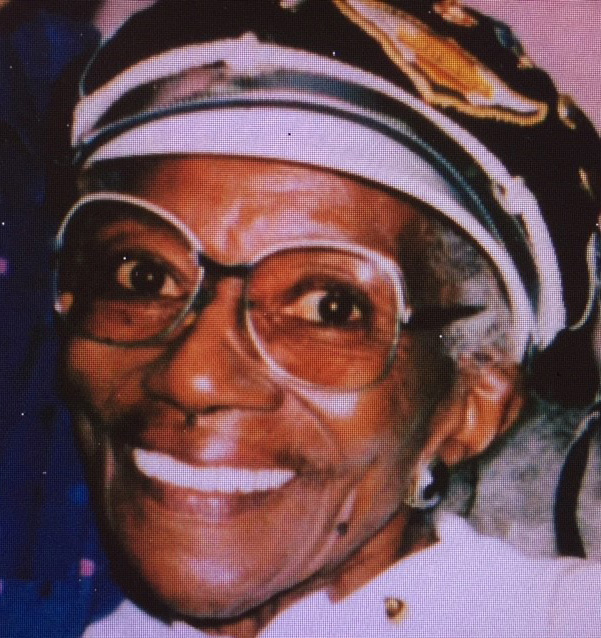 When I met Bessie she was 79 and in declining health, having cut off all family and marital ties decades earlier. Bessie knew she had a legacy to leave, but there was no one in her small circle to preserve it, nor any historians who had ever found her, nor anyone else who saw the significance of why the world needed to know about Bessie Stringfield. That's when I walked into her life with my respect for her elder status and for her achievements, and my passion for keeping Bessie's story alive in the best way that I knew how: through my creative writing. When Bessie gave me the gift of her life story, we formed a personal legacy pact. We became a duet on a worthy mission that was as fulfilling for me as it was for her. We both enjoyed using our respective gifts in the process of bringing her hidden story to life.
As a senior, Bessie was still riding Harleys for as long as she was physically able. She told me, "I told the doctor that if I don't ride, I won't live long. And so I never did quit."  But for the last decade of her life, Bessie gradually retreated as her social circle dwindled. And in reality, her chronic heart condition worsened and she was forced to retreat from the road as well. In 1993, at the age of 82, Bessie passed into what she believed would be her greatest glory, to be received by the Man Upstairs.
In one of our last recorded conversations, Bessie told me, "They say my heart is three times the size it's supposed to be." I have always felt this is an apt metaphor for an unconventional woman whose heart and spirited determination have touched so many lives.
All these years later, readers are asking me to finish the full, still-untold story of Bessie's life that I began in my short-form narratives more than a quarter-century ago. In response to these readers and the avid worldwide interest in Bessie, I am returning to my privy audio tapes, journals and other proprietary materials in my allegorical memory box, as well as research into other hidden corners known only to Bessie and me. I am weaving all of those elements into the long-form biography African American Queen of the Road: Bessie Stringfield—A Journey Through Race, Faith, Resilience and the Road.
If Bessie Stringfield was ahead of her time when she lived, then clearly her time is now. In this 21st-century age of renewed female empowerment and celebration of black lives, Bessie stands out in this generation's quest to find inspiring figures from the past. Educators have started to notice. On a personal note, Bessie Stringfield was perhaps the most unexpected role model who ever came into my life, the first woman outside of my blood relations whom I came to call Aunt. She inspired me to be resilient and push through my own obstacles with her example and with advice that was not within the grasp or the life experience of my mother and the other traditional older women in my family. So even today, when faced with certain challenges, I still ask myself, What would Aunt Bessie have told me to do? 
By osmosis, from listening to Bessie and reading between the lines of her speech, my mind became keen to view America from more of a multi-layered perspective. Hearing intimately from Bessie the events that she and her peers had lived through served to heighten my awareness of all that lies beneath mainstream (white) history. Yet I had to fill in quite a lot of gaps on my own, since Bessie's manner of speaking was never linear. Her memories were fragmented and incomplete at any given time. Often she answered my questions in medias res or not at all. Bessie was perfectly capable of clamming up if she didn't want to talk about something or if her recall was sketchy on a particular subject. I never pressed her; that's not what friends do. It took a long time to gently draw out Bessie's memories and later to sift through and make sense of them piece by piece.
© Copyright-protected material. Full notice with Library of Congress registration numbers are posted at end
© Copyright-protected material. Full notice with Library of Congress registration numbers are posted at end.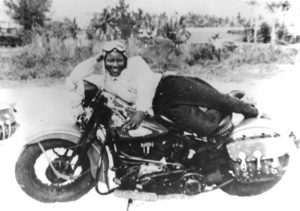 Bessie is still inspiring me to assert my own voice, as I have done here on this website, both as the bonafide author-originator of the Bessie Stringfield story and as a reflective, mature woman who learned a lot from my subject. I just wish Bessie were here to see that her legacy lives on in me and in countless other people in the 21st century global community. I was blessed to be a part of Bessie's later life—to be an actual part of her story—and to share our friendship in her twilight years. Socially and culturally significant figures sometimes take their place in history only after enough time has passed to enable appreciation and recognition. That is the case with Bessie Stringfield.
My early narratives about Bessie's hidden life and achievements were ahead of the curve when I wrote them in the 1990s. Bessie left her mark on humanity for her bravery, determination and grace in the face of prejudice based on race and gender. I was the writer and respectful friend who noticed—and who worked diligently with the elderly woman to capture her memories before it was too late. I was the recordist and an avid witness to a slice of living history in my surrogate Aunt Bessie Stringfield. Bessie has a legacy for her courage and achievements against society's odds. I did not let her slip into obscurity. That is my legacy. — Ann Ferrar
 © Copyright-registered and protected material. Ann Ferrar reserves all rights to this content and to her earlier stories of Bessie Stringfield, upon which this content is based. The author's stories, seen here and elsewhere, are not in the public domain. Thus, strictly prohibited are derivative, adaptive and imitative works by other parties in any media, non-fiction or fiction. Detailed copyright notice with Library of Congress Registration Numbers are posted at end. Please respect the author and the wishes of her late friend Bessie Stringfield by adhering to restrictions.
© Copyright-protected material. Full notice with Library of Congress registration numbers are posted at end.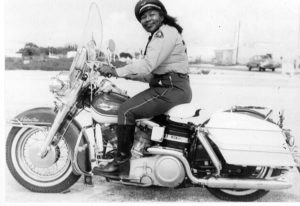 Follow & share our Facebook page, called Fans of Stringfield. Your likes & shares can help more people find these authentic stories of Bessie.