An Introduction to the Only Authentic, Authorized Biography
African American Queen of the Road: The Untold Story of Bessie Stringfield
A Memoir of Resilience and the Road
By Ann Ferrar
This coming biography is borne of the exclusive sound recordings of African American motorcycling pioneer Bessie Stringfield, conducted and recorded by author-biker Ann Ferrar for her 1996 book Hear Me Roar: Women, Motorcycles and the Rapture of the Road. Taped during the women's friendship in the early 1990's, these are the only recordings of the late Bessie Stringfield in existence. Akin to melody and lyrics in a song, Bessie's quotes and anecdotes are copyright-protected. And like the original arrangement and interpretation of the song, the author's non-fiction stories bear the author's creative stamp and are copyright-protected as well. Ferrar's narratives shed light on Bessie's hidden life and achievements in the pre-Civil Rights era. Here, read the backstory of how the legacy pact between the two women and the author's story "Bessie B. Stringfield: The Color Blue" in Hear Me Roar grew to inspire a new generation. Ferrar's published works are the only original, authentic stories of Bessie's life and bravery in Jim Crow America. Two new books are in the works.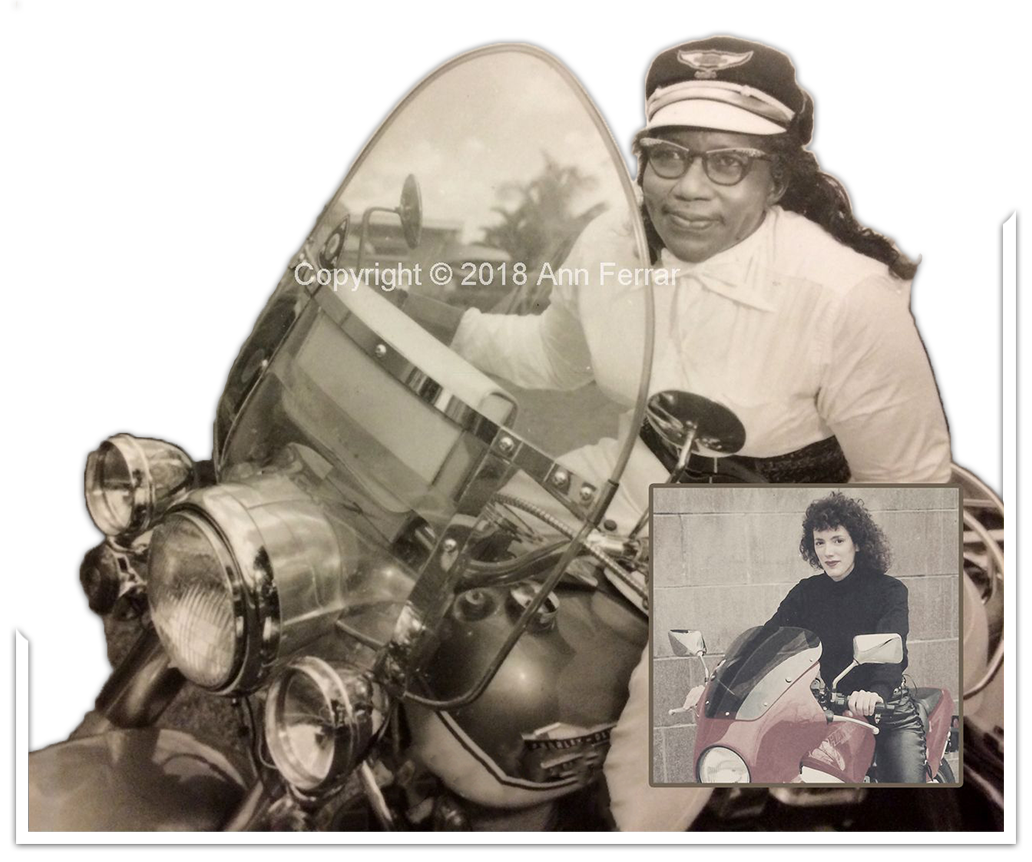 © Copyright-registered material. All rights reserved by the author. Detailed notice posted at bottom.
Writing a Hidden Life: Race, Resilience and Roar in the
Authorized Biography of Bessie Stringfield
By Ann Ferrar

I met and befriended Bessie Stringfield in 1990, three years before the end of her long life. Thin as a wisp and tiny at less than five feet, she was barely recognizable from the young, robust black woman biker she had been in her prime. Yet there was something about Bessie that drew me to her and made me look past the frailty of her old age. In my eyes, Bessie had an aura even as an elderly woman. I saw that beneath her age and fragility, her spirit and strength still resided in the present moment.
That's why for me, meeting Bessie Stringfield was like a jolt of electricity, as when you touch something dormant that you didn't realize was statically charged. And so I recognized Bessie Stringfield not as a light that had dimmed, but rather as a daring woman of color who had risen above racial and gender barriers in the pre-Civil Rights era. That is how I wrote and presented Bessie Stringfield to the world in my published stories and spoken works dating back to the early 1990's.
On the very first day I met her, I saw the elder Bessie as an avatar of living history standing right in front of me, smiling up and talking to me about her unsung past. I knew that Bessie, who was nearly invisible as so many elderly women are, had an amazing story to tell. But nobody's ears were attuned to it—except for mine. It was the start of a conversation and a working relationship between us that lasted almost until her passing in early 1993.
The most vital and prescient thing I did was to conduct and exclusively record Bessie's oral history on audio tape with her blessing, encouragement and authorization while there was still time. Then I began writing her life in short-form narratives with my creative and intellectual stamp on them. The first of these was her eulogy, published as an article in American Iron, an international magazine for devotees of Harley-Davidson and other American-made motorcycles.
Next, expanding on her eulogy, I wrote "Bessie B. Stringfield: The Color Blue" in my debut book, Hear Me Roar: Women, Motorcycles and the Rapture of the Road (NY: Crown Trade Paperbacks, 1996; NH: Whitehorse Press, 2000). If you have read, seen or heard anything on Bessie Stringfield elsewhere, the information and even the perspectives on Bessie's life could only have come from my original stories. My work—which is primary-sourced and borne of my personal relationship with, and my exclusive recordings of, Bessie herself—predates imitations, which are far-removed and can only repeat what I created, developed, wrote and published a quarter-century ago.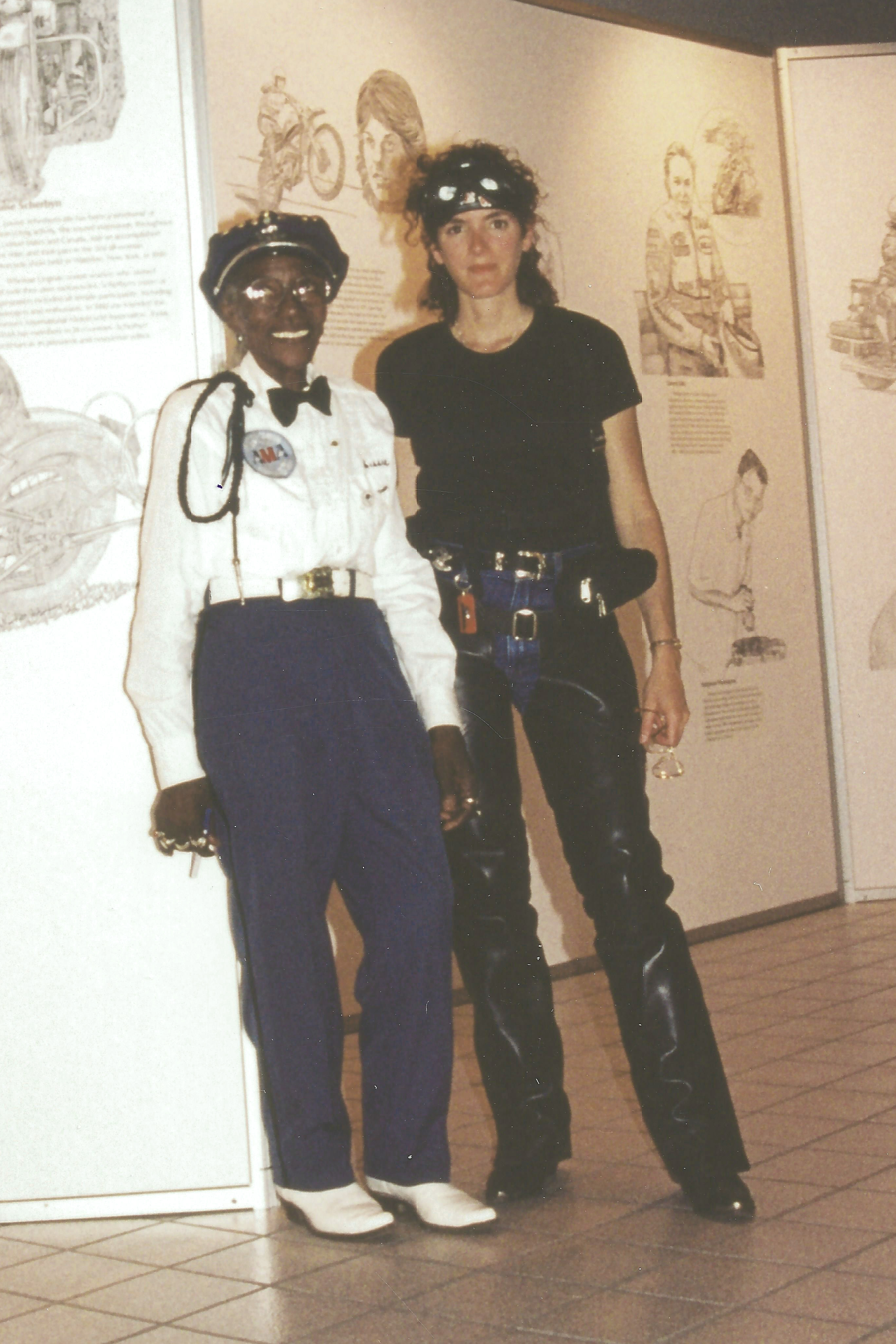 All that said, today in response to the tremendous global interest in Bessie and many requests from my readers, I have two books in the works. The first one, Reflections on Bessie Stringfield and the 100 Women Bikers of Hear Me Roar, comes out in 2020 to commemorate the 25th anniversary of my seminal book, which I'd finished writing in 1995. This reissue of the book will have expanded versions of "Bessie B. Stringfield: The Color Blue" and many other true stories of daring women bikers in the 20th century, whom I featured in the original Hear Me Roar. The second book is African American Queen of the Road: The Untold Story of Bessie Stringfield, A Memoir of Resilience and the Road.
In the second book, devoted entirely to Bessie, I am picking up where I left off on Bessie's life a quarter-century ago. This means I am incorporating the still-hidden, proprietary material on Bessie that I've kept in the bottom of an allegorical memory box for all these years. For now, this website serves as an introduction to the latter book devoted entirely to Bessie. Here, I tell the backstory of how I came to create the original stories of Bessie Stringfield, which were—still are—the sparks that ignited the worldwide interest in Bessie that exists to this day.
Bessie was 79 years old on the day of our first encounter—at a motorcycle museum, no less. That was back in 1990, when Bessie's riding career had spanned six decades on 27 Harleys and one Indian Scout. She had a lifetime of wisdom and experience in her memories that she shared with me. Beginning with my stories of the early 1990's, I wrote of how Bessie, with her flair and natural skills, did trick or "fancy" riding and how she rode the walls of a vintage motordrome. Then I described the gender bias Bessie was subjected to when she joined the fray, and won, an all-male flat-track race. I wrote of how Bessie trained rigorously among black men to become a civilian motorcycle courier on the home front during the Second World War. I covered Bessie's escapades in post-World War II Miami, where she settled and founded her Iron Horse Motorcycle Club.
All photos are from the collection of Ann Ferrar and must not be reproduced.
As her biographer and friend, I can tell you that Bessie Stringfield was a solo act of contradictions. In my stories I wrote of how Bessie did tricks on her motorcycles and stints as a housemaid. She was both a product of her era, yet she was ahead of her time. She became a Roman Catholic but married and divorced six times, surrounding herself with men but cutting them out of her life one by one. I have never met anyone like Bessie, before or since. Bessie's contemporaries were impressed with her for being a black woman riding a Harley boldly around town, regardless of what anyone—especially the white Miami PD—thought of her. I wrote of how eventually, even one police caption had to admit he was impressed with her, too. He saw to it that Bessie did not get pulled over and harassed by police for no reason. Clearly, he'd never met anyone like Bessie Stringfield either.
In 1990 when I first encountered Bessie, I was in the prime of my own womanhood and professional career as a writer of women's lives for major magazines and a newspaper syndicate in New York. I had already embarked on my own solo motorcycle road trips. From my vantage point as a writer of women's lives and a female biker in a male-dominated milieu, I wrote Bessie Stringfield as the heroine and protagonist in my stories. This amazing yet forgotten elderly woman was also a role model for me personally. Into my stories I wove Bessie's strength, resilience and faith in the face of bigotry and sexism. I called Bessie a one-woman civil rights movement. While she was not a marcher, Bessie had navigated restrictions on her race and gender as a long-distance motorcycle rider in an era when it was rare for any woman, and unprecedented for an African American woman. Judging by the global adoption of my views on Bessie today, readers of a new generation have affirmed my well-researched conclusions.
Beginning in 1993, in my non-fiction short stories and spoken works at colleges and libraries, I wrote and commented on Bessie's life before, during, and after the Civil Rights era of the mid-20th century. The life story of Bessie Stringfield and my stories on Bessie Stringfield are inseparable. They are the literary equivalent of conjoined twins. Bessie was an unknown figure outside of her Miami community until I wrote about her life for international publication in print and on the web. Yet there is so much more to Bessie's hidden life that I have never released. I will not be doing that here. I posted this website as an introduction to the new book because many readers have written to tell me they are eager for me to release Bessie's full biography.
Over the course of my friendship with the elder in the early 1990's, I elicited fascinating memories from her with my directed questions. Then, as mentioned earlier, I put my writing craft and creativity to work. I supplemented the exclusive sound recordings with copious notes in my journals written during our friendship and collaboration. I explored aspects of her life known only to Bessie and me and traveled paths of research into other areas as well. I am the only primary source—living or dead for that matter—for the complete spectrum of the life of Bessie Stringfield.
In my prose portraits of Bessie, I wrote of how she lived and breathed to ride her Harleys and that nobody was going to stop her, not even Jim Crow. Had she been given the gift of writing, Bessie could have written her own book on individualism. But she was a raconteur, never a writer, especially not with arthritic hands from a lifetime of gripping the handlebars. So she welcomed me into her private life. In my writings and oral works, I described events, actions and choices Bessie made to overcome racial and gender restrictions in her day.
My stories portrayed how over 60 years, she rode at least a million miles in all kinds of conditions. By today's standards, Bessie's bikes were primitive and unreliable, yet she toured the United States eight times. Some circumstances she found herself in were precarious because of rutted, muddy, unpaved roads. Other circumstances were treacherous because of racial prejudice in the early and mid-20th century, where Jim Crow and the Klan were pervasive in the lexicon and in Southern life.
I described how on some nights, Bessie had to sleep on her Harley at gas stations when no one would rent her a motel room. I wrote and lectured of how Bessie lived through the era of sundown towns—communities where the white town fathers posted signs declaring "no coloreds allowed after sundown." I described how Bessie's favorite method of travel was to toss a penny over a map and ride to wherever it landed. This style of travel, common among bikers in her heyday, was known as "gypsy touring." Suffice it to say that gypsy touring was not the ideal mode of travel for African American people back then. She managed to do it anyway.
Still, today Bessie Stringfield as an actual person remains enigmatic to her admirers, like a hidden figure in plain sight. The reason for this is simple, yet not obvious to most of Bessie's fans. It is because, as noted earlier, I have never released the details behind my early short-form narratives which shone the first light on Bessie a quarter-century ago. While word of Bessie via my stories spread organically on the web, I have still not published the majority of the proprietary material in my tapes of Bessie, nor that in my private journals of the period, nor that which I have explored in other hidden areas of her life.
One frustrated reader commented that Bessie seems to be "shrouded in lore." This stems from the culture of the web and social media. These days, primary sources like me get lost in the shuffle of recycled, aggregated pieces that borrow from each other in the Internet content-mill. Quotes and anecdotes that Bessie told exclusively to me, and which I included in my original stories, have been inserted anonymously in these repetitive pieces, as if Bessie had been speaking aloud to no one or to some unnamed "reporter." If I am a ghost in some nebulous literary sphere, that explains why Bessie appears to be "shrouded in lore."
I am most definitely not a ghost. Despite the false sense of entitlement that abounds on the web and social media, the life story of Bessie Stringfield originated with, and belongs to, two women: Bessie, who lived it and shared it with me, and this author, who wrote Bessie Stringfield into literary life. An excellent analogy is that Bessie Stringfield is the real-life equivalent of a main character, or protagonist, in a short story or a novel written by one author. Bessie Stringfield died in a sleepy Miami community a quarter-century ago. She would not exist in the hearts and minds of a global audience today had not one author put her life and on the the page and on the web for posterity. My stories stem from my first-hand knowledge of Bessie, with whom I have "lived" for the past 29 years. Woven into my narratives about Bessie are my insights from my knowledge of her, my sound recordings of her, as well as times I spent with her closest contemporaries (now deceased), and further research. That would be a lot of dedication, determination and earthly work for a ghost.
My proprietary recordings of Bessie reside in the Library of Congress but are not available to the public. In the age of the Internet and new media, some people have attempted to imitate my stories, only to fall flat and arrive at dead ends. They simply do not have the detailed information on Bessie nor the first-hand, well-informed perspectives that I have. There are no cyber- or new-media substitutes that can replace the friendship I had with an elderly woman who shared her life story with me and gave me permission to write it. More on this later.
© Copyright-registered material
© Copyright-registered material
As the steward, gatekeeper and author-originator of Bessie's life story, I have watched with fascination how my long-deceased friend has risen in stature to be regarded as a role model among African Americans and women of this generation. And deservedly so. Some prominent African American women bikers have contacted me to tell me that they feel an emotional connection to Bessie. It doesn't matter to them that the storyteller is a white woman. They are just glad that Bessie's story was preserved and written by someone who was actually close to her.
On social media, black women bikers have said things like, "Wow, Bessie was a bad-ass woman!" These women view Bessie as a symbol of freedom and a role model for being unapologetically black. They view themselves as torch-bearers of Bessie's legacy. On social media I've seen them declare, "We stand on her shoulders." This is exactly what every legitimate author / storyteller wants to see: That the author's chosen subject, and the way she has written and presented her subject, have made an impact and a meaningful difference in people's lives.
In the words of a mutual friend and observer: "Bessie had gravitas. You don't forget a person like that." Indeed. So I wondered, Why wasn't Bessie in African American and women's history books? Bessie was nowhere to be found. Despite her overcoming social and civil barriers in such an unusual way, Bessie Stringfield was an undiscovered person, ignored even by black and women's historians.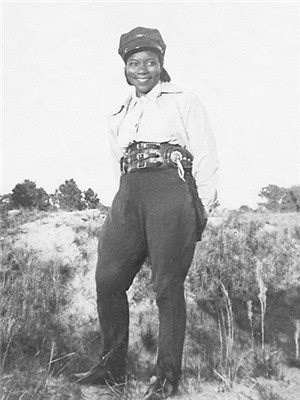 All photos are from the collection of Ann Ferrar and must not be reproduced.
As a journalist, author and as her friend, I knew my mission was right in front of me, and I carried it out with success. Today, it has been gratifying to see that Bessie via my stories has attracted much-deserved global attention. I have been interviewed about Bessie by media outlets ranging from Harley-Davidson's century-old Enthusiast magazine to the hot online venue Broadly.vice.com for the LGBTQ community. One cannot possibly get more universal and concurrently more diverse than that. Mission accomplished.
At the age of 79, Bessie Stringfield asked me to write her biography and she gave me the gift of her life story, sometimes referred to as life rights in legalese. Bessie had confidence that I would handle her story with care and respect. Over the years, I have fulfilled that promise borne of our personal legacy pact. As noted earlier, the great interest in Bessie today, coupled with readers asking me to reveal the hidden information I have not released, has led me to post this website in advance of my two new books.
As the storyteller of Bessie Stringfield's life, I am gratified to see how Bessie via my stories has inspired a new generation. But it is important to note that despite the grab-and-go culture of the web and social media, in fact Bessie's story and my stories about her, are not—and have never been—in the public domain. Just as the composition and lyrics of a song are proprietary to the songwriters, the private and personal nature of my friendship and collaboration with Bessie, and my resulting stories, are proprietary to me as the author-originator and copyright holder.
Back in Bessie's heyday, even her African American contemporaries did not see the significance of her achievements and/or they were not in a position to bring them to light to a larger populace outside of their community. Perhaps, then, it didn't occur to them to try. In any case, Bessie's contemporaries were busy raising families and working in a system stacked against them. I know this because I met and interviewed some of those closest to her, who are now deceased. Like so many notable people of color whose stories have been overlooked, especially those of women, the passing down of their stories was done orally and locally. Generally it was not written down and certainly not recorded in any other way. It took an outside observer of a younger generation (this New York journalist-biker) to see the importance of recording Bessie while there was still time, and in writing her life for international publication. Today's worldwide recognition of Bessie via my stories shows that clearly, her life and legacy transcend the sport of motorcycling.
Bessie Stringfield died in 1993, before the vast majority of her 21st-century admirers had ever heard of her, and when many of her millennial fans were still in diapers. As I looked into Bessie's past, speaking with her contempories and doing other research, it became clear that during her lifetime, Bessie was neither open to popular celebration among the masses nor was she exposed to public scrutiny. Thus, publicly Bessie Stringfield as an actual person remains mysterious to her admirers today. Bessie is the object of avid public curiosity to the point of fascination. That is vastly different from being a public figure. In reality, the public has never even heard Bessie Stringfield speak. There are no recordings of Bessie other than my exclusive, proprietary audio tapes. So, where did the colorful, compelling quotes and anecdotes of Bessie's life, which people are so fascinated with, come from in the first place? They came from my tapes recorded in collaboration with Bessie and from my resulting stories from the early 1990's to the present, all of which are copyright-protected. If I keep repeating this statement, it's because in the age of the Internet and new media, it needs to be stated and I can't emphasize it enough.
I am privy to the fact that Bessie Stringfield as a person was a paradox. Even with all her antics, she was a mysterious, fleeting figure wafting past the eyes of onlookers. She kept her cards close to her chest. No one, not even her husbands, really knew what made her tick, nor did they know anything about her beyond the version of Bessie standing in front of them at different points in their lives. I spent time with Bessie's last husband (now deceased), who corroborated her secretive nature. It made her all the more alluring to him and to onlookers around town.
© Copyright-registered material
© Copyright-registered material
Through the years, in my written and spoken works, I have pointed out to my readers and listeners that during Bessie's era when gender and racial restrictions were so stifling, there would be no movement among black women for whom Bessie could tear down the floodgates. Most black women were confined to domestic roles, either by necessity or by the unspoken caste system of those decades. Many were held back by both. And there was certainly no media coverage of what black women achievers were doing in any milieu. In mid-20th century America, there was a white women's biker club that had some chapters across the country. Instead of being welcomed as a fellow maiden of the road, Bessie was excluded because of her skin color. Whatever niche coverage the white women may have received in motorcycle periodicals, there was no mention of Bessie. As far as the world beyond her Miami neighborhood was concerned, Bessie Stringfield did not exist.
As noted earlier, Bessie was a solo act of contradictions. I knew that the younger Bessie had been bold and even audacious, and she had certainly withstood her share of racial prejudice. Yet she did not allow society's mistreatment of African Americans to define or limit her or the way she interacted with whites or other ethnic people. And obviously, Bessie did not believe that only a black woman could write her story. If Bessie had set such a boundary, the world wouldn't be aware of her today. I presented the hidden Bessie Stringfield in the light that she deserved to be viewed in. Yet Bessie herself did not live to see herself in any of my stories; the first one I wrote was her aforesaid eulogy.
Then, as also mentioned, I featured Bessie in my book of narrative non-fiction about the history of women bikers, Hear Me Roar: Women, Motorcycles and the Rapture of the Road. I was obsessed with chronicling the hidden history of female bikers, who represented an overlooked aspect of women's progression and personal mobility in the 20th century. Hear Me Roar was cited in several scholarly studies and covered by CNN and other major media outlets.
Throughout her life, Bessie Stringfield maintained a balance of composure along with a stubborn streak. I knew that when provoked, she was outspoken, but she also kept secrets about conflicts in her past. Bessie asked me to hold some of those secrets in confidence until well after her death. I have never betrayed that confidence, not even to The New York Times when they called me in 2018 to ask about Bessie for their "Overlooked" obituary series, which pays belated respects to notable women of color. More on this later.
Bessie's courage when faced with bigotry is what intrigued me about her most, and it is what has garnered the world's admiration for her today. At the same time, it is important to note that not all of Bessie's road trips involved struggle against racism. Bessie was drawn to the open road for the feeling of freedom and a wanderlust for seeing the country, but not just the vistas. She wanted to meet the melting pot of America and was rewarded with many life-affirming encounters with whites and other ethnic groups. I asked Bessie about this many times, to be sure I was hearing her straight, to be sure she wasn't softening the fabric for my sake. In the colloquial language of her era, Bessie assured me, "All along the way, wherever I rode, the people was [sic] overwhelmed to see a Negro woman ridin' a motorcycle."
Bessie also told me that in the 1950s and '60s, she had a couple of monikers among locals in her home base of Miami, Florida. Depending on who was talking and when, locally she was nicknamed the Negro Motorcycle Queen and later the Motorcycle Queen of Miami. Unabashedly, she rode her Harleys around town. I wrote of how sometimes, Bessie had a group of mostly black male riders in her wake. They were members of her former Iron Horse Motorcycle Club, which she founded and led in the 1960s. As noted earlier, she even did trick riding at shows and carnivals, original vignettes of which I wove into my copyrighted stories as well.
© Copyright-registered material
© Copyright-registered material
My book Hear Me Roar was covered by The New York Times shortly after its release (Stevenson, Jed: "Hear Me Roar: A Woman's Symphony on the Road," New York Times, July 28, 1996). Stevenson's article focused on my work about Bessie and the Van Buren sisters, who had ridden across the USA in 1916. The Van Burens were white women whose journey was sponsored by a tire company, thus attracting publicity. Bessie Stringfield was a solo act as she traversed the continent unheralded and under the radar. Once Hear Me Roar was released, right from the get-go, even among more than 100 strong, rule-breaking women bikers that I featured in Roar, to this day it is Bessie Stringfield who has captured the world's fascination.
My story "Bessie B. Stringfield: The Color Blue" from Hear Me Roar is the most well-known of my stories because I had adapted it for the website of the American Motorcycle Hall of Fame Museum in 2002 when Bessie was inducted. My "Bessie/Blue" story was posted online simply as "Bessie Stringfield: Inducted 2002." The story also formed the basis for the speech recited by the emcee at Bessie's live induction ceremony. The longer version of the story made its online debut just as the Internet was taking off in a big way around the world. The story was posted intact with my byline and copyright notice on the museum website until 2017. Then I had to abridge it due to plagiarism and piracy. So, readers who missed the full version of my tribute bio to Bessie on the Hall of Fame website are out of luck; the full bio is no longer posted online.
The first three years of my research and riding for Hear Me Roar coincided with the last three years of Bessie's life, 1990 to early 1993. During that vital window of time, I had the privilege to call Bessie my friend, riding mentor, and creative writing muse. In my private journals, or my "bike logs" as I called them, I scribbled our conversations, recounting the evening phone calls I made to my surrogate Aunt Bessie from roadside motels during my travels, and from when I visited her at her home in South Florida. Then there were the many long-distance calls we made to each other over the landlines of old Ma Bell, Miami to Manhattan, when I was home in my apartment in TriBeCa, in lower Manhattan. Since Bessie had a heart condition that often drained her energy, I kept a lot of these calls short. Even though Bessie loved to reminisce, it was more important for her to rest. That's why it took nearly three years for me to learn all that I learned about Bessie Stringfield, as I drew and made sense out of the meandering memories of an elderly woman looking back on her life.
The more I grew to know Bessie, the more impressed I became with her risk-taking and explored this in my stories and spoken works. With her wanderlust Bessie had strayed far from her station in life, taking risks in defiance of the disapproving Southern relatives upon whom she turned her back. I wrote of how Bessie skirted limits placed on race and gender to lead an unconventional life. But I found it almost equally impressive that she slid seamlessly back into traditional "feminine" roles in order to get by. Bessie saw my passion and determination to prevent the loss of her story. There was no precedent for what I wrote about Bessie Stringfield, as there was no precedent for her.
In my stories I conveyed how Bessie had risen above obstacles that might have defeated a weaker person. I emphasized to my readers that long before the Civil Rights and women's movements, Bessie had already bucked convention in a society where suppression of both women and blacks was the cultural "norm." As Bessie came to know me, she realized that I saw something in her that her peers in Miami's African American community did not see. As a white female journalist from the northeast, I had no history with Bessie and thus no preconceived notions about her or her peers. My life experiences, so different from theirs, did not present obstacles to my passion for bringing Bessie and her achievements to light outside of their community.
Just the opposite occurred. I walked into Bessie's life, and wrote of her, from the vastly different vantage point of a woman who had come of age in the height of the modern women's movement of the 1970s. By then, while I was in college, Bessie Stringfield was already starting to retreat from whatever local limelight might have shone on her within their community. She lost touch with her biker cronies. Today, in the midst of her posthumous fame which sprung from my seminal stories, some latter-day fans of the deceased Bessie Stringfield find it hard to grasp that Bessie's life and legacy would likely have died with her, had not I recognized that this frail elderly woman, with her extraordinary past, was in danger of being overlooked and forgotten.
With my background in journalism and my passion for women's studies, I had a more expansive view of the maverick Bessie Stringfield, a view that extended far beyond the radius of her community in Miami. I met Bessie at the start of my work on Hear Me Roar. Over a five-year span, I myself rode around the country to research and write that book. I visited dusty archives and other out-of-the-way places to unearth the hidden history of early women bikers in the first half of the 20th century. I also interviewed and spent time with scores of contemporary women bikers who were racing motorcycles and making their mark in different biker subcultures. I knew that all of these women, including  myself, stand on the shoulders of women like Bessie Stringfield.
I didn't see Bessie as a source of pride reserved only for the black community, or as an eccentric destined for South Florida folklore. I saw Bessie Stringfield as an undiscovered feminist who had, in her own way, quietly predated the women's movement. And while Bessie was not a Civil Rights marcher, I wrote that by her actions, she had pushed against restrictions on her own civil liberties in the era of segregation. Further in my view, the fact that Bessie held jobs as a domestic made her behavior in the flip side of her life all the more risky and daring.
© Copyright-registered material
© Copyright-registered material
My friend Bessie Stringfield was a woman of color who took some unusual, astounding risks for her day, but she was not the one-dimensional "rebel icon" of the web and social media. Nor was she "kick-ass," a slang term best reserved for multiplex action figures. She lived into the frailty of old age to reminisce exclusively on her life with me. I had so much respect for Bessie's determination, courage and resilience, and I learned a lot from her example. For me personally, one of the biggest things I learned from her was the resilience. Even today, there have been times during my own life's challenges when I've asked myself, What would Bessie have told me to do? I saw in Bessie that there are different types of courage, some of which cannot be captured in hyperbolic sound bites aimed at millennials.
Over the last three years of her life, 1990 to early 1993, Bessie and I had many conversations that informed my perspectives and thus my writings about her. We talked about how we were each in our prime during our most adventurous, respective road trips. But our journeys and defiance of convention were half-a-century apart and we were each treated differently by society because of our skin colors. That is why awareness and sensitivity to race—specifically as Bessie lived it and spoke about it to me—have always been a foundation of my thoughts and my writings about Bessie Stringfield. Her story cannot be conveyed in a meaningful way without exploring how race and gender impacted her life. My current crop of African American road queens—strong, contemporary black women bikers—have given me generous and candid feedback behind the scenes. Writer Austin Channing Brown, in I'm Still Here: Black Dignity in a World Made for Whiteness, opens her book with: "White people can be exhausting."  My 21st-century black women bikers know that I am counting on them to tell me if inadvertently I wear them out with good intentions:)
During the difficult or even dangerous times in the South, Bessie drew upon her faith in the Man Upstairs. As she looked back on her life for me, I could tell she had a wellspring of understated courage that enabled her to form empathetic bonds with unlikely people. Many well-wishers, even some in the South, were impressed with her "nerve," as she put it. There were times when Bessie received help from white people who protected her from the bigotry of less-evolved whites in the Jim Crow era. Bessie Stringfield embraced diversity and it embraced her in some tense situations. She was that special. And that courageous. And that resourceful.
As I grew to know Bessie, I gleaned that she had conflicts in her past and chose to escape from them. Those were difficult areas for her to talk about and for me to write about, and at her request, I didn't. For most of her adult life, Bessie told everyone she'd been born in Kingston, Jamaica to a white Dutch mother who died and that she was brought to New England by her black father, who abandoned her there to be raised by Catholic whites. That was Bessie's truth and it was reflected in my early stories about her life. Recently, the adjective Dickensian has been used by some today in puzzling over her childhood.
Bessie was born in the Southeastern region of the United States. She left her Southern relatives while still a stubborn teenager. "They told me good girls didn't ride a motorcycle," Bessie complained. "I wanted a motorcycle and I got it!" In my stories, I described how the girl wrote letters to the Man Upstairs and put them under her pillow. She insisted to me that He taught her how to operate the gears and ride the bike around the neighborhood. Then Bessie left home and never looked back. No one among her relatives or community had any idea of what become of her. Years later, in fact they turned to me to find out.
Interestingly, last year the venerable New York Times included Bessie in their newly launched "Overlooked" obituary series, which pays belated respects to notable, overlooked women of color. When the paper called me and inquired about discrepancies in Bessie's early life, I would not discuss certain things Bessie had entrusted to me. From a biographer's view, these were complex areas and parts of the untold story that need to be handled with the nuance and context that only my biography/memoir can allow.
The Times obituary could neither corroborate nor fully explain the circumstances surrounding Bessie's early life. Surprisingly, then, the paper's obituary dubbed the gray areas "untruths," an unfortunate consequence, which then wound its way into web encyclopedias like Wikipedia and Atlas Obscura. The Times did not leave room on the canvas for the unfinished parts of the portrait. As of this writing, Wikipedia has neglected to cite this essay for a balanced encyclopedia entry. This is ironic, since with the exception of The New York Times section, line by line the information in almost every sentence of their entry on Bessie Stringfield can be traced directly back to my stories, which predate the far-removed, pass-along articles that they do cite. The same shortcomings apply to Atlas Obscura as well.
So, while it may seem that I took one on the chin for Aunt Bessie with The Times, I stand fast. My role as Bessie's long-form biographer is vastly different from that of a news reporter writing a short piece a quarter-century in retrospect. The truth of a complex person like Bessie cannot be extracted by way of a linear, one-hour interview or from unreliable, century-old records, nor from relations not yet born during Bessie's childhood. It took nearly three years of patience, earned trust and diligence for me to piece together the fragmented, meandering puzzle of her life that the elderly Bessie put on the table for me to digest. We weren't doing Meet the Press. And quite frankly, as a writer and researcher myself, I wasn't going to reveal the as-yet unpublished parts of my primary-sourced, exclusive story for a newspaper piece to be reported by someone else! What journalist would?
© Copyright-registered material
© Copyright-registered material
Bessie chose to exercise her freedom aboard motorcycles, but the world's reaction to her via my stories clearly shows that Bessie's legacy transcends the sport. Readers from around the world have emailed me to tell me they are in awe of Bessie's daring and how she handled the obstacles of the Jim Crow era with such bravery. I have heard from readers from the USA and Canada to England, France, Spain, Germany and from as far away as Australia and New Zealand. Recently I was interviewed about Bessie for the noted German magazine Der Spiegel.
As mentioned earlier, on social media her USA-based fans post things like, "Wow, Bessie was a bad-ass woman!" Although I wouldn't use that word or its cousin kick-ass, and neither would Bessie, I do get it. Bessie was strong and a few choice slang words are a reflection of today's movement for women's empowerment. In particular, Bessie has inspired African American women to embark on their own long-distance road trips. Mantras like "rise and ride" have found their way onto T-shirts at black women's biker events.
Today, it has been fascinating to watch how, from the seeds of my early written stories and my spoken narratives about Bessie, over time she rose in stature from hidden figure to posthumous global legend. Today, Bessie Stringfield is regarded as a culturally significant figure to a new generation that recognizes her bravery as a woman of color and her defiance of traditional gender roles. She stands out in their quest to find inspiring hidden figures from the past. Educators and museums have started to notice. Yet as mentioned earlier, Bessie Stringfield as an actual person remains enigmatic to her admirers even in the midst of her posthumous fame. She is a hidden figure in plain sight. Part of that is on Bessie and part is on me. We were, after all, a team.
Socially and culturally significant figures sometimes take their place in history only after enough time has passed to enable appreciation and recognition. That is the case with Bessie Stringfield. My early stories about the hidden Bessie were ahead of the curve when I wrote and presented her to the world beyond Miami in the 1990's. Bessie has an outstanding legacy for her courage, individuality and grace in the face of prejudice based on race and gender. I have a legacy for being the writer, recordist and friend who noticed—and who worked diligently with the elderly woman to capture her memories before it was too late.
Bessie's life story and my stories about her life are inseparable; they are one. This reality can never be buried in lax encyclopedias and unauthorized aggregates of my work, nor can it be appropriated by pretenders and profiteers in new media like podcasts and social media videos. In her thoughtful book Becoming, former First Lady Michelle Obama writes: "Your story is what you have, what you will always have. It is something to own." I couldn't have said it better myself.
The personal nature of the friendship between Bessie and me makes it harder to see my stories stripped of my identity and recycled on the web. In the Internet age this has happened to a lot of authors, but why has it happened to such a heightened, almost bizarre degree with my stories on Bessie? It began with computerized "bots" that count mere mentions of Bessie's name among the masses. This led to the false labeling of the hidden, voiceless, deceased Bessie Stringfield as a "public figure." There came a two-and-a-half minute, unauthorized video of still shots and captions that dubbed Bessie a "rebel icon." The quotes and captions on Bessie were lifted from Hear Me Roar  without my prior knowledge. This little video went viral on Facebook with 20 million views.
This phenomenon led to Bessie's inclusion in far-removed, recycled articles in high-volume sites like Wikipedia and Atlas Obscura, where frequent visits by readers garner high search-engine rankings. (This all happened prior to The New York Times piece.) The resulting, manufactured labels of Bessie as a "public figure" and a hyperbolic "rebel icon" tamper with the integrity of Bessie's memory and tread with a heavy boot over my voice and my very existence. That's how I became a "ghost." But if anyone is a ghost, it is actually Bessie herself. Ironically, Wikipedia states that a public figure is a person who is widely known for being active among the public during ther lifetime. Bessie is not akin to an Aretha or a Rosa Parks, who were bonafide public figures in their day.
Today, my being the steward, gatekeeper and the author-originator of Bessie's life story brings such challenges that could only arise in a perfect storm, where the vagaries of Internet content-mills and their false sense of entitlement for quick, effortless information, have joined forces with new technologies like smart-phones and tablets. This brew reflects and exploits our celebrity-obsessed pop culture and its hunger for heroines, heroes and role models. Bessie Stringfield has become posthumously famous even though the masses have never heard her speak and they don't even know who Bessie was as an actual person.
Despite superficial appearances on Facebook, Wikipedia and elsewhere, Bessie Stringfield's life story and my material on her life are not in the public domain. The absurd, posthumous labeling Bessie as a "public figure" has had real-world consequences. Recently, the most stunning example of attempted infringement on my copyrights occurred when a team of podcast producers took the liberty of building an entire segment about Bessie on my material. They went one step further by hiring an actress to read proprietary quotes from my stories without informing me beforehand and without my permission. Even for the Internet/new media generation, this was so brash and unethical that it warrants mention. The podcast could not, and did not, go forward.
There was another company using an "audible" format to attempt something similar. And it was nearly comical when a hotel chain / credit card co-branding duo approached me with a request to attach Bessie to their products, meaning, they wanted to use Bessie's story / my stories about Bessie to help sell their products. They did not even see the irony. Politely I explained that in Bessie's day, she would have been turned away from their hotels and denied credit. The deceased Bessie Stringfield, who navigated her life through the Jim Crow era, is not akin to Serena Williams as a brand spokesperson today. There were never any hotel mints on Bessie's pillow.
These are some examples of how I have had to preserve the integrity of Bessie's story, along with my copyrights to it. So here again, I must state that derivative works, adaptations and other imitations in any media of any of my stories—those past, present and on this website—are prohibited. I get to choose which projects (if any) I wish to pursue—it's not the other way around. See the detailed notice at the bottom of the site, which lists the copyright registration numbers for my stories and for my sound recordings of Bessie, along with other information on restrictions.
As noted earlier, despite the runaway nature of the web and new media, the life story of Bessie Stringfield belongs to two women: Bessie, who lived it and shared it exclusively with me, and this writer, who recorded and wrote Bessie Stringfield into literary life. My stories have stemmed from my first-hand knowledge of Bessie, with whom I have "lived" for the past 29 years. But unfortunately, again due to plagiarism and piracy of my work, for now I've removed some stories and photos from this site. At the same time, many readers who do remember first learning of Bessie from my stories of the 1990's, and who thus respect my byline and copyrights, have emailed me to ask that I write the full biography of Bessie Stringfield. They know that I am the only author who can do justice to Bessie's story.
I was blessed to be an actual part of Bessie's life and to share our friendship in her twilight years. And as her biographer, a researcher and narrative storyteller, I am the only legitimate, knowledgeable and primary source for the complete spectrum of the hidden life of Bessie Stringfield—for what is known and as-yet untold, for what is controversial, and for that which is celebrated today. — Ann Ferrar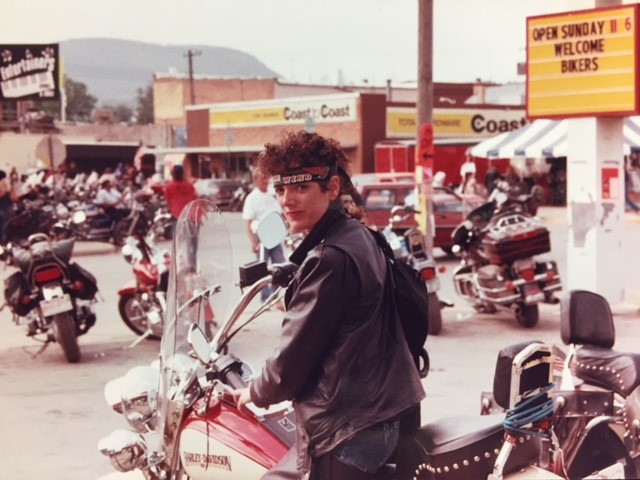 © Copyright-registered material