My African American
Queen of the Road
The Untold Story of Bessie Stringfield and Me
A Memoir of Race, Friendship,
Resilience and the Road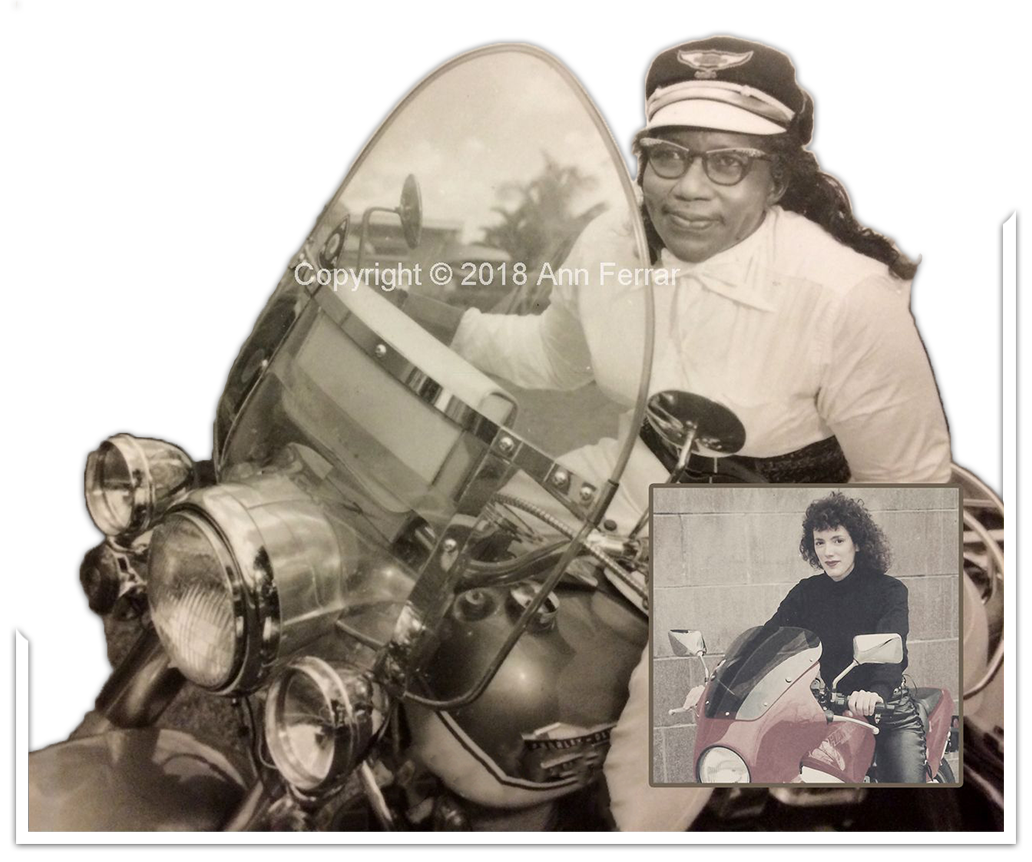 All content (text and photos) on this website Copyright © 1990 - 2018, Ann Ferrar. As Bessie Stringfield's authorized biographer and recordist, Ann Ferrar is the author-originator, primary source and sole rights-holder of this material, its previous variations, and the oral history of Bessie Stringfield as told by Ms. Stringfield to Ms. Ferrar and as recorded by the author. Library of Congress Registration Numbers TX0004341049; TX8473178; and 1-635-1434791. The author reserves all rights to her works and properties. This website provides a glimpse into the only authorized book - biography of Miami's black motorcycle queen Bessie Stringfield, who defied racial & gender barriers on her Harleys in the pre-Civil Rights era. This content is based on the author's collected writings, including: her upcoming book My African American Queen of the Road, The Untold Story of Bessie Stringfield and Me (pub date TBA) and her story "Bessie B. Stringfield: The Color Blue" from her book Hear Me Roar: Women, Motorcycles and the Rapture of the Road (NY: Crown, 1996). The author's excerpts from "Hear Me Roar/Color Blue" were published and read globally on the American Motorcycle Hall of Fame Museum website, on AnnFerrar.com and in periodicals (1993-present). The author's print books, articles, web biographies and oral readings on Ms. Stringfield are the author's intellectual property and are not in the public domain. Thus, Ann Ferrar's stories, story elements and storylines, ideas, perspectives, conclusions and other essential content (read here and elsewhere) must not be pirated, imitated, adapted to other media, duplicated, scanned, stored, or otherwise plagiarized in any media by other parties. Thank you for respecting the rights of the author-originator and the wishes of Bessie Stringfield.
Writing Bessie's Truth: Behind the Authorized Biography of a Daring Motorcycle Queen
Bessie Stringfield (1911-1993) was an extraordinary woman of color and a motorcycling pioneer who rose above racial and gender barriers in the pre-Civil Rights era. She was also my mentor and friend. Bessie toured the USA eight times on her vintage Harleys and was a World War II courier. With courage and faith, she rode alone on primitive roads despite the risks to lone female travelers and the dangers to African Americans.
In response to readers of my earlier stories about Bessie and her many global fans on social media, this website tells the backstory and gives a glimpse into the only authorized biography of Bessie Stringfield, the daring motorcycle queen and lifelong Harley girl.
In the 1950s and '60s, Bessie had two "royal" monikers among locals around town. Depending on who was talking, she was the Negro Motorcycle Queen and later the Motorcycle Queen of Miami. Today, Bessie Stringfield has become a culturally significant figure—an icon—to a new generation of fans who are inspired by her bravery against the odds. There is a viral video on Facebook, plus huge group motorcycle rides and achievement awards that honor her legacy. Yet the real, flesh-and-blood Bessie Stringfield behind the icon remains seductively unknown to her fans. But she is not unknown to me.
That's because with Bessie's blessing and encouragement, I recorded her oral history on a series of exclusive audio tapes during the last three years of her life, becoming the only author—the only person—to record the voice and the stories of Bessie Stringfield as told by the woman herself. Bessie gave me the gift of her life story and asked me to keep it alive. It has been my privilege to keep that promise as a labor of love.
Over the years, my seminal, primary stories about Bessie have been the spark for the viral video and thousands of Google hits on Bessie, indicating immense public fascination with her. Educators have even begun to introduce her to children. With the seed that Bessie and I planted together a quarter-century ago, she has gone from hidden figure to posthumous fame as an inspirational role model to so many. Naturally, she has always been an inspiration and a role model to me, as well as my muse.
Bessie and I were each in our prime during our adventurous road trips. But our journeys and defiance of convention were half-a-century apart and we were each viewed and treated differently by society because of our skin colors. That is why race is one of the continuous threads in the story of Bessie Stringfield and me. Our story cannot be conveyed without it. My new book represents the voices and legacies of two different women who bonded and dug in our heels against the pull of our families' ethnic and social traditions. Bessie's was Southern Black Baptist in humble beginnings in the Jim Crow era. Mine were post-World War II Southern Italian American of the working class Stayin' Alive generation in Brooklyn, New York. What two women could be more ostensibly mismatched? Somehow, we connected.
Many readers and fans have written to ask me, Please tell us more; just who was Bessie Stringfield, the woman, the person?  In response to those questions, Bessie is now the heroine of my upcoming biography and memoir. I call the new book My African American Queen of the Road—The Untold Story of Bessie Stringfield and Me, A Memoir of Race, Friendship, Resilience and the Road (publication date TBA). 
This title didn't come to me overnight. For months I thought deeply about the message I want to convey as the title evolved in my mind. The main title and subtitles reflect my feelings toward Bessie, our experiences of womanhood, of life, and of our different lives on the road as women in a male-dominated milieu. In the new book, I am shining light on Bessie Stringfield from a deeper and more personal perspective, that of two different women—one elder, one younger, one black, one white—who shared an unusual kinship.
Bessie and I were women bikers traveling alone in two different eras. For each of us, our motorcycles were an expression of freedom and exhilaration. They were also an exercise in daring, sometimes for better, sometimes for worse. Choosing a motorcycle to feel alive and to seek adventure comes with placing oneself in a vulnerable position in more ways than one, especially for women riding alone. But if I was at risk for bodily injury, death or harm at the hands of humans, the risks to Bessie were tenfold because of her skin color and the times in which she was traveling.
I was in awe of this woman's nerve and resourcefulness. I had a lot to learn from Bessie and she was happy to teach it, pleased that I hung on her every word. Bessie and I empathized and appreciated each other despite our obvious differences. Our friendship, which took place during the last three years of her life, transcended racial, regional and generational differences. She was much older than me and became like my surrogate aunt. Often I called her Aunt Bessie or Aunt B and she loved it. Rarely did I take to her nickname, BB. She called me Ann and sometimes Miss Ann. In true biker tradition, she gave me a nickname, too: Opal, for the blue-white stone that changes colors with the light, "just like your moods," she once quipped. Bessie reserved Opal for times when I was not at my best. There came a surprising day when Aunt B sent me a ring with a small opal stone. I still wear it on days when i have the blues, as a way of conjuring her inspiration.
I was honored and touched when Bessie asked me to write her biography. We made a pact and I promised her I would preserve and write her story and her truth.  So, let me introduce myself: I am the storyteller, the messenger at Bessie's request. This is what defines me as her authorized biographer and a primary source.
I knew Bessie at a slow, reflective time in her later life when her health had declined. She knew she was facing her mortality and was quietly preparing for it. In the way of many elderly, Bessie shared meandering, circular memories with me over time. I listened with patience and learned, Never underestimate the mind and motives of this uncanny elder.
With her wanderlust, Bessie had strayed far from her station, taking risks in defiance of worried and disapproving relatives. Bessie skirted limits placed on race and gender to lead an unconventional life, but she also slid back into convention for long spells in order to get by. The spirited viral video, posted on Facebook by Timeline Media in December 2016, shows only her youthful sass and her rebel side in two-and-a-half minutes. But the untold, mature Bessie Stringfield whom I knew was not free of regrets, nor of secrets and painful memories that she tried to push away.
The viral video (the first of several that were produced) earned 20 million views on Facebook, a clear indication that Bessie Stringfield is a culturally significant figure today. Yet her posthumous fame poses a puzzling question:
How could a local Miami woman become the subject of a viral video, the object of thousands of Google hits, and a symbol of empowerment a quarter-century after her death—and yet still remain a mystery to her fans? Well, here is the backstory of how the seed of a singular woman's life grew into a tree with limbs stretching around the earth.
In the beginning, Bessie was known to locals in Miami-Dade and to a select group of bikers, most of whom were black. She was not a public figure by any stretch. We first met in 1990, when Bessie was 79 and had done more than 60 years of riding. I was 35 and just starting my research and road trips for my book Hear Me Roar: Women, Motorcycles and the Rapture of the Road (NY: Crown, 1996). That was my debut book in which I was the first person to introduce Bessie to a global audience. In the book, I wrote a story that I called "Bessie B. Stringfield: The Color Blue." It is my favorite among the stories that I have written about my late friend.
Bessie did not live to see herself in Hear Me Roar. She died in 1993, when I was only halfway through my work on the book. At the time of her death I wrote a short-form biography of Bessie—in essence, her eulogy—which was published in American Iron magazine, introducing Bessie to a mass audience of Harley-Davidson devotees across the nation and abroad.
The preservation, planting and spreading of the seed of Bessie's legacy began with a singular woman and her designated writer/interpreter. These two were Bessie and me. What do I mean by interpreter?
Well, most people are unfamiliar with the nuts and bolts of how professional interviewers, narrative journalists and historians work to build their original works. Here is the backstory how I worked with Bessie Stringfield. My audio recordings of Bessie did not take place in a single formal sitting. They took place over time, with lots of contact in between. Bessie, in the manner of many frail elderly, did not tell stories to me in a linear order, and sometimes not even in a logical manner. I listened patiently and just let her do her thing, and I read between the lines of her speech.
The raw material of Bessie's meandering memories meant I had to structure them into a storyline, or plot, of my own creation, and I had to interpret, or translate, the raw material into works of prose that I would be proud of. My perspectives and conclusions on the significance of Bessie's life and achievements were the brush strokes that filled out my narrative portraits of Bessie B. Stringfield. I came to think of her as My African American Queen of the Road.
One day, when I trotted that out in conversation, Bessie cackled with glee and bemusement. She said, "If you say I am a queen in your mind, I won't take away how you feel. But if I am any kind of queen, it is because Jesus put me there. He is the King. His mother Mary is The Queen. I know those Dominican nuns in Brooklyn taught you that."
In 1996, Crown Publishing released Hear Me Roar. The book was covered by The New York Times with an article reporting on my work about Bessie. Six years later in 2002, Bessie was inducted to the American Motorcycle Hall of Fame. In her honor I adapted my story "Bessie B. Stringfield: The Color Blue" from Roar for the Hall of Fame Museum website. I was pleased and proud—on behalf of Bessie and myself—when my stories were recited to the audience at her induction ceremony. My unabridged story remained posted on the HOF website for sixteen years and was read by millions. (I abridged the piece in early 2018 to make way for this website.)
Enter social media. When Facebook launched in 2004, fascination with Bessie's story as I had written it began to spread exponentially around cyberspace, sometimes in paraphrased bits and pieces, sometimes verbatim and whole (and too often without citation of the author-originator). As word of Bessie spread, gradually hundreds of Google hits were triggered. From those, eventually the viral video was produced, and from that, now thousands of Google hits. As a result, Bessie has finally received the recognition she deserves, as readers and viewers have learned of her courage and achievements. That is how the late Bessie Stringfield, Miami motorcycle queen, went from hidden figure to Internet celebrity and icon.
Bessie's posthumous legend, if you will, began with the power of a single pen—literally. I wrote her eulogy and first drafts of Hear Me Roar in longhand on yellow legal pads. While scribbling I sipped endless cups of coffee while I sat in a window booth at my favorite Greek diner in Lower Manhattan. I lived in Tribeca in the 1980s till the mid-1990s before it became really trendy. The diner was my idea of "eating out." Back then, it was also the only thing I could afford on my income from freelance writing and my day-job at a non-profit foundation.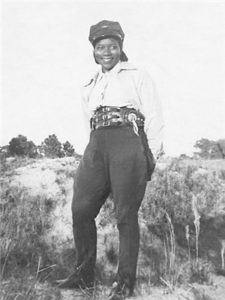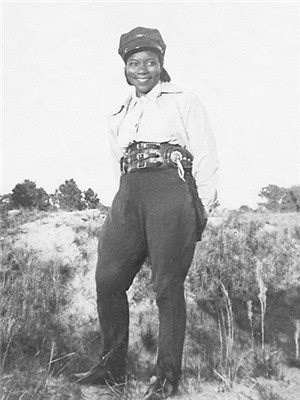 Today, the private woman behind the cultural icon remains alluringly mysterious to the world. Many of my readers have let me know they are eager for more detail. As Bessie's recordist, friend and biographer, here on this website I continue with the backstory and offer selected glimpses into My African American Queen of the Road—The Untold Story of Bessie Stringfield and Me, A Memoir of Race, Friendship, Resilience and the Road. I am delving deeper into the life of Bessie Stringfield, from the perspective of the unusual bond that we shared in the last three years of her life. It is a story that's been hidden in Bessie's exclusive oral history tapes that I recorded, and tucked away in my diaries from the early 1990s.
Bessie never felt that only a black woman could translate her story; she had friends and romantic partners from a diverse array of people whom she let in to love her. I was among that lucky, motley handful toward the end. Being a writer and a biker who became her trusted friend, I am the only person to whom Bessie gave her life story. Why does this matter? It matters, quite honestly, because I am the only living primary source who can put Bessie's story together from beginning to end. What you may have found on the Internet is merely the surface. The story is unique and cannot be written by anyone else.
Bessie has been gone a long time, but to me, she has never truly left. From the positive feedback and tremendous interest that I've received already, I know that Bessie's story of grit and determination against the odds has struck a chord with a new generation. Parts of her story, however, have also stirred up debate and speculation.
Photos are from the collection of Ann Ferrar. May not be used without permission.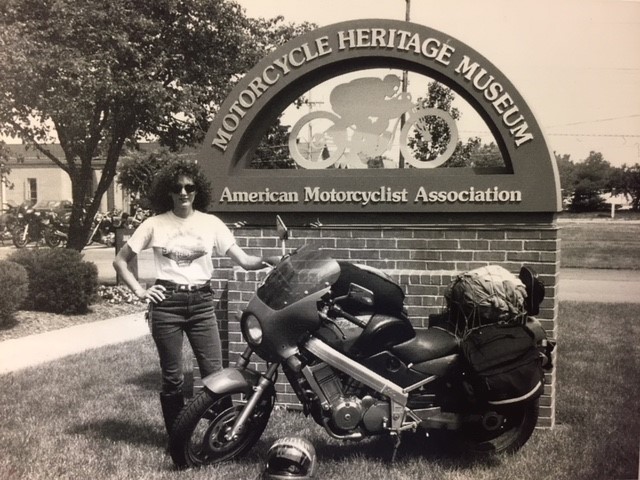 In my close-up view, Bessie Stringfield was both a product of her era, yet simultaneously, she was way ahead of her time. She was a solo act of contradictions. She became a Roman Catholic but married and divorced six times. I knew that the younger Bessie was bold and even audacious, and that she had certainly withstood her share of racial prejudice. Yet she did not allow society's limited views of African Americans to define or limit her.
Bessie lived her life as a black woman, yet without being asked, she sometimes brought up that her late mother had been white. Bessie's childhood was complicated as she described it to me and to others in her past. I've seen the adjective "Dickensian" in articles compiled decades after her death from secondary and tertiary material.
Not long ago, a venerable newspaper recognized Bessie with an obituary among other notable yet overlooked women of color. They were perplexed by contradictions in her past. Knowing Bessie on an emotional level, I viewed them as difficult secrets and part of the untold story that need to be handled with the care and context that only a long-form work (my book) can allow. On this I would not budge. The paper dubbed them "untruths" and moved on. Either way, readers will have to wait for my book for a trip into Bessie's labyrinth.
The recognition, the curiosity, the fame and the debate over Bessie Stringfield shows that even a quarter-century after her death, Bessie's achievements resound strongly in the 21st-century wave of rediscovered heroines and bold female role models. But sorting out the compartments of Bessie Stringfield retrospectively is an impossible task for those who never met her. That's why the thousands of Google hits on Bessie can only go in circles and stop at dead ends.
On social media and in emails I receive from my readers here and abroad, people are in awe of Bessie Stringfield. Some of you say things like, "Wow, Bessie was a badass woman!" I get it. Bessie was strong and the word reflects today's movement for women's empowerment.
Women of color have told me they feel an emotional connection to Bessie. They view her as a symbol of freedom and a role model for being unapologetically black. Women regardless of race have told me they view Bessie as a symbol of pride in gender, reflecting admiration for more overlooked women taking their rightful place in the pantheon. Men love Bessie, too—she represents the underdog who made the upset victory.
Bessie took control of the handlebars as a long-distance motorcycle rider in an era when it was rare for any woman, and unprecedented for a woman of color. Today, rise and ride has become a powerful slogan among a new generation of black women bikers who are, in effect, part of Bessie's legacy. I am heartened to know that my stories on Bessie Stringfield have such great relevance today and that her courage and achievements have inspired so many in this generation.
For all of her nerve in her prime as depicted in the snappy viral video, I want my readers to know that Bessie was equally brave as an elder when facing serious challenges of a different kind. That is what made me cherish her. She was a multi-dimensional woman whose long life cannot be condensed into video sound bites or wiki-type articles.
Bessie Stringfield has always been the star of my narratives and I have stayed in the background, using my writer's voice in the third person. But that is no longer possible given the immense fascination with my late friend. Bessie's story might have remained buried in her sleepy Miami neighborhood had not this out-of-town author from New York seen the importance of recording her on tape, preserving those recordings and then writing her truth.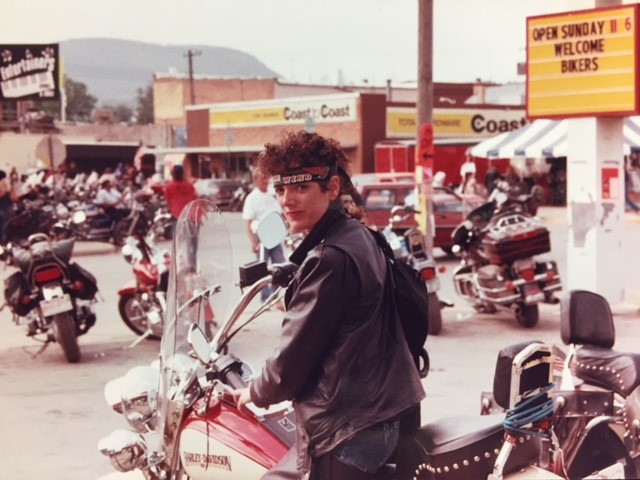 I was honored and humbled to be asked. Why did Bessie ask me to be her biographer? Well, for starters, Bessie believed that the Man Upstairs ordained everything; to her, there were no coincidences. The first thing Bessie intuited was the old soul in me, born of my ethnic tradition of holding one's elders on high. I was also a biker who understood, adored and identified with Bessie on that gritty tomboy level. Plus I was a female writer with a track record of covering women's lives. It made sense that she entrusted me with her story. She knew I'd take good care of it. And I know I kept my promise to her.
I saw in Bessie what her peers in Miami did not necessarily see. They were impressed with her being a lone black woman riding a Harley unabashedly around town. But I didn't see Bessie as a treasure reserved only for the local black community or as an eccentric Floridian destined for Southern folklore. In the words of a mutual friend, "Bessie had gravitas. You don't forget a person like that."
Indeed. I saw Bessie Stringfield as the trailblazer that she was. I knew that, long before the women's movement and even before the Civil Rights movement, Bessie had already achieved a lot in a world where white men had written and enforced most of the rules. As a senior, Bessie was still riding Harleys but she retreated from the spotlight. Yet toward the end of her life, Bessie thought about what legacy she wanted to leave. That's precisely when I walked into her life. I knew that her story needed to be preserved and told beyond the limits of South Florida. So that's what I did.
Due to the nature of the Internet, readers may not see my name in some of the Google hits on Bessie. I'll note this as delicately as possible. The web has become a content mill where primary sources tend to get lost in the shuffle. Because of this, readers won't find anything new or more in-depth about Bessie either. There is much more to Bessie Stringfield that I have never released anywhere before.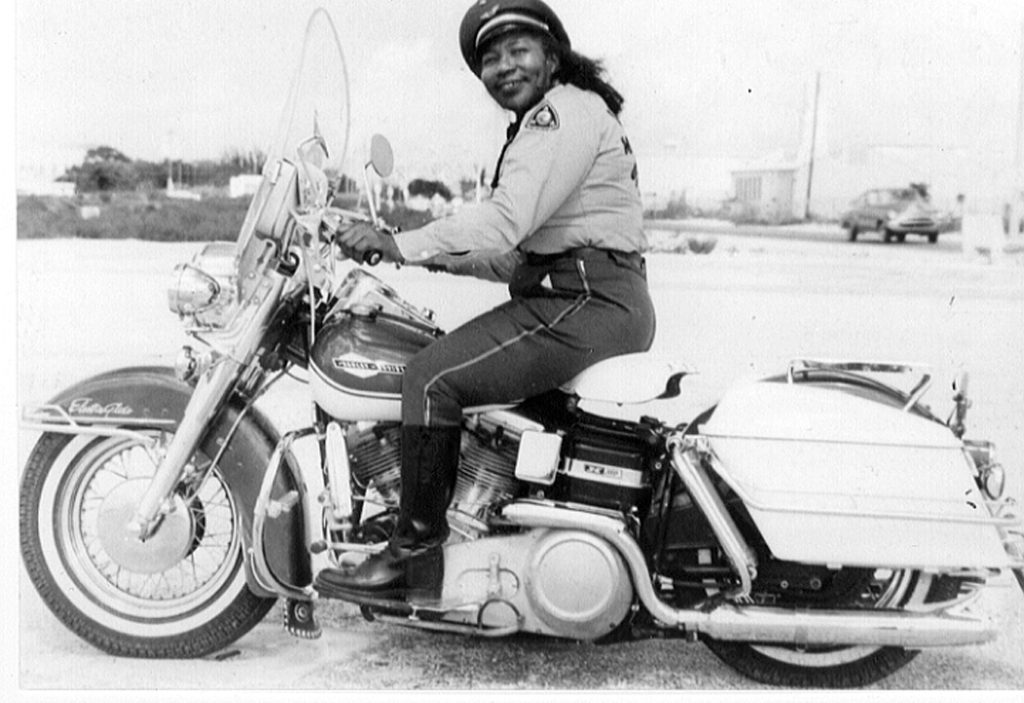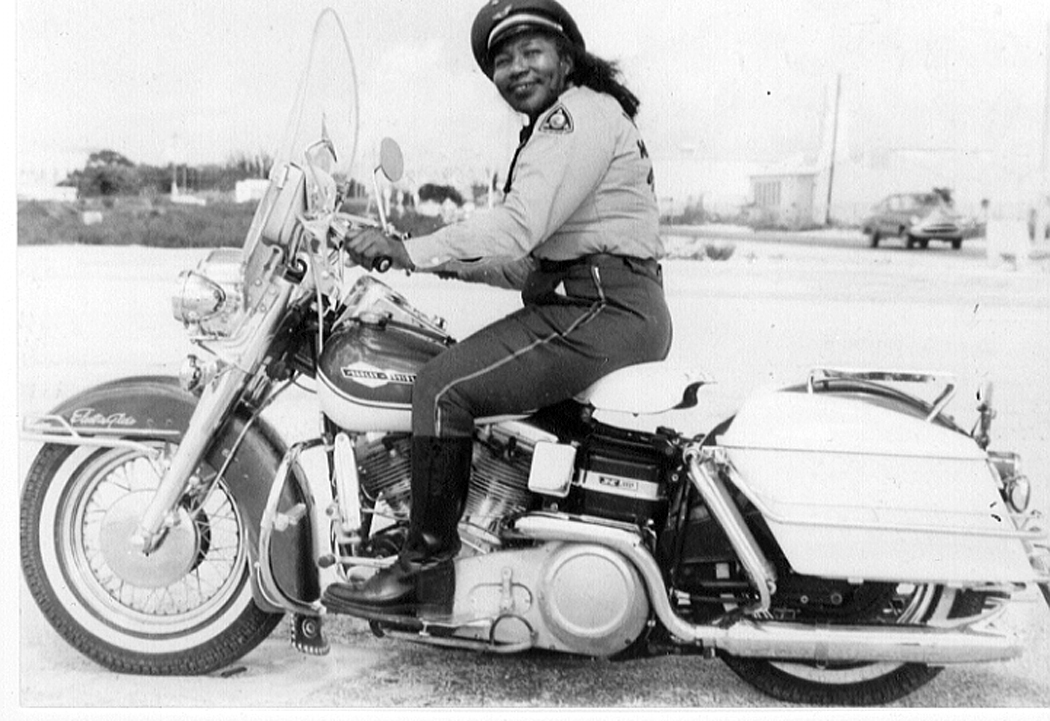 Bessie Stringfield's time is clearly now. Culturally and historically significant figures tend to take their place in history only after enough time has passed to enable perspective and appreciation. That is the case with Bessie Stringfield. And with the wisdom borne of facing and overcoming challenges in my own life, it's my time as an author again, too.
Speaking of authorship: Bessie respected me as an author as much as she respected me for being, well, me. So here, I'm going to touch upon something that means a lot to dedicated author-originators everywhere.
When I began writing my works on Bessie as a labor of love in the early 1990s, I could not have foreseen the that the information highway would evolve into an uncredited content mill. I didn't expect to see so much material from my original stories on Bessie used by others as if they were anonymous resources.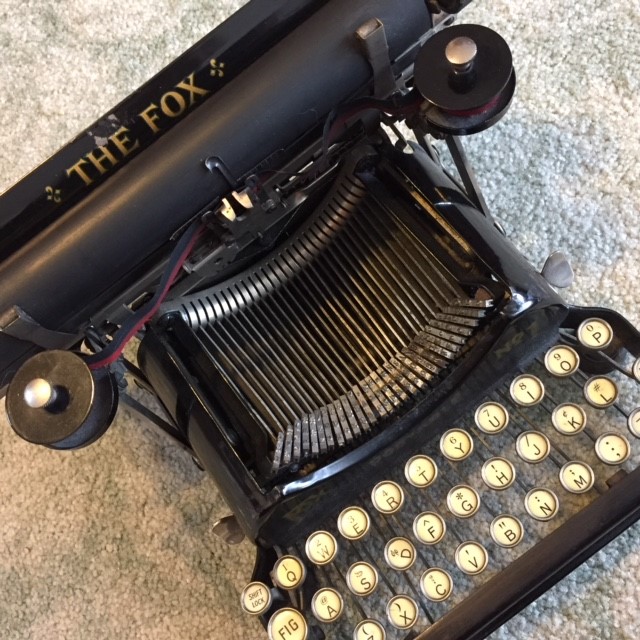 Bessie has a legacy for her outstanding achievements. I have a legacy for mine as an author-originator and her biographer. My seminal works on Bessie have my creative stamp on them; please know that they are not in the public domain. Just as vital, they are the product of the contents in my heart, not just my head.
All that said, I'd like to share a sentiment from rocker Melissa Etheridge, who was quoted in a book called A Glorious Freedom: Older Women Leading Extraordinary Lives by Lisa Congdon.
In the book, Etheridge said: "We are getting older, and we are getting wiser, and we are getting freer. And when you get the wisdom and the truth, then you get the freedom and you get power, and then–look out. Look out." On that note, I invite my readers and fans of Bessie Stringfield to enjoy my website for a fresh and authentic visit with the world's two most unlikeliest biker chicks. — Ann Ferrar
Like "African American Queen of the Road" on Social Media
Photos are from the collection of Ann Ferrar. May not be used without permission.