An Introduction to the Only Authentic, Authorized Biography
African American Queen of the Road
The Untold Story of Bessie Stringfield
A Memoir of Race, Resilience and the Road
© By Ann Ferrar
This coming biography and memoir is based on the actual oral history of African American motorcycling pioneer Bessie Stringfield, exclusively recorded on tape by journalist and former biker Ann Ferrar. Taped during the women's friendship between 1990 and 1993, these are the only recordings of Bessie Stringfield in existence. Ferrar's primary-sourced, written and spoken works on the life of Bessie Stringfield account for most of what is known about the elusive Bessie. In her copyrighted stories, Ferrar presented her theses on Bessie's achievements in the pre-Civil Rights era. Here, read the backstory of how a personal legacy pact between the two women, and the original stories written by one author in the 1990s, grew to inspire a new generation today.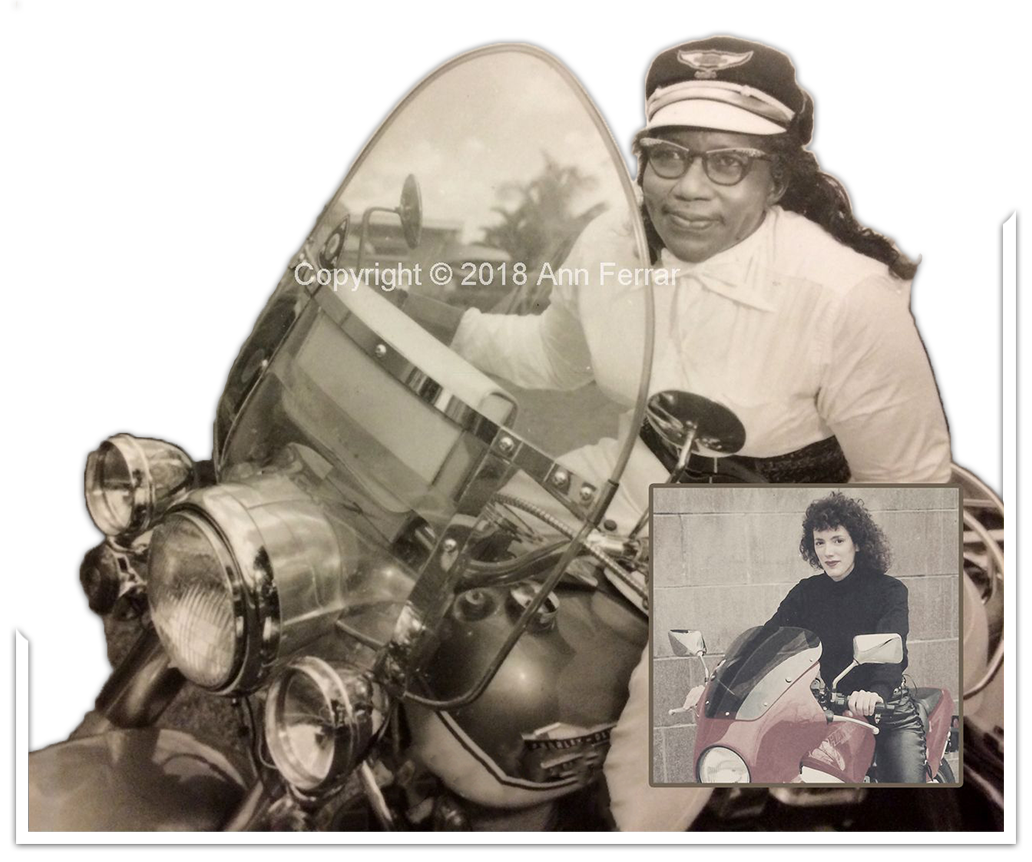 © Copyright-registered material. Detailed copyright notice posted at bottom.
Writing an Untold Life: Race, Gender and Resilience
In the Authorized Biography of Bessie Stringfield
© By Ann Ferrar

I met and befriended Bessie Stringfield toward the end of her long life. Thin as a wisp and tiny at less than five feet, she was barely recognizable from the young, robust black woman biker she had been in her prime. Yet there was something about Bessie that drew me to her and made me look past the frailty of her old age. In my eyes, Bessie had an aura even as an elderly woman. I saw that beneath her age and fragility, her spirit and strength still resided in the present moment.
.
 
That's why for me, meeting Bessie Stringfield was like a jolt of electricity, as when you touch something dormant that you didn't realize was statically charged. And so I recognized Bessie Stringfield not as a light that had dimmed, but rather as a daring woman of color who had risen above racial and gender barriers in the pre-Civil Rights era. I saw Bessie as an avatar of living history standing right in front of me, smiling up and talking to me about her unsung past. Bessie had an incredible story to tell, except that nobody's ears were attuned to it—except for mine. It was the start of a conversation between us that lasted for about three years, almost until her passing.
.
 
Most vitally, I exclusively recorded Bessie's oral history on audio tape with her blessing, encouragement and permission. Then I put my writing craft and creativity to work. Beginning in 1993, I wrote Bessie's life in several non-fiction, copyright-registered short stories, which predate—and which have massively influenced—everything else you have read, seen or heard about Bessie Stringfield. Today, I am continuing to write her life in my first book-length biography and memoir of her, African American Queen of the Road: The Untold Story of Bessie Stringfield, A Memoir of Race, Resilience and the Road.
.
 
Bessie was 79 years old on the day of our first encounter—at a motorcycle museum, no less. That was back in 1990, when Bessie's riding career had spanned six decades on 27 Harleys and one Indian Scout. She had a lifetime of wisdom and experience in her memories that she shared exclusively with me. In my stories I wrote of how Bessie, with her flair and natural skills, had been a trick or "fancy" rider during one point in her career. I described how she trained rigorously alongside black men to become a civilian motorcycle courier on the home front during World War II, among other achievements.
.
 
When I met Bessie for the first time and heard these stories straight from her, and recorded them on tape, I was 35, in the prime of my own womanhood and professional career as a writer of women's lives for major magazines and newspaper syndicates in New York. I had already embarked on my own solo motorcycle road trips. From my vantage point as a writer of women's lives and a female biker in a male-dominated milieu, I wrote Bessie Stringfield as the heroine and protagonist in my stories. This amazing yet forgotten woman was also a role model for me personally. Into my stories I wove Bessie's strength, resilience and grace in the face of bigotry. I called Bessie a one-woman civil rights movement. While she was not a marcher, Bessie had navigated restrictions on her race and gender as a long-distance motorcycle rider in an era when it was rare for any woman, and unprecedented for an African American woman.
.
 
The quotes from Bessie that you may have seen elsewhere, as well as the anecdotes, chronicles and narratives on her actions and life events—indeed, the commentary with the very perspectives on her achievements in the pre-Civil Rights era—all originated from my seminal stories and spoken works dating back to the early 1990s. Had I not written and spoken those stories, had I not formed and presented my theses which shone a light on Bessie, she would still be a hidden figure today.
.
 
Many people are either unaware of this fact or they turn a lazy eye to it, content to assume that the stories and social commentary on Bessie Stringfield originated from — where exactly? The lax, pass-along nature of the Internet and social media has caused author-originators like myself to get buried alive in the giant compactor and recycling bin of the web. But many readers who do know and respect my byline, and my registered copyrights, have emailed me to ask that I write a full biography of Bessie Stringfield. They know that I am the only author who can do it, because I am the only primary source—living or dead for that matter—for the complete spectrum of the life of Bessie Stringfield, including that which is still untold, that which is controversial, and that which is celebrated.
 
.
In my prose portraits of Bessie, I wrote that Bessie lived and breathed to ride her Harleys and that nobody was going to stop her, not even Jim Crow.  Had she been given the gift of writing, Bessie could have written her own book on individualism. But she was a raconteur, never a writer. That's where I came in. In my stories, I wrote that Bessie toured the USA eight times on her vintage Harleys, often tossing a penny over a map and riding to wherever it landed. The journey, not the destination, was the only thing that mattered to her.
 
.
When I threw a leg over my own motorcycles as a white, New York City woman of a later generation, I was never subjected to what Bessie had been through. She taught me a lot about what it was like. She became my role model for persistence and resiliency when it seemed that my own, very different challenges would defeat me. At times I felt alone, but never alone in the world as Bessie had sometimes been. From Bessie I learned what it means to stand up for oneself and assert one's voice. A quarter-century later, I am doing exactly that with this website.
.
 
In my stories and spoken works from the early 1990's and beyond, as noted, I revealed that during World War II, Bessie had been a motorcycle courier on the home front. She'd already been traveling long distances before the war, alone on primitive roads despite the risks to female travelers. I wrote of how, drawing on on her courage and faith, Bessie faced the obstacles and dangers imposed on African Americans in the era of segregation. Yet despite her overcoming social and civil barriers in such an unusual way, Bessie Stringfield was an undiscovered person, unknown to the national public. She was ignored even when scholars and the popular media were starting to foster appreciation of black and women's studies. I wondered, Why wasn't Bessie in African American and women's history books?
.
 
When the rumble of the Harley V-twin engines had long ago faded into memory, Bessie Stringfield arrived at quiet place in time as her health gradually declined. Pondering what legacy she wanted to leave, Bessie sat and reflected for me on her extraordinary life. No one else was listening to an elderly, African American woman tucked inside a modest home, encircled by a chain-link fence, in a sleepy corner of Miami-Dade County. That's when I walked, or more precisely rode my own motorcycle, into her life.
 
.
In 1990 at the age of 79, Bessie Stringfield gave me the gift of her life story, known more tangibly these days in legalese as her life rights. Bessie had confidence that I would handle her story with care and respect. I fulfilled that promise borne of our personal legacy pact. My sound recordings are the only recordings of Bessie Stringfield in existence. They are copyright-protected, as are my earlier written and spoken works, along with this website. These protections mean that am the only person who has the right to derive, adapt or otherwise build upon any of my material on the life of Bessie Stringfield.
.
 
As her biographer and friend, I can tell you that Bessie Stringfield was a solo act of contradictions. She was both a product of her era, yet simultaneously, she was ahead of her time. She became a Roman Catholic, but married and divorced six times. I had never met anyone like her. In my stories, I wrote of how she did tricks on her motorcycles and then stints as a housemaid. The younger Bessie had been bold and even audacious, and she had certainly withstood her share of racial prejudice. Yet she did not allow society's mistreatment of African Americans to define or limit her or the way she interacted with whites or other ethnic people.
.
 
Throughout her life, Bessie Stringfield maintained a balance of composure along with a stubborn streak. When provoked, she was outspoken, but she also kept secrets about conflicts in her past. Bessie asked me to hold some of those secrets in confidence until well after her death. I have never betrayed that confidence, not even to The New York Times when they called me last year to ask about Bessie for their "Overlooked" obituary series, which pays belated respects to notable women of color. More on this later.
.
 
As we have clearly established, I made it my mission to turn many eyes in the direction of Bessie Stringfield and her achievements. I featured her in my own, narrative non-fiction book on the history of women bikers, Hear Me Roar: Women, Motorcycles and the Rapture of the Road, published in 1996 and again in 2000. I was obsessed with chronicling the hidden history of female bikers, who represented an overlooked aspect of women's progression and personal mobility in the 20th century. Roar was cited in several scholarly studies and I was asked to speak at libraries and colleges, and naturally at biker events with a large female presence.
In July 1996, Roar was covered by The New York Times. The paper's article focused on my work about Bessie and the Van Buren sisters, who had ridden across the USA in 1916. Yet even among more than 100 strong, rule-breaking women bikers that I featured in Hear Me Roar, to this day it is Bessie Stringfield who has captured the world's fascination. I hope that this website will, for now, meet the demand of worldwide interest in Bessie, including fans and professionals who are eager to learn more about what lies beneath and beyond the limited information that is recycled all over the Internet. This website will not reveal the exclusive untold; that is the purpose of the forthcoming book.
.
 
The first three years of my research and riding for Hear Me Roar coincided with the last three years of Bessie's life, 1990 to early 1993. During that vital window of time, I had the honor and privilege to call Bessie my friend, riding mentor, and creative writing muse. As noted, I exclusively recorded her oral history on audio tape with her blessing. In my private journals, or my "bike logs" as I called them, I scribbled our other conversations, recounting the evening phone calls I made to Bessie from roadside motels during my travels, and from when I visited her at her home in South Florida. Then there were the many long-distance calls we made to each other over the landlines of old Ma Bell, Miami to Manhattan, when I was home in my apartment in TriBeCa. Bessie asked me to preserve her story, and by extension her legacy, in my writings. I promised her I would, and so I wrote her life for international publication in print and on the web. She did not live to see herself featured in any of my stories. The first one I wrote was her eulogy.
.
 
During Bessie's era when gender and racial restrictions were so stifling, there would be no movement among women of color for whom Bessie could tear down the floodgates, since most of them were confined to domestic roles, either by necessity or by the unspoken caste system of those decades. Many were held back by both. And there was certainly no media coverage of what noted black women were doing in any milieu. In mid-20th century America, there was a sole white women's biker group in the U.S. that had chapters across the country. Instead of being welcomed as a fellow maiden of the road, Bessie was excluded because of her skin color. Whatever niche coverage the white women may have received in motorcycle periodicals, there was no mention of Bessie. As far as the white majority world was concerned, Bessie Stringfield did not even exist.
 
.
At the same time, Bessie's African American contemporaries either did not see the significance of her achievements and/or they were not in a position to bring them to light to a larger populace who would listen. Perhaps, then, they didn't even try. Bessie was surely an unconventional heroine. At first I wondered, Why wasn't she in black or women's history books? I realized it was because Bessie's story had been overlooked, like that of so many accomplished black people, especially women. In many cases, the passing down of their stories was done orally; generally it was not written down and certainly not recorded in any other way. I saw the importance of recording Bessie's oral history on tape while there was still time.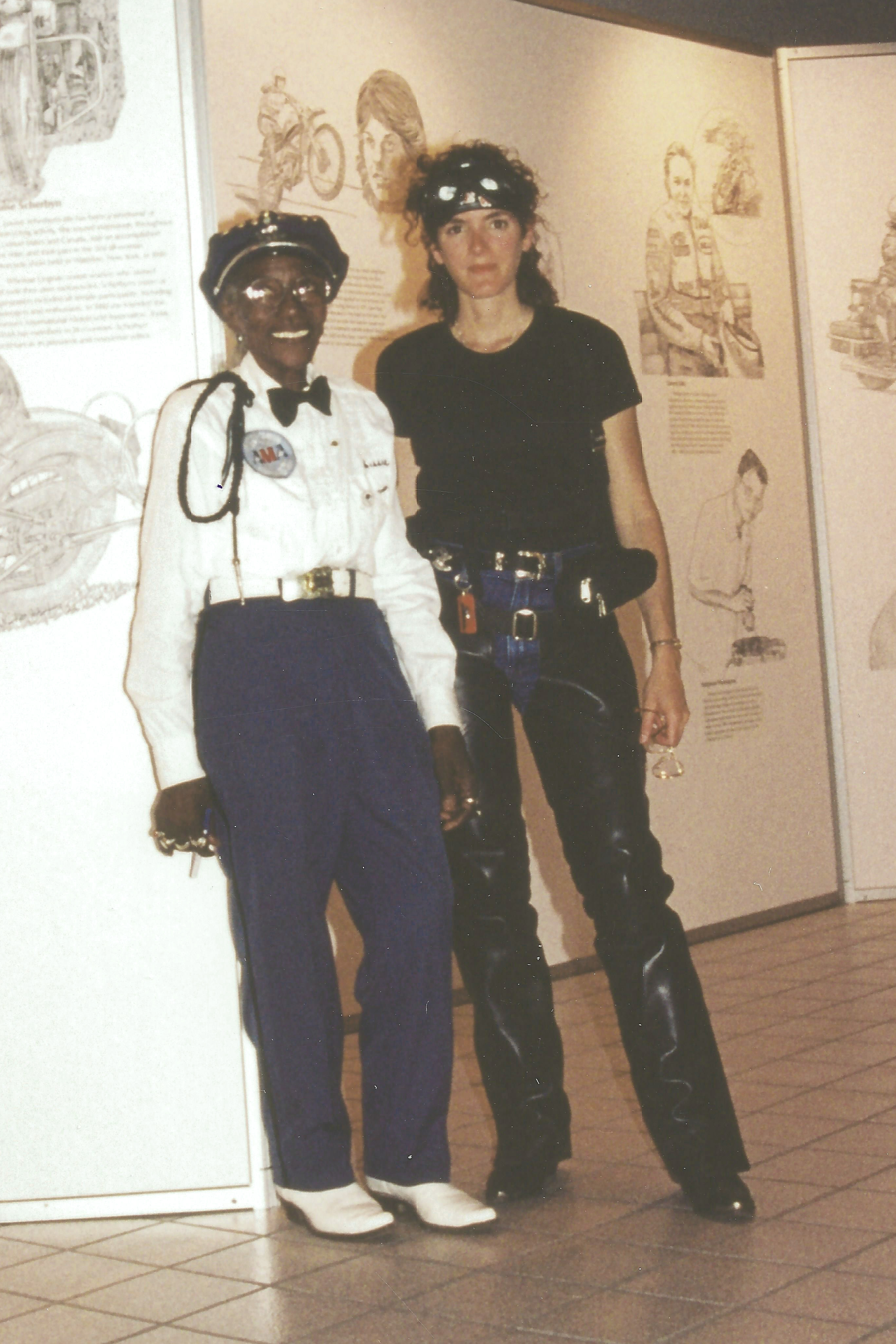 One key to understanding Bessie Stringfield and her expansive spirit is to appreciate that Bessie never felt that only a black woman could grasp what she had been through. If Bessie had set such a boundary, the world wouldn't be aware of her life story now. I was the only person—of any race—who stepped up to the plate to preserve and write her hidden story. The personal nature of our friendship and Bessie's trust and confidence in me is why, today, it has been jarring to see my stories stripped of my identity, plagiarized and parroted all over the Internet and in other media.
.
My friend Bessie Stringfield was not a national public figure in life. It is utterly impossible for her to be a national public figure in death, since nearly everything that is known about Bessie stems from the copyright-registered, short stories written by a single author: this one! So, it is further jarring to see Bessie's memory and the meaning of her legacy distorted and exploited by some who spin it, profit from it, and/or take credit for it. Because of the untamed nature of the web and social media, profiteers and even overly avid fans are under the false impression that Bessie, and my work on her, are up for grabs. This is ironic especially since my written and spoken works on Bessie, which I've done over the past quarter-century, have been a labor of love.
The exploitation of Bessie's name and of my stories is fostered on the web by lax venues like Wikipedia, Facebook, Atlas Obscura and others, which fail to properly credit author-originators. In Bessie's case, they have manufactured Bessie as a "pubic figure," based solely on the number of views and comments on a 2 1/2-minute viral video, and mere mentions of her name around the web. This is absurd and could only happen in the Internet age. The public has never even heard Bessie speak! There are no recordings other than my private, exclusive audio tapes.
.
During her lifetime, Bessie was neither open to popular celebration nor exposed to public scrutiny. No one, except myself, had ever gathered the fragments of Bessie's story into a logical whole. No one, except myself, had ever crafted conversational bits into cohesion. Thus, what the public really knows about Bessie Stringfield is akin to mere SparkNotes of her life. I selectively chose what to write about Bessie. The rest of her life remains in my tapes and personal journals of the period, and in a few other hidden places. So, the spin and profiteering are not only over-the-top, they are offensive to me as the steward of Bessie's life story and, by extension, of her legacy.
My first published story on Bessie, her eulogy, was printed as a feature article in an international magazine for Harley bikers (American Iron, June 1993). Then I wrote the narrative "Bessie B. Stringfield: The Color Blue" in Hear Me Roar (New York: Crown Trade Paperbacks, 1996; New Hampshire: Whitehorse Press, 2000). Next, I tweaked that story from Roar for Bessie's posthumous, 2002 induction speech at the Motorcycle Hall of Fame Museum, and for the museum's website. The story was posted with my copyright in 2002 and remained intact for 15 years — until 2017, when I abridged the story due to plagiarism, piracy, and the lack of line-by-line citation of my stories in Wikipedia, Atlas Obscura, and others which fail to do their homework, despite appearances. So, readers who missed my earlier, longer version of the Hall of Fame piece are out of luck. But I wrote a similar story for the museum's print magazine, American Motorcyclist, in 2003, to commemorate the tenth anniversary of Bessie's death. I rotated vignettes of Bessie on my former website annferrar.com, which I took offline when this site went up in 2018.
All photos are from the collection of Ann Ferrar and must not be reproduced.
Today, in response to tremendous interest from readers and Bessie's many fans around the world, I am writing the new book, Bessie's authorized biography. The main title, African American Queen of the Road, was my personal nickname for her. It fits Bessie perfectly. By combining two literary forms, biography and memoir, I am writing another original work that cannot be written or imitated by anyone else. As noted earlier, I am the only primary source for the complete life of Bessie Stringfield, and I am the only person who has the right to derive, adapt or otherwise build upon my own material. It can't be made any clearer. I would add: How unfortunate that because of the web, author-originators like myself must fight exploitation, when we'd rather just get on with our good work.
That said, the spectrum of Bessie's life includes hidden gray areas, which both intrigue and raise questions among latter-day observers, including The New York Times. Last year, the venerable newspaper deemed Bessie worthy of being included in its "Overlooked" obituary series, which belatedly recognizes notable women of color. Later I will address the complex bone of contention that arose between the paper and myself.
.
From my original short-form narratives, word of Bessie's unknown life was spread organically to reach a global audience via the Internet. But the story of Bessie Stringfield was borne of the personal legacy pact between two vastly different women: her and me. Without our inter-generational, inter-racial friendship, and our mutual respect for each other, Bessie Stringfield would still be an unknown figure. Instead, I recognized the elder Bessie as an outstanding and singular role model, and thus, she became the heroine and protagonist of my stories. Had I been a novelist instead of a writer of narrative non-fiction, the world would be speaking of Bessie from a different angle.
One analogy is that Bessie Stringfield is the real-life equivalent of a main character in a short story or a novel. Bessie did not exist in the hearts and minds of the public until one author—this one—put her life on the page for international publication. So, as things stand in the real world, people are celebrating Bessie Stringfield's real-life achievements as I wrote them in my original, non-fiction short stories. As noted, my narrative and other story elements have been stripped of my identity, barreling across several continents in both hemispheres like a runaway literary train. Because of this, my efforts to keep Bessie's story alive have expanded to preserving the integrity of her story and the integrity of my work in the Internet age.
With Bessie's authorization, I became the only person to record Bessie's oral history on tape, exclusively capturing the voice and the stories of Bessie Stringfield told directly to me by the woman herself. No recordings or literature on the life of Bessie Stringfield exist elsewhere. When Bessie gave me the gift of her life story, I began to write my narratives about Bessie's life, achievements and challenges over six decades on 27 Harleys and one Indian Scout motorcycle. My narratives, chronicles and perspectives on Bessie's life in societal context stem from my first-hand knowledge and experience of Bessie, her peers, her milieu, and my passion for the history of American women in the 20th century.
In my published writings I described events, actions and choices Bessie made to overcome racial and gender barriers in her day. My stories on Bessie portrayed how over 60 years, she rode at least a million miles in all kinds of conditions. By today's standards, Bessie's bikes were primitive and unreliable. Some circumstances she found herself in were treacherous because of rutted, muddy roads. Other circumstances were treacherous because of racial prejudice in the early and mid-20th century South, where "Jim Crow" and "the Klan" were pervasive in the lexicon and in Southern life. Some nights she had to sleep on her Harley at gas stations at night when no one would rent her a room. 
.
Yet not all of Bessie's road trips involved struggle against racism. Bessie was drawn to the open road for the feeling of freedom and a wanderlust for seeing the country, but not just the vistas. She wanted to meet the melting pot of America and was rewarded with many life-affirming encounters with whites and other ethnic groups. I asked Bessie about this many times, to be sure I was hearing her straight, to be sure she wasn't softening the fabric for my sake. In the colloquial language of her era, Bessie assured me, "All along the way, wherever I rode, the people was [sic] overwhelmed to see a Negro woman ridin' a motorcycle."
Bessie also told me that in the 1950s and '60s, she had a couple of monikers among locals in her home base of Miami, Florida. Depending on who was talking and when, locally she was nicknamed the Negro Motorcycle Queen and later the Motorcycle Queen of Miami. Unabashedly, she rode her Harleys around town. I wrote of how sometimes, Bessie had a group of mostly black male riders in her wake. They were members of the former Iron Horse Motorcycle Club, which she founded and led in the 1960s. She even did trick riding at shows and carnivals, original vignettes of which I wove into my copyright-registered stories as well.
At the same time, Bessie Stringfield was a paradox. She was a mysterious, fleeting figure wafting past the eyes of onlookers. She kept her cards close to her chest. No one, not even her husbands, really knew what made her tick, nor did they know anything about her beyond the version of Bessie standing in front of them at different points in their lives. I spent time with Bessie's last husband (now deceased and a former member of the club), who corroborated her secretive nature. He confirmed that even in Miami, Bessie Stringfield, the actual woman and his former wife, was not a public figure. This made her all the more alluring to him and to onlookers.
As I peered into Bessie's hidden past, I became more and more impressed with her risk-taking and explored this in my stories. In my view, with her wanderlust Bessie had strayed far from her station in life, taking risks in defiance of the disapproving Southern relatives upon whom she turned her back. I wrote of how Bessie skirted limits placed on race and gender to lead an unconventional life. But I found it almost equally impressive that she slid seamlessly back into traditional "feminine" roles in order to get by. Bessie saw my passion and determination to prevent the loss of her story. There was no precedent for what I wrote about Bessie Stringfield, as there was no precedent for her. She was truly that singular.
In my stories I conveyed how Bessie had risen above obstacles that might have defeated a weaker person. I pointed out to my readers that long before the Civil Rights and women's movements, Bessie had already bucked convention in a society where suppression of both women and blacks was the cultural "norm." From the moment I met Bessie, I knew there was little "normal" about this elder despite her diminutive, unassuming appearance. Bessie Stringfield chose to exercise her freedom on motorcycles, but clearly, her legacy transcends the sport. This is evident in the mass admiration for her around the world. For instance, recently the German magazine Der Spiegel asked me for an interview so I that I could enlighten their readers about the great Bessie Stringfield.
Bessie died in 1993, before the vast majority of her 21st-century admirers had ever heard of her, and before many of her millennial fans were even born. Publicly, Bessie Stringfield as an actual person remains enigmatic to her admirers. The details behind the events, anecdotes, vignettes and quotes from Bessie that I wrote into my published works still reside in my exclusive, private tapes of Bessie, my notepads and journals of the period between 1990 and 1993, and in a few other hidden places. Bessie is the object of avid public curiosity even to the point of fascination. So today, I find myself the steward of this deceased woman, Bessie Stringfield, whom I am responsible for writing into life again. The privilege of being the keeper of the keys to Bessie's life story has brought its joys and as well as some unexpected challenges, which I discuss in this essay.
In the early 1990s when I began writing the life of private citizen Bessie Stringfield, the Internet was not ubiquitous. There were no web encyclopedias and social media platforms, no grabby digital videos or other forms of noise, to manufacture spin and labels in which to box my elderly friend. "Rebel icon." "Bad-ass" and Kick-ass." "Public figure." An absurdity, an impossibility and a paradox, that last one, and misleading on all four counts. The public has never even heard Bessie speak! Plus I have never released the details behind the highlights of her life and achievements in the pre-Civil Rights era, which I personally selected write about a quarter-century ago.
The strength of the highlights of Bessie's life which I wrote into my short-form stories has captured the world's admiration for, and curiosity about, Bessie Stringfield. Yet what the public and the pirates actually know about Bessie Stringfield barely scratches the surface. The artificial designation of Bessie as a "public figure" is based on 20 million views of a 2 1/2 minute viral video,which was based (without my prior knowledge) on my story about Bessie from Hear Me Roar. However, I never called Bessie a "rebel icon." That is a fake, manufactured label intended as click-bait, and it worked for the video company. Somebody must have made a lot of money on that video; it certainly wasn't me. 
This chain of events is incredible, in a bad way. It has been a headache for me as the copyright holder and the steward of Bessie's life story. While it is heartening to know that my stories hit the ball out of the park to keep Bessie's memory alive for this generation, it is also disturbing to see Bessie turned into a symbol of something she was not. The real Bessie Stringfield I knew was not a trophy, and her life cannot be condensed into 2 1/2 minutes. In the words of a mutual friend, "Bessie had gravitas. You don't forget a person like that."
As the real Bessie Bessie Stringfield came to know me, she realized that I saw something in her that her peers in Miami's African American community did not recognize. Bessie's contemporaries were impressed with her for being a black woman riding a Harley boldly around town regardless of what the white Miami PD, or anyone else, thought of her. I walked into Bessie's life decades later and from a vastly different vantage point.
I met Bessie at the start of my work on Hear Me Roar. Over a six-year span, I myself rode around the country to research and write that book. I visited dusty archives and other out-of-the-way places to unearth the hidden history of early women bikers in the first half of the 20th century. I interviewed and spent time with scores of contemporary women bikers who were racing motorcycles and making their mark in different biker subcultures. Like many of the latter-day women I wrote about, I had come of age during the modern women's movement of the 1970's. With my background in journalism and my passion for women's studies, I had a more expansive view of the maverick Bessie Stringfield, a view that extended far beyond the confines of one niche community in Miami.
.
For starters, I didn't see Bessie as a source of pride reserved only for the black community, or as an eccentric destined for South Florida folklore.  Indeed. I saw Bessie Stringfield as an undiscovered feminist who had, in her own way, quietly predated the women's movement. And while Bessie was not a Civil Rights marcher, I wrote that by her actions, she had pushed against restrictions on her own civil liberties in the era of segregation. My stories on Bessie Stringfield have always reflected these perspectives in various ways.
.
Further in my view, the fact that Bessie held jobs as a domestic made her behavior in the flip side of her life all the more risky and daring. This rounded view was absent from the sensational viral video and it was dismissed in the staid New York Times obituary. So, I am all the more proud of my original stories on Bessie and of the expansive light in which my work has presented Bessie to the world. Had I not seen Bessie for the whole person that she was, or had I limited her accomplishments to those related mainly to motorcycling, the light on Bessie would have flickered out long ago with her passing. I could not, and I did not, allow that to happen.
.
My friend Bessie Stringfield was a daring, African American woman biker who took some astounding risks for her day, but she was not the one-dimensional "rebel icon" of the web and social media. "Kick-ass" is for action figures and multiplex superheroes. Bessie was bold and stood up for herself, but she was also a devout Catholic and of the generation where she was comfortable calling herself a Negro. She was a layered person who lived into the frailty of old age. This doesn't make for a grabby sound bite aimed at millennials, but that is Bessie's truth.
Bessie became like my surrogate aunt, as well as my mentor and muse—my personal trinity whom I held in high regard. Bessie had her deity and constant companion, Jesus, whom she referred to as the Man Upstairs, and to whom she prayed every day. I had my Aunt Bessie Stringfield, from whom I sought advice and even comfort. Over the long-distance phone lines of old Ma Bell, I called Bessie many nights from motel rooms and truck stops during my own motorcycle road trips. I was in my thirties back then and I, too, was mostly alone on the roads of America in the 1990's.
Today, it has been fascinating to watch how, from the seeds of my primary, published narratives on Bessie, over time she rose in stature from hidden figure to posthumous global legend. Today, Bessie Stringfield is regarded as a culturally significant figure to a new generation that recognizes her bravery as a woman of color and her defiance of traditional gender roles. She stands out in their quest to find inspiring hidden figures from the past. Educators and museums have started to notice.
As noted earlier, Bessie Stringfield as an actual person remains enigmatic. She is the object of intense public curiosity. In 2018, a frustrated fan of Bessie's wrote to tell me I'm equally responsible for what is not known about the late woman. Part of that is on Bessie and part is on me as her authorized biographer. Bessie asked me not to to write about certain things until well after her death. Respectfully, I have kept parts of the story at the bottom of an allegorical memory box for a quarter-century.
Over the last three years of her life, 1990 to early 1993, Bessie and I had many conversations that informed my perspectives and thus my writings about her. We talked about how we were each in our prime during our most adventurous, respective road trips. But our journeys and defiance of convention were half-a-century apart and we were each treated differently by society because of our skin colors. That is why awareness and sensitivity to race—specifically as Bessie lived it and spoke about it to me—have always been a foundation of my thoughts and my writings about Bessie Stringfield. Her story cannot be conveyed in a meaningful way without exploring how race and gender impacted her life. As noted earlier, Bessie never felt that only a black woman could grasp what she had been through.
Bessie and I took to the open road in two different periods of time. Yet for each of us, our motorcycles were a timeless expression of freedom and exhilaration. They were also an exercise in daring, sometimes for better, sometimes for worse. Choosing a motorcycle to feel alive, free, and to seek adventure comes with placing oneself in a vulnerable spot, especially for women riding alone. But if I was at risk for bodily injury or death on my bikes, or harm at the hands of other people when I was actively riding solo in the 1990's and 2000's, the risks to Bessie were much greater because of her skin color and the tense times in which she was traveling. Yet we identified with each other in key areas that had nothing to do with race. We two were essentially tomboys who weren't going to let men, or other disapproving women, tell us we didn't belong on motorcycles. And we brushed off those who were so intrusive as to presume our sexual orientation based on our enjoyment of motorcycling.
I had so much respect for Bessie's determination, courage and resilience, and I learned a lot from her example. For me personally, one of the biggest things I learned from my conversations with her was the resilience. Even today, there have been times during my own life's challenges when I've asked myself, What would Bessie have told me to do? I saw in Bessie that there are different types of courage, some of which cannot be captured in sound bites aimed at millennials.
During the difficult or even dangerous times in the South, Bessie drew upon her faith in the Man Upstairs. Even through the frailty of her old age as she looked back on her life for me, I could tell she had a wellspring of quiet, understated courage that enabled her to form empathetic bonds with unlikely people. Many well-wishers, even some in the South, were impressed with her "nerve," as she put it. There were times when Bessie received help from white people who protected her from the bigotry of less-evolved whites in the Jim Crow era. Bessie Stringfield embraced diversity and it embraced her in some tense situations. She was that special. And that courageous. And that resourceful.
As I grew to know Bessie, I gleaned that she had conflicts in her past and chose to escape from them. Those were difficult areas for her to talk about and for me to write about, and at her request, I didn't. For most of her adult life, Bessie told everyone she'd been born in Kingston, Jamaica to a white Dutch mother who died and that she was brought to New England by her black father, who abandoned her there to be raised by Catholic whites. Hence the adjective Dickensian that came to be used by some today in puzzling over her childhood.
Yet Bessie was born in the Southeastern region of the United States. She left her Southern relatives while still a stubborn teenager. "They told me good girls didn't ride a motorcycle," Bessie complained. "I wanted a motorcycle and I got it!" In my original stories, I described how the girl wrote letters to the Man Upstairs and put them under her pillow. She insisted to me that He taught her how to operate the gears and ride the bike around the neighborhood. Then Bessie left home and never looked back. No one had any idea of what become of her. Years later, they turned to me to find out.
Here's where the bottom of the allegorical box gets sticky. In 2018, The New York Times dug into its own archives and pulled up a 1996 story written by their own reporter about me, my work with Bessie, and my research on the Van Buren sisters, who motorcycled across the continent in 1916.  (Stevenson, Jed: "Hear Me Roar: A Woman's Symphony on the Road," New York Times, July 28, 1996). Last year, the paper included Bessie in their new "Overlooked" obituary series, which pays belated respects to notable, overlooked women of color. When the paper called me and inquired about the discrepancies in Bessie's early life, I would not discuss certain things Bessie had entrusted to me with her life rights.
From a biographer's view, these were complex areas and parts of the untold story that need to be handled with the nuance and context that only my biography/memoir can allow. What a stranger may perceive as flaws, a biographer perceives as human frailty. And quite frankly, as a writer and researcher myself, I wasn't going to reveal the as-yet unpublished parts of my primary-sourced, exclusive story for a newspaper piece to be reported by someone else! What author would? The Times could neither corroborate nor definitively disprove or explain circumstances surrounding Bessie's early life. Surprisingly, then, the paper's obituary dubbed the gray areas "untruths," an unfortunate choice of words, which then wound its way into web encyclopedias with my name attached to it. As already established, web encyclopedias do not paint the full picture. And The Times did not leave room on the canvas for the unfinished parts of the portrait.
So, while it may seem that I took one on the chin for Aunt Bessie, I stand fast. My role as Bessie's long-form biographer is vastly different from that of a news reporter writing a short piece a quarter-century in retrospect. The truth of a complex person like Bessie Stringfield cannot be extracted by way of a linear, one-hour interview or from seeming, bare-boned facts in unreliable, century-old records, nor even from relations not yet born during Bessie's childhood. Bessie's truth is not that cut-and-dry. It took nearly three years of patience, earned trust and diligence for me to piece together the fragmented, meandering puzzle of her life that the elderly Bessie put on the table for me to digest. We weren't doing Meet the Press.
© Copyright-registered material. All rights reserved by the author.
© Copyright-registered material. Full copyright notice posted at bottom.
Bessie chose to exercise her freedom aboard motorcycles, but the world's reaction clearly shows that her legacy transcends the sport. General readers from around the world who have found this website email me to tell me they are in awe of Bessie's daring. On social media, her American admirers post comments like, "Wow, Bessie was a badass woman!" Although I wouldn't use that word or its cousin kick-ass, and neither would Bessie, I do get it. Bessie was strong and a few choice slang words are a reflection of today's movement for women's empowerment. African American women have gone one step further. They have written to tell me they feel an emotional connection to Bessie. They view her as a symbol of freedom and a role model for being unapologetically black. Rise and ride has become a mantra among a new generation of black women bikers who see themselves as torch-bearers of Bessie's legacy. She has inspired them to embark on their own long-distance road trips. Some of these women even view Bessie as an avatar of who they aspire to be. On social media I've seen black women bikers declare, "We stand on her shoulders."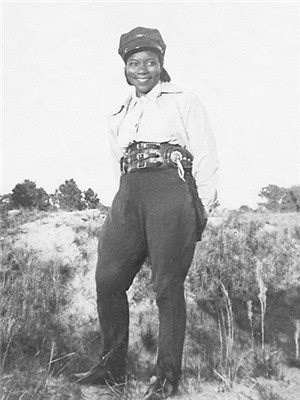 All photos are from the collection of Ann Ferrar and must not be reproduced.
When Bessie and I got together in 1990 and I began recording and writing her life, neither of us could have predicted that Bessie's achievements would have such a resounding impact today. Clearly, the personal legacy pact that Bessie and I made has far exceeded its goal. I wanted Bessie to be known by historians and devotees of black, women's and motorcycling history, as well as by general readers, academics and students already inclined to explore those areas. The intense interest in Bessie Stringfield among a new, mass generation shows the timeless power of her story to inspire. Bessie's experiences and achievements in a society stacked against her strike a particular chord among those who have experienced prejudice in their own lives.
Bessie and I could not have known that editors of books for children and young adults would find my stories on Bessie and begin to introduce her to kids and teenagers. Most notable are the girl-power anthology books. One of the best is History vs. Women: The Defiant Lives That They Don't Want You to Know.  A quarter-century after her death, all this and more has come to pass. People who have discovered this website have written to me from across the USA and Canada to Europe (England, Spain, France, Germany) and Down Under (Australia, New Zealand).
As noted earlier, Bessie Stringfield is the object of intense public curiosity. This is vastly different from being a public figure. Wikipedia, which comes up first in search-engine results, perhaps more than any other mass venue besides Facebook, has perpetuated the myth of Bessie as a public figure. Yet ironically, Wikipedia states: "A public figure is a person such as a politician, celebrity or business leader ... A fairly high threshold of public activity is necessary to elevate people to a public figure status." Unwittingly, Wikipedia confirms that Bessie Stringfield, as a deceased person—and one not known to the public in her lifetime—cannot be a public figure today. The late Bessie Stringfield is not an Aretha or a Jackie Robinson. They were achiever-celebrities who were ever-present in the public eye and whose mass impact was obvious during their lifetimes. They were, and will always be, bonafide public figures.
.

For Bessie's achievements to even be evident today, first she had to be found, recorded and written about by someone who (a) recognized the significance of her achievements; who (b) was positioned to write her life for international publication; and who (c) obtained Bessie's permission. That is where I came in, strongly believing that Bessie's hidden story needed to be documented and written. Bessie had steered the handlebars on own path when the odds were stacked against her making it on so many levels. That is impressive. Clearly, the world agrees with me.
© Copyright-registered material. All rights reserved by the author.
© Copyright-registered material. Full copyright notice posted at bottom.
Long gone are the days of my old cassette tape recorder, pen and notebooks. I wrote the first drafts of my stories on Bessie in intimate longhand (cursive script) before typing the manuscripts and editing them in my buzzy computer with its box-shaped monitor and floppy disks. Gone are the days when readers and viewers could not simply press cut, paste, post or send without thinking it through. Today, the "wild west" nature of the Internet and social media has given rise to posthumous fame and runaway fandom for Bessie. So, it has been jarring for this author-originator to see that all of these defining story elements of mine have been tampered with on the web, on social and other media.
.
I've seen and heard almost every twist, angle and turn. There are some individuals and groups who have adopted Bessie as a symbol in the name of legacy, while omitting the fact that Bessie embraced diversity even in adversity. This may be a reflection of today's socially charged climate, as well as a testament to the power of Bessie's story to ignite such strong feelings. Nevertheless, it is a runaway omission that cuts out the heart of the real Bessie Stringfield. It also closes a door on the conversation, which so many in our country—black, brown and white—believe is needed today. The omission is a missed opportunity.
.
Bessie was a strong woman biker who, in today's parlance, was unapologetically black. Yet she did not allow her racial identity to impose boundaries or limits on herself. To ignore this reality is to miss nearly the entire point of Bessie Stringfield! This woman of grace and dignity did not want the larger, wider meaning of her legacy to be obscured by the failings of others in the Jim Crow era. And if she were alive today, the independent Bessie Stringfield would not want her legacy pushed or pulled by others in any direction in which she had no say.
Bessie's racial heritage was, in fact, mixed: black, white and Native American. Despite the challenges to me as her sole and authorized biographer, who happens to be white, it has been fascinating to watch how Bessie, by way of my stories, has such a powerful impact in the 21st century. Bessie's story resounds in this decade of renewed empowerment among both African Americans and women.
.
The elder Bessie and I could not have predicted that my story "Bessie B. Stringfield: The Color Blue" from my book Hear Me Roar would inspire a short video that went viral on social media, earning an astonishing 20 million views. The video, produced without my prior knowledge, dubs Bessie as a "rebel icon." While the video is fun and inspiring to watch, this label presents Bessie as a one-dimensional figure, a blank canvas onto which some fans have painted portraits more reflective, perhaps, of their own views than of Bessie's.
.
Not fascinating are the uncredited, recycled, unauthorized aggregates of my stories on the Internet, in print, and in other media meant for devices. The aggregates include latter-day articles and the encyclopedia entries compiled by web-content writers who borrow from each other in an endless loop. I've seen anecdotes and quotes that Bessie told to me, and which I wrote into my stories, inserted into web articles and other media as if Bessie had been speaking to no one, or to anonymous "reporters." My theses on Bessie's achievements in her era are parroted by people who think that web-surfing among these pieces qualifies as "research." As a result of all this, one frustrated reader commented that Bessie seems to be "shrouded in lore."
.
This anonymity, along with the fake designation of Bessie as a "public figure" based on clicks, comments and views, has consequences: It paves the way for what I spoke about earlier: plagiarism, piracy and profiteering. All of this illicit activity has subjected Bessie's memory, and my work, to a range of fallout, from misinterpretation to various forms of exploitation that I now call Bessie grabs.
.
Some of this is happening in unexpected places, where it obscures the real Bessie Stringfield in favor of a replica that is also like a trophy. Astoundingly, a few vocal African American fans have tried to claim Bessie's legacy as their own, to the exclusion of other African American fans. This fosters disunity instead of unity and runs counter to the spirit of the real Bessie Stringfield. It would upset her greatly if she were alive to know she was caught in a tug-of-war among even a few black bikers.
My head nearly exploded when a hotel chain/credit card co-branding duo contacted me, wanting to link Bessie to their brands. Branding Bessie in any way is not permissible; she is not another Serena Williams! In this case, the duo did not even see the irony. Politely I explained that in the Jim Crow era, Bessie would have been turned away from their hotel and denied a credit line. When Bessie was forced to sleep at gas stations, there were no hotel mints on her rolled-up jacket, which served as her pillow. I thought of why writer Austin Channing Brown, in I'm Still Here: Black Dignity in a World Made for Whiteness, began her book with: "White people can be exhausting." As for me, I've been called a few things during my time on this earth, but "exhausting white woman" has never been one of them:)  The old standbys Motorcycle Mama and Biker Chick have floated into my ears. Literary Biker Chick is one that I actually like; I just wish that one had stuck.
Then there was the branded atlas that recently came out with an "audible book" on Bessie. Imagine that—someone else's voice reading material from my copyrighted works without my permission. It is hard to believe that their editors did not investigate where the stories of Bessie Stringfield originated, and that they failed to check the U.S. Copyright Registry, where my first copyright on Bessie's story is registered with the content in my book Hear Me Roar. My story is called "Bessie B. Stringfield: The Color Blue." Hear Me Roar  was published in 1996 by Crown, a Random House imprint; pretty big potatoes, and so easy to locate. My sound recordings of Bessie and the transcripts are copyright-registered as well. It is equally hard to believe that the atlas editors had not discovered this website before producing and selling the thing. As of this moment, it appears the publisher may have come to its senses and pulled it from the market.
Meanwhile, a major print-on-demand service is still asleep at the wheel. For quite some time, this service has been producing and selling a 28-page, print-on-demand booklet consisting of a plagiarized, embarrassingly dumbed-down imitation of my 1996 story "Bessie B. Stringfield: The Color Blue" from Hear Me Roar and its online excerpt "Bessie Stringfield: Inducted 2002," which I wrote for the American Motorcycle Hall of Fame website and Bessie's posthumous induction speech. This imitation booklet has no copyright for a simple reason: No one can claim copyright on someone else's copyright-registered work. And yet, the booklet is being sold on Amazon, Barnes & Noble and eBay. Please don't mistake this 28-page booklet for my work!  Imitation may be the highest form of flattery, but this, Bessie and I can do without. Please also don't mistake this item for the children's books of Joel Christian Gill.
Bessie-grabbing by profiteers has become like whack-a-mole. Vintage photographs that Bessie gave to me have been cut and pasted elsewhere, of course without my permission. A few bottom-feeders are selling them on eBay and Amazon, prompting me to remove some photos from this site. Other types of grabs are also happening, but I won't go into them here. When Bessie and I made our personal legacy pact, neither she nor I could have anticipated that the web would give rise to this miasma.
While author-originators have been plagiarized and pirated at least since the invention of the printing press, what has happened with my stories on Bessie is escalated to a mind-boggling level. The feeding frenzy over my stories on Bessie could only take place in this perfect storm: The voracious content-mill of the web, with its false sense of entitlement for quick, effortless information, has met new media and click-for-profit. These capitalize on our celebrity-obsessed pop culture, where the word "icon" and its contrived cousin "public figure" are loosely tossed around and play into the nation's thirst for heroes and heroines. If you are reading this website and if you are a legitimate author-originator, especially if you are a fellow Authors Guild member, please tweet it out and share this website with others! The CASE Act is in the Congressional pipeline, but in the meantime, let's start a grassroots movement of our own.
All that said, and switching gears to another subject: Some readers and fans, as well as my editorial colleagues, have asked me why I've sat on the rest of Bessie's amazing story for so long before releasing my book-length biography and memoir. There are various reasons. For starters, Bessie asked me not to write the untold parts until well after her death. As we have already established, I have never betrayed that trust regardless of the consequences to me. Plus it has taken a quarter-century of accumulated wisdom and life experience for me to decide the best way to handle Bessie's story on a deeper level.
Part of my logic is also in the timing. It could be said that I live my life by the credos of baseball: Highly seasoned, patient and self-confident batters generally will not swing at a bad pitch. So I've been waiting for the world to catch up. My gut tells me that women, and the world, would not have been ready for this book even as recently as five or six years ago. American society muddled through a long period of ill-defined post-feminism that has included ebbs and flows of the so-called "backlash" and other leanings. It has only been in recent years that the tide seems to have shifted more steadily toward women's favor—if it can even be called that. As for African American women bikers: There have been great black women bikers riding the roads of America for many years now, but it has only been in the last five years that their numbers have visibly and vocally swelled.
Clearly, Bessie Stringfield's time is now. Socially and culturally significant figures sometimes take their place in history only after enough time has passed to enable appreciation. Equally important, the zeitgeist must also be there for society to recognize the trails blazed by those hidden figures. That is the case with Bessie Stringfield. Bessie has an outstanding legacy for her courage, individuality and grace in the face of prejudice based on race and gender. I have a legacy for being the writer, recordist and friend who noticed—and who worked diligently with the elderly woman to capture her memories before it was too late, and then, to write her life so that her achievements would be known far beyond Miami's finite radius. These truths can never be altered, buried or appropriated; they are and will always be. In her thoughtful book Becoming, First Lady Michelle Obama writes: "Your story is what you have, what you will always have. It is something to own." Indeed.
I was blessed to be an actual part of Bessie's life and to share our unusual friendship in her final three years. And as her biographer, a researcher and narrative storyteller, I am the only primary source for the full life of Bessie Stringfield—for what is known and as-yet untold. On this website, however, I will not reveal the still-hidden material in my  exclusive tapes of Bessie, my private journals, and other corners. That is the purpose of my forthcoming book. For now, I invite you to turn the page for selected glimpses into Bessie's authorized biography, African American Queen of the Road—The Untold Story of Bessie Stringfield, A Memoir of Race, Resilience and the Road. — Ann Ferrar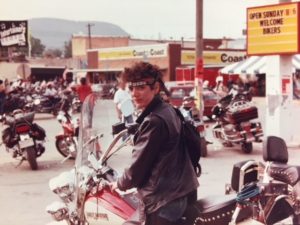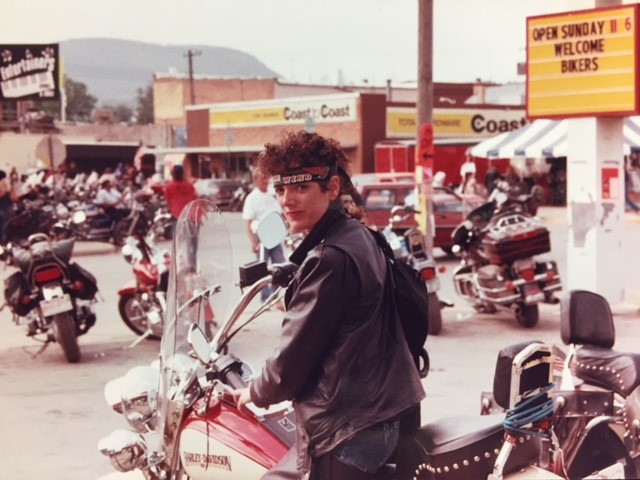 © Copyright-registered material. All rights reserved by the author.