Author's Afterword: Writing Bessie's Life
The Challenges of Her Sudden Fame and Fandom
All content (text and visuals) Copyright © 1990 - 2019, Ann Ferrar. Bessie Stringfield gave express written consent to her life rights to Ann Ferrar in 1990. Ferrar reserves all rights to the story of Bessie Stringfield as expressed. Ferrar is the author-originator, primary source and sole rights-holder of this material from African American Queen of the Road: The Untold Story of Bessie Stringfield, A Memoir of Race, Resilience and the Road. This material is based, and expands upon: Ferrar's earlier copyrighted stories published in print and online; the exclusive oral history of Bessie Stringfield recorded by the author containing anecdotes, dialogue and quotes as told by Ms. Stringfield to Ms. Ferrar; exclusive interview transcripts; and other primary materials researched and acquired by the author. Ferrar is the author-originator and sole rights-holder of all defining story elements, including, but not limited to: story-lines (plots), chronicles and perspectives on Ms. Stringfield, her achievements and life events. Ferrar's stories and story elements must not be pirated, plagiarized, imitated, nor adapted to other media; they must not be aggregated and disseminated by other parties without prior written consent from, and citation of, the author. Ferrar's works and photographs must not be duplicated, scanned, stored, or otherwise exploited. Ferrar's works and properties on Bessie Stringfield are proprietary to this author; they are protected from theft under multiple, current Library of Congress Registration Numbers listed at bottom. Please respect the author and the wishes of Bessie Stringfield, and comply with U.S. and International Copyright laws.
The recognition of Bessie Stringfield today is both ample and diverse. It shows her cultural import in this generation's quest to draw inspiration from accomplished hidden figures from the past, especially those of color. In my primary writings and in my view, Bessie, as an African American woman, found a daring way to break out of conventional roles in her era, even while earning a living at times in traditionally female jobs. Today, women—regardless of race—have told me that Bessie is an inspiration for pride in gender, reflecting admiration for more strong but overlooked women coming into view. With her courage to travel along such an uncommon path in an era so repressive of women and blacks, Bessie Stringfield earned her place in that group. My stories chronicling the unknown life of Bessie Stringfield brought her achievements and singularity into worldwide view. 
Photos are from the collection of Ann Ferrar and must NOT be reproduced.
This is why, from the seed of the quiet legacy project that Bessie and I began in the early 1990s to document her life, today she has drawn so much global interest. Many in her fandom, especially African American women, feel an emotional connection to Bessie without ever having known her. Their passion is manifested in various ways and warrants exploration in this age of renewed female empowerment.  Here, in this Author's Afterword, I will discuss the nature of Bessie's posthumous fame and fandom in the midst of this movement. I will also chronicle Bessie's rise from private citizen to what some call an icon. They view her as a symbol of something larger than herself alone.
Awareness of Bessie Stringfield's life began not with 21st-century clicks and digital views, but rather with my low-tech pen, notebooks and tape recorder, as I listened to the extraordinary stories of Bessie's life and achievements as told by the most primary of primary sources: Bessie herself. With Bessie's blessing, encouragement and formal permission, I began writing her life in the early 1990s. Today, I am gratified to know that Bessie is finally being accorded the recognition that eluded her in life. In recent years and into the present, Bessie now appears in girl-power anthology books, which inspire young women and girls with the knowledge that they can achieve their goals without a Y chromosome in their DNA. This genre is notable for short bios on female achievers who have been under-recognized or overlooked entirely. One title is History vs. Women: The Defiant Lives That They Don't Want You to Know. Here and in the other anthologies, the bios of Bessie are drawn from the information and perspectives in my seminal stories.
Yet as an actual person, Bessie remains as mysterious as she is admirable, perhaps occupying a place that straddles lore and reality. Bessie's trajectory from obscurity to posthumous fame is both wondrous and paradoxical. The first viral video on Bessie was posted in late December, 2016 by Timeline, an independent company not affiliated with me. The video, about 2 1/2 minutes in length, earned an astonishing 20 million views. Suddenly, the long-deceased, previously unknown Bessie Stringfield was deemed a "public figure" by Facebook and Wikipedia. This designation, while nearly flattering, is artificial and impossible. It is a figment, quite literally, of AI—artificial intelligence—with its robotic tracking and counting of views, as well as mere mentions of a person's name on the Internet.
Wikipedia states: "A public figure is a person such as a politician, celebrity or business leader ... A fairly high threshold of public activity is necessary to elevate people to a public figure status." Unwittingly, Wikipedia confirms that Bessie Stringfield, as a deceased person—and one not known to the public in her lifetime—cannot be a public figure today. The late Bessie Stringfield is not an Aretha or a Jackie Robinson. They were achiever-celebrities who were ever-present in the public eye and whose mass impact was obvious during their lifetimes. They were, and will always be, bonafide public figures.
In Bessie's case, however, there were no recordings other than my privy audio tapes; the public had never even heard her speak. She was neither open to popular celebration nor exposed to public scrutiny in the national press or anywhere else. No one, except myself at this point, had ever gathered all the fragments of Bessie's story into a coherent whole. Thus, what the public really knows about Bessie Stringfield is akin to Sparknotes of her life. In my short-form stories I have written about compelling, selected highlights that have shone a light on Bessie and her achievements. The strength of these has captured the public's imagination and curiosity to know more. Yet I have never released the details behind these highlights and other events in Bessie's unusual life. So once again, she cannot be a public figure.
During Bessie's era when gender and racial restrictions were so stifling, there would be no movement among women of color for whom Bessie could tear down the floodgates, and certainly no media coverage. In mid-20th century America, there was a sole white women's biker group in the U.S. that had chapters across the country. Instead of being welcomed as a fellow maiden of the road, Bessie was excluded because of her skin color. The posthumous impact of Bessie Stringfield on large numbers of women and girls would not be fully apparent until the twenty-teens, beginning in 2014 to the present.
But for Bessie's influence to be evident at all, first she had to be found, recorded and written about by someone who (a) recognized the significance of her achievements; who (b) was positioned to write her life for international publication; and who (c) obtained Bessie's permission, aka her life rights, to do so. That is where I came in, looking beyond the elderly Bessie and seeing the woman she had been in her prime. That woman had steered the handlebars on own path when the odds were stacked against her making it. In my view, that was an important, hidden story that needed to be written. And so, starting in the early 1990's—before the Internet took off in a big way and long before the advent of social media—I began recording and writing Bessie's life for publication with her permission and with my copyrights registered in the Library of Congress.
When I met Bessie Stringfield and began writing her life in the early 1990's, she was unknown even to African American and women's historians, and thus absent from anthologies and encyclopedias. That is why I saw the importance of documenting her life before it was too late. Today, due to a sequence of events in the Internet age, the late Bessie Stringfield has become an object of intense public curiosity, as opposed to being a public figure. Bessie is the focus of well-deserved mass admiration, even fascination. Fans and professionals alike realize there is nobody else like Bessie Stringfield.
Bessie's rise to posthumous fame with those 20 million video views has less to do with the nation's motorcycle population than one would expect. There are only 8.4 million registered riders in the USA, with a ratio of roughly 81 men for every one woman at the controls of her own bike. Between 1990 and 1993 when Bessie and I were friends, only one woman could be found on her own bike for every 100 men.
Further, the motorcycle community has never been a monolith; different subcultures and lifestyles reside within it. Among certain groups, even today they are voluntarily segregated by race, with white and black groups preferring to meet and ride with their own. Among a small subset of bikers, regardless of race, strict gender codes from an earlier era still label women as property. Bessie Stringfield—independent woman of color—lived a polar-opposite lifestyle. Bessie made it clear she was nobody's property. On her Harleys, she positioned herself not only among men but in the lead-rider position. She did not step into the spotlight from the shadows of biker traditions, some of which survive despite desegregation and women's emergence from "their place."
The mass appreciation of Bessie Stringfield today is both mainstream and diverse. It stems mainly from recognition of her achievements in the context of race and gender issues in larger American society. During the twenty-teens, a sequence of events occurred that were directly connected, in this order: (a) discovery of the seminal stories I wrote about Bessie years earlier, when she was still unknown to the public; (b) the reach of the Internet in spreading my primary material about Bessie; (c) the power of education to inform and inspire; and (d) the influence of social media to spark global conversation and monitor trending topics.
The kindling for public fascination with Bessie began when I wrote her eulogy back in 1993; the piece was published in the international magazine American Iron. Next, I expanded on this story to write Bessie B. Stringfield: The Color Blue for my book Hear Me Roar, published in 1996 by Crown. A few years later, I adapted my own stories for posting on the website of the American Motorcycle Hall of Fame. Longer, and now abridged, versions of Bessie Stringfield: Inducted 2002 have been posted on the museum website for the past 17 years, where they have been read by thousands. On my former website AnnFerrar.com, I rotated stories under such titles as Ebony, Opal and Chrome. Over time, my stories were spread exponentially in cyberspace, often without citation of the primary source, as happens all too often to authors on the Internet.
Throughout that time, the exponential spread of my primary material on the web reached even to the far corners of the globe (from New York to New Zealand). Due to this, Bessie began appearing in web articles, web encyclopedias, and several short videos on Facebook, YouTube and other venues. Thousands of comments were posted on social media. Then came the inclusion of Bessie in print anthologies of female achievers, and thus, her entrance into schools, libraries, and blogs highlighting forgotten or little-known women of accomplishment.
© Copyrighted Material; All rights reserved by the author.
In 2014—more than two decades after I had already been writing about Bessie Stringfield for international publication in print and online, doing readings at libraries and colleges on request, contributing to museum exhibits, speaking about Bessie for TV documentaries, and completing other research into Bessie's life—an awakening occurred among some African American women in the Deep South. The time was finally right in this era of women's empowerment for the results of my efforts to reach a handful of Southern black female bikers. These strong women were ready to learn of an inspiring hidden figure who, like them, rode motorcycles as a way to be free. They would become great fans of Bessie.
Back in the early 1990's when I rode around the country for my work on Hear Me Roar, it was quite difficult to find long-distance black women riders to feature in the book. The Internet was not yet a major presence in American households and social media did not exist. Today, the number of black women riders has swelled. Many are active on Facebook and other social media platforms, some calling their numbers a movement, which was an impossibility in Bessie's day.
Their fandom of Bessie took root when one of the Southern female bikers read about Bessie in my various published works in print and online, most notably my book Hear Me Roar, my longer biography of Bessie formerly posted on the American Motorcycle Hall of Fame website, and stories on my former website AnnFerrar.com.
Bessie's achievements were so inspiring that this woman networked among her peers to spread the word about Bessie, using my stories to educate followers. She founded a team of like-minded women and they began staging long-distance group rides in Bessie's name. These events now draw hundreds of black female riders from across the country each year. They view the late Bessie Stringfield as the symbolic figurehead of these gatherings.
It wasn't until 2017 that the event founder in the Deep South contacted me for the first time, via my former website AnnFerrar.com. I was impressed to hear, belatedly, of these coordinated efforts. I was moved to hear how the seed of the quiet personal legacy project, which Bessie and I had planted together a quarter-century earlier, had blossomed in this region of the country. And I was glad to know that my stories, borne of my friendship with Bessie, had educated these women about an amazing, hidden female figure in African American history and culture.
During phone calls between me and the event founder in 2017, she acknowledged that she had been using my stories (verbatim in full) about Bessie to educate followers. However, when she sent me event materials that had been distributed to hundreds of women, I discovered a surprising pattern of omissions of my byline. It was nowhere to be found with my story on Bessie in these materials, nor on a "Fans of Bessie Stringfield" Facebook page where the same story had been pasted, nor in one of several Facebook videos that had been sourced from Hear Me Roar. Frames of Bessie and me standing together with mention of our friendship and citations of Roar were deleted. The escalating pattern of these cuts suggested that something larger and deeper was awry beneath the omissions of an abstract name.
It appeared that my very identity as the primary storyteller of the life of Bessie Stringfield was being hidden. So I wondered if the full spirit of Bessie's legacy—which was diverse and expansive—was being hidden as well. If so, event participants and thousands of other fans were denied the chance to see how Bessie bonded with different people and how this influenced the life Bessie chose to lead. These cuts serve to dampen Bessie's spirit and narrow the wider meaning of her legacy.
Attempting to bridge an apparent gap, I explained that one doesn't have to be a person of color to be inspired by Bessie Stringfield. Bessie did not wish for any one group to lay claim to, or build a wall around, her legacy. I do not know if this message of unity was ever taken to heart even as these events are continuously promoted. While it is further testament to the power of Bessie's story to ignite such emotion today, it has been mystifying to watch how, in this one corner, a selectively symbolic Bessie Stringfield may have replaced the real woman I knew.
Elsewhere in the country, the nation's wider population of black female motorcycle riders has regional variations in promotional methods, philosophy and mission statements. On the West Coast, for instance, a different group of women began staging broader events where women of color have taken to the roads and gathered to celebrate and educate at points across the country. Some have also taken to the computer keyboard. A webzine for black women and girl riders went online after its founder-publisher read of Bessie in Hear Me Roar and saw the need for African American women to read more stories about bikers who looked like them. Among this group, Bessie Stringfield is a role model and an inspiration for black women's empowerment and for their road journeys. But rather than focus on Bessie as a figurehead, they ride and perpetuate her legacy more expansively.
All of these women from across the country feel pride and a connection to Bessie for daring to ride motorcycles as a way to be free as a black woman. Their love of motorcycles was the portal for them to adopt Bessie as a role model. Motorcycles are the vehicle—literally and allegorically—with which they celebrate their own empowerment as individuals, as well as strength in black female numbers. They enjoy a camaraderie and share adventures that are unique to women who ride motorcycles.
The trajectory of Bessie's rise to posthumous fame took a sharp upturn in late December 2016, when the first of several Timeline videos went viral on Facebook. The explosion generated ongoing shares and comments all throughout 2017 and 2018. The viral video still gets recirculated, especially during Black and Women's History Months, continuing to magnify the illusion of the public figure. However, some key information was also missing from this debut viral video: The public was not informed by Timeline that the text content specific to Bessie was culled anonymously (without credit) from a single source: My 1996 story on Bessie from Hear Me Roar.
The short video barely scratches the surface of two percent of Bessie's life. It was produced and posted on Facebook (and later on YouTube) without my prior knowledge. A montage of still photos and captions set to music, it depicts Bessie's youthful sass and dubs her sensationally as a "rebel icon." When I wrote her eulogy and my story Bessie B. Stringfield: The Color Blue for Hear Me Roar a quarter-century ago, this was not the rounded prose portrait of Bessie that I painted. The video was well-intended to depict Bessie's strength and joie de vivre, but the choice of words was pop-culture spin. This gave rise to more unexpected consequences.
An icon is a powerful but one-dimensional symbol. It lacks humanity and depth. Pair it with "rebel" and turn it loose on social media, and people will run away with it in all directions. Some of Bessie's most ardent fans view Bessie through the filter of that spin, treating her as a sort of trophy to hold up. Some use the "rebel icon" as a blank screen onto which one's own feelings of rebellion or resentment against society can be projected. That is a heavy burden for a voiceless, long-dead woman to bear. This was not the intention for Bessie's legacy that the elderly woman and I had both hoped for, and worked toward, together.
The private Bessie Stringfield whom I knew, recorded and wrote on the page was a multi-dimensional person whose life cannot be condensed into a couple of minutes and thus labeled iconic or public—however sexy, exciting and seemingly rebellious those minutes are. The real woman grew older and was not free of flaws, regrets and painful memories. Timeline later posted a new video that includes the missing citation of Hear Me Roar. The producers also restored key frames about the real Bessie Stringfield that had been cut out: her faith, friendship, and how she embraced diversity. That video is posted later on this website.
The next event in the sequence of Bessie's rise to posthumous fame occurred in 2018, when The New York Times began publishing its "Overlooked" series to recognize female achievers who had not been eulogized before. Searching their own archives for notable women from the past, The Times found a 1996 article written by their reporter Jed Stevenson. He discussed my work about Bessie in a piece titled Hear Me Roar: A Woman's Symphony on the Road. Then, in May of last year, the newspaper recognized Bessie with an obituary. Other major venues took notice of Bessie as well, including Broadly.vice.com, aimed at "women, gender non-conformists and LGBT's." Bessie's admirers could not possibly get more universal—and concurrently more diverse—than that.
As Bessie's biographer and friend whom she entrusted to write her life, and as the quiet steward of her legacy behind the scenes, I am gratified to know that the recognition of Bessie Stringfield, especially among educational and cultural outlets, confirms the worthiness of our effort. It feels good to have hit the ball out of the park on Bessie's behalf, though I could not have predicted that my writings would propel her story so far and wide in this century. Still, I cannot retire as an observer. With the stream of inquiries I receive about Bessie, my legacy project isn't finished yet.
Among all the readers, riders, video viewers, educators and other professionals, no group and no individual—except myself, as noted earlier— knows what made Bessie Stringfield tick on the inside, or across the full spectrum of her life. What motivated Bessie to choose such an unusual and risky life path? What did she run from? What did she run toward? Besides Jesus and Harleys, what did Bessie Stringfield believe in? When she fell off her bike, or was forced off the road by rednecks, what happened to Bessie next? Such are the untold details behind the events and observations that I wrote into my earlier stories.
Bessie Stringfield was a lifelong observer of people and their behavior. She never felt that only a black woman could appreciate what she had been through. As she grew to know me, Bessie realized that I saw something in her that her peers in Miami's African American community did not see. Bessie's peers were impressed with her for being a black woman riding a Harley boldly around town, or in today's parlance, they were proud of her for being unapologetically black. But I was a New Yorker in the prime of my womanhood and writing career. I was also a product of the modern women's movement of the 1970's. As such, I had a more expansive view of this maverick woman.
I didn't see Bessie as a source of pride reserved only for the local black community, or as an eccentric destined for South Florida folklore. In the words of a mutual northeastern friend, "Bessie had gravitas. You don't forget a person like that." Indeed. I saw Bessie Stringfield as an undiscovered feminist who had, in her own way, quietly predated the women's movement. And while Bessie was not a Civil Rights marcher, I wrote that by her actions, she had pushed against restrictions on her own civil liberties in the era of segregation. My stories on Bessie Stringfield have always reflected these perspectives in various ways. That is why educators and children's book editors began featuring Bessie in girl-power anthologies of women who have broken society's rules. Further in my view, the fact that Bessie held jobs as a domestic made her behavior in the flip side of her life all the more risky and daring. This rounded view was absent from the sensational video and lost on the staid New York Times obituary.
Clearly, Bessie Stringfield's time is now. Socially and culturally significant figures sometimes take their place in history only after enough time has passed to enable appreciation. Equally important, the zeitgeist must also be there for society to recognize the trails blazed by those hidden figures. That is the case with Bessie Stringfield. Bessie has an outstanding legacy for her courage, individuality and grace in the face of prejudice based on race and gender. I have a legacy for being the writer, recordist and friend who noticed—and who worked diligently with the elderly woman to capture her memories before it was too late, and then, to write her life so that her achievements would be known. These truths can never be altered or buried; they are and will always be. In her thoughtful book Becoming, First Lady Michelle Obama writes: "Your story is what you have, what you will always have. It is something to own." Indeed.
© Copyrighted Material; All rights reserved by the author.
Even during Bessie's lifetime, it cannot be said that she was a public figure. At different times and under different names, she was known to her husbands and to people in her local community such as friends, coworkers, churchgoers and a select group of bikers in Miami-Dade who never questioned her past. In her younger days she was known to a handful of relatives, from whose lives she disappeared without a trace. Yet even with these people coming in and out of her life, Bessie Stringfield kept her cards close to her chest. No one, not even her husbands, ever held all the pieces to her puzzle. That is why today, all the Google hits go in circles and stop at dead-ends. It is why I am the only primary source (among both the living and the deceased) who has gathered all the pieces to the fragmented puzzle of Bessie's life. It took a concerted effort that could only be accomplished when Bessie was ready, which was toward the end of her life.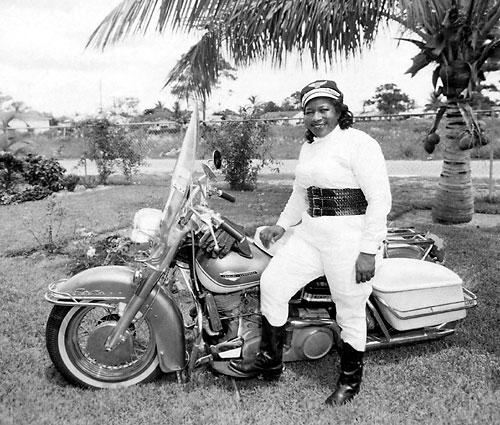 Photos are from the collection of Ann Ferrar and may not be reproduced.
The planting of the seeds of remembrance and recognition beyond Miami began quietly with two women: her and me. I knew Bessie during a slow, reflective time in her later life when her health had greatly declined. She knew she was facing her mortality and was quietly preparing for it. If ever there was a time for an earnest effort at piecing the puzzle together, this was it. I was inspired as a woman and as a writer for knowing Bessie Stringfield during a fleeting window in her life, her reflective twilight years, when the rumble of the V-twin engines and noisy biker parties had quieted down.
Professional writers and interviewers will intuit that the process of writing Bessie's life wasn't as easy as it sounded in my crafted, finished stories. In reliving her life for me, Bessie shared meandering, circular memories in the way of a frail elderly woman. I never asked Bessie to "sit" for me so I could do my audio recordings all at once, and certainly not in a formal setting. We weren't doing Meet the Press. I conducted the recorded interviews at very wide intervals. We had lots of informal talks in between, during and after which I took notes and penned my deeper impressions in my notebooks.
During the first three years of my own travels for Hear Me Roar (1990 to 1993), often I called Bessie from the road. Our many telephone chats were penned in my journals, as were our talks between Miami and Manhattan when I was at home. Bessie's mind wandered, so she did not tell stories in a complete or linear order. With patience and diligence, I read between the lines of her fragmented speech and learned, Never underestimate the mind and motives of this uncanny elder. 
After nearly three years with Bessie, and with my many years of narrative writing and editing skills, I structured and crafted the raw material of Bessie's meandering memories into a story lines, including selected anecdotes and quotes from Bessie as told directly to me. With my informed perspectives, my personal experience of Bessie and other embedded ingredients, I interpreted, or translated, the raw material into original narrative works of prose. This was basically my creative and intellectual process in bringing the story of Bessie Stringfield to life on the blank page and on the bare computer screen. Having known Bessie personally, I wrote the woman as she truly was, and as no one else can.
Bessie and I had each lived our prime years on the road as women in a male-dominated milieu. We did not abide by our families' dictates, so our choices led to challenges we each had to face alone. Bessie's challenges were much harder than mine, since the obstacles she faced were greatly compounded by racial prejudice on top of gender bias. Bessie and I saw each other as stubborn, imperfect women. Despite our obvious differences, we basically understood each other—which helped us get past potential rough spots in the relationship between a subject and her biographer when the two are also friends. Bessie was a role model, a friend and even a muse. At the same time, I acknowledge something Bessie had in common with most heroines, heroes and with the rest of us: flaws and conflicts.
During my friendship with Bessie and as our legacy project unfolded, I came to feel that Bessie needed a title, even if just between us two. I thought of her as My African American Queen of the Road. One day, when I trotted that title out in conversation, Bessie cackled with glee and bemusement. Characteristically, she said, "If you say I am a queen in your mind, I won't take away how you feel. But if I am any kind of queen, it is because Jesus put me there. He is the King. His mother Mary is The Queen. I know those Dominican nuns in Brooklyn taught you that."
True enough. The nuns of St. Edmund grammar school also drill-instructed the lost art of penmanship, a futile effort on their part with me. Even as a kid, my scrawling was barely legible since it could never keep up with my racing thoughts, then or now. Still, for me there has always been something intimate about the relationship of thoughts and words to pen and paper. Thus, the remembrance of Bessie's legacy began with the quiet scribbling of a single pen—literally—on blank sheets of legal paper and in spiral-bound notebooks. I wrote her eulogy for American Iron and first drafts of Bessie Stringfield: The Color Blue and other stories for Hear Me Roar in longhand (cursive script).
While writing and musing on Bessie in between my road trips, I sipped endless cups of coffee as I sat in a window booth at Socrates, a small Greek diner in Tribeca in Lower Manhattan, where I lived at the time. Often, my motorcycle was parked outside on the sidewalk. I held a day job as a writer for a non-profit foundation and moonlighted as a freelance writer for women's magazines. After the diner, I returned to my apartment and fine-tuned my longhand drafts in my buzzy computer with its box-shaped monitor and floppy disks. In 1993, I snail-mailed Bessie's eulogy to American Iron. I took the subway uptown to bring the floppies with Bessie B. Stringfield: The Color Blue and, eventually, all of Hear Me Roar to Crown Publishing, an imprint of Random House.
© Copyrighted Material; All rights reserved by the author.
Fast-forward to today. From the wide-ranging interest that I've received from fans and professionals, I know that Bessie's story of determination has struck a chord with a new generation. This same generation is standing up over race and gender issues on a scale not seen since the first Civil Rights and women's movements (1950s through the 1970s). So in today's social context, it's not surprising that Bessie's story has raised awareness of—and pride in—race and gender today. Men write to tell me they, too, are impressed by Bessie; she represents the underdog who made the upset victory. I am heartened to know that Bessie's courage has inspired so many, and that my stories and perspectives on Bessie have such great relevance today. But for all of her sass and boldness as depicted in Timeline's "rebel icon" videos, I want my readers to know that Bessie was equally brave as an elder when facing serious challenges of a different kind. That is a facet of her private life. That is what made me cherish her and step up to the plate for her memory.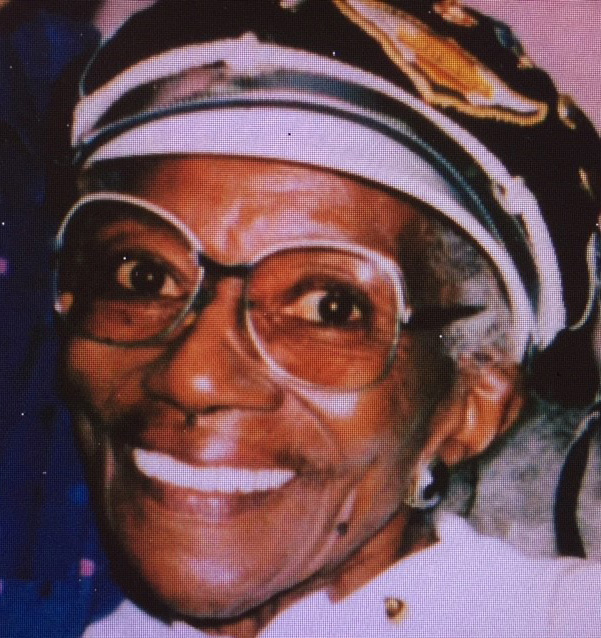 Photos are from the collection of Ann Ferrar and may not be reproduced.
Curiosity over Bessie Stringfield is so strong today that parts of her story concerning her birth and childhood have stirred up some debate and speculation. Despite what you may have read elsewhere, Bessie's racial heritage actually was mixed. With her dark complexion, she lived her life as a black woman, yet spontaneously she brought up that her birth mother had been white. Bessie's childhood was complicated as she described it to me. I've seen the adjective Dickensian in articles compiled by others decades after her death.
In 2018 when The New York Times inquired about discrepancies in Bessie's early life, I could not bring myself to discuss certain things Bessie had entrusted to me with her life rights. From an authorized biographer's view, I saw them as complex areas and parts of her untold story that need to be handled with the nuance and context that only my long-form biography/memoir can allow. And frankly, as a writer and researcher myself, I wasn't going to reveal the as-yet unpublished parts of a primary-sourced, exclusive story for a newspaper piece to be reported by someone else. As a result, the paper's obituary dubbed them "untruths," an unfortunate consequence, which was then disseminated in web encyclopedias. Either way, readers must wait for my book for a trip into Bessie's labyrinth. Sorting her out retrospectively is an impossible task for those who never met her and who cannot discern her mindset.
As a senior, Bessie was still riding Harleys for as long as she was physically able, but for the last decade of her life, she gradually retreated as her social circle dwindled. As her health declined, she was forced to retreat from the road as well. Proudly she gave me beautiful vintage photos of herself in her prime with her Harleys, a few of which are posted on this website. Toward the end of her life, Bessie thought about what legacy she wanted to leave. That's when I walked into her life with my inherent respect for her elder status and for all she had lived through.
My seminal, proprietary stories on Bessie Stringfield predate all the secondary and tertiary aggregates and videos on the web, and they can be found if you take the time to look. When I began writing Bessie's life more than a quarter-century ago, my pen and low-tech notebooks proved mightier than 20 million mouse-clicks. There are no cyber-substitutes for the human connection I made with an elderly woman who did not look, sound, or lead her life like a rebel icon of someone else's invention. I knew that the younger Bessie—she of faith, vulnerability, risk and resilience—was still inside my Bessie, the elder woman who became both my surrogate aunt and my muse. These perspectives, borne of my friendship and my direct work with Bessie, are all interwoven in her coming authorized biography, African American Queen of the Road—The Untold Story of Bessie Stringfield, A Memoir of Race, Resilience and the Road. — Ann Ferrar
.