Bessie Stringfield: The Road Queen and I
Here, I look back on some of my favorite, exclusively recorded stories and related conversations I had with Bessie Stringfield in the early 1990s. These led me to write my original, primary-sourced narratives about Bessie, which have been spread organically to reach a worldwide audience. With my supplemental research and times I spent with Bessie's peers, I started writing Bessie's hidden life a quarter-century ago. Today, there is so much more that I have yet to reveal in my coming book, "African American Queen of the Road: The Untold Story of Bessie Stringfield, A Memoir of Race, Resilience and the Road." The new upcoming book, my earlier stories and my sound recordings of Bessie are copyright-protected. Derivative works by other parties are prohibited.
© Copyright-registered material. Detailed copyright notice posted at bottom.
Bessie B. Stringfield—Aunt Bessie to me—
was known as the Negro Motorcycle Queen and the Motorcycle Queen of Miami to locals in South Florida back in the 1950s and '60s. Arguably, to the Miami police department, Bessie with her antics was a bit of a nuisance. And vice versa. As an African American woman, she got pulled over so many times on her Harleys, that finally she complained to the precinct captain. He doubted that any woman, especially a "Negro," should be riding a Hog around town, plus she did not have a license. He insisted on testing her riding skills in a parking lot. Bessie Stringfield bowled the captain over with her prowess at maneuvering the big machine. Finally, she got her license and the harassment stopped.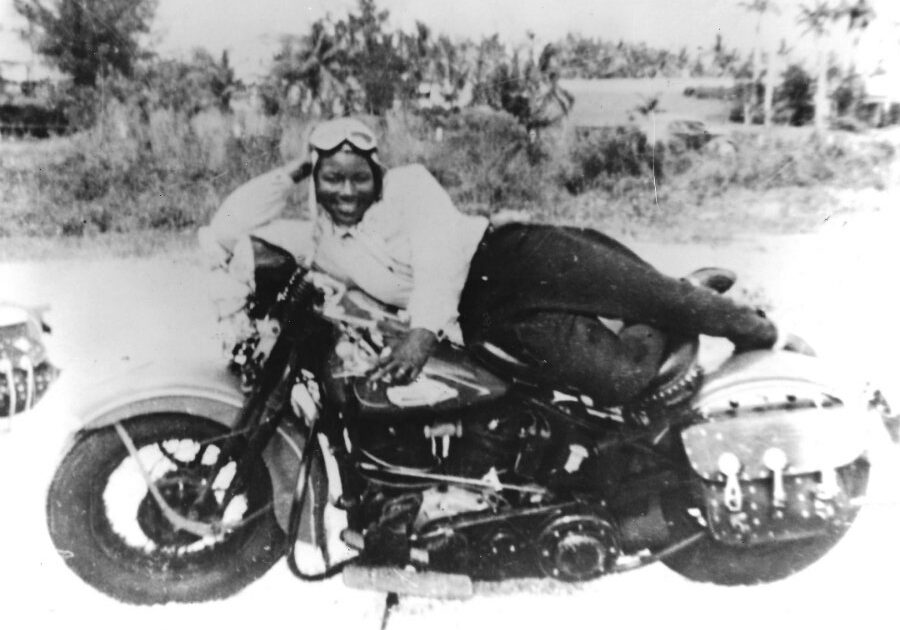 All photos are from the collection of Ann Ferrar and must not be reproduced.
Bessie was daring and had done a lot outside the norm for women of color—indeed, for all women—before she died in 1993. I discovered that she'd done it mostly from spaces usually reserved for men: the saddles of the Indian Scout and the 27 Harley-Davidson motorcycles she had owned in her lifetime. Bessie lived to be 82 and told me all about her escapades and trials during our friendship in the last three years of her life. In my view, she had charisma even in her twilight years. Bessie entrusted me with her life rights, giving me permission to record and write her story. Thus began our personal legacy project, whereby I have written stories and done readings on Bessie through the years. We met in 1990 when Bessie was 79 and had been riding motorcycles for more than six decades. I was 35 and at the time, I was still a novice rider in my native New York City. I had a lot to learn from Bessie and I hung on her every word.
Bessie was the first woman of color known to ride motorcycles around the United States—eight times, she declared—during the pre-Civil Rights decades of the 1930s and 1940s, when racial prejudice was a threat to her safety. I wrote about Bessie's favorite method of "planning" her routes, which was to toss a penny over a map and ride to wherever it landed. This style of travel was called gypsy touring. I wrote of how Bessie dodged more than a few hard-balls that Jim Crow and even the Klan itself had flung at her along the way. 
Awed by her free-spiritedness in an era full of threats and restrictions, I asked, "What if the penny landed someplace where you knew it might be, or would be, Klan country? Did you do another toss?"
"Nope," she said. "A penny makes a wide circle on a map. I could ride anywhere I wanted inside the circle or around the edges if I had to." The mechanical issues of the older bikes and the rutted, muddy roads didn't deter this woman either.
Listening to Bessie, I gleaned that she had been a maverick even during the World War II years. My stories revealed how she rode her own Harley for the army as a civilian dispatch rider on the home-front, as the sole woman in a unit of six black men. Bessie was only about five feet tall. I wrote of how she trained rigorously to navigate her heavy motorcycle on almost any terrain. Small wonder that the "little woman" bowled over that police captain with her riding prowess in post-war Miami.
"The roads must have been hell in the 30's and 40's," I said, picturing the roughness of road travel before the interstates were built. "How many unplanned dismounts did you have?"
Bessie chuckled. "Well I had a few, but mostly the Lord held me up." Then she described how she summoned her inner superwoman to lift a fallen motorcycle four or five times her own weight. As expected, she gave all the credit to the Man Upstairs.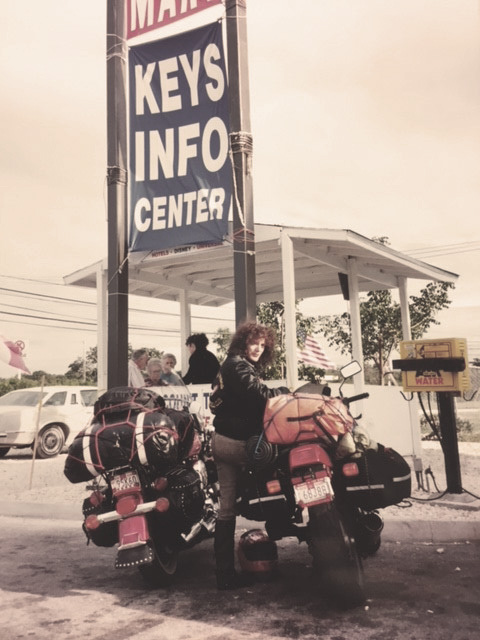 All photos are from the collection of Ann Ferrar and must not be reproduced.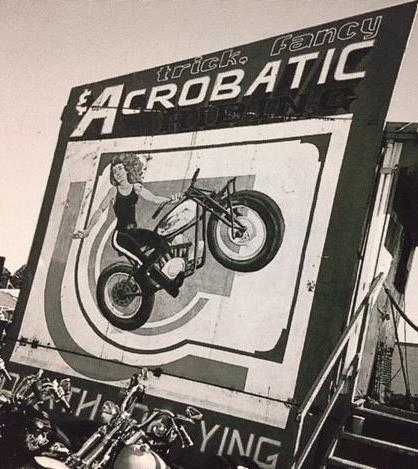 One of the earliest and most popular stories I wrote about Bessie recounted her thrill at riding the Indian Scout around the walls of an old wooden motordrome. I described this vintage attraction to a generation that had never heard of it, and I will recount it here: Typically called the Wall of Death at carnivals, a vintage motordrome was a huge wooden barrel. The biker rode up and around the inner wall, using speed, momentum and centrifugal force to keep from crashing to the bottom. With Bessie's "I can do anything" attitude, I could easily picture her doing it.
"Amazing," I said. "How did you learn to ride the wall?"
"The Man Upstairs taught me," said Bessie, "and the motorcycle knows what to do. You have to trust it."
"Yeah, that," I responded. "But you believed in yourself and you had developed the skills."
"If you say so," she said simply, as she often did when I voiced  a compliment, letting me draw my own conclusions.
In my stories, I wrote of how after the war, Bessie did trick riding on terra firma at motorcycle shows. She stood in the saddle and performed other fancy moves on the rolling bike, such as hoisting herself to one side or the other. Cruising slowly around town, sometimes her two poodles were perched on the handlebars. "They thought they were driving," she chuckled.
In the soulful '60s, Bessie was literally the leader of the pack—presiding over a group of mostly black men in her own motorcycle club that she founded in Miami. She called it the Iron Horse Motorcycle Club. Bessie used her home as their clubhouse for meetings and as a watering hole for biker parties. She chose navy blue and white uniforms for the club to wear when they rode as a group. With nostalgia in her voice, Bessie described to me how they paraded in uniform for certain special occasions around town, with Bessie always at the front, of course. She gave me some wonderful vintage photographs from those days.
In her prime, Bessie's figure had filled out that uniform. Sometimes, she let let her long, natural black hair extend out from the back of her cap. On the day we met, nearly 30 years after the Iron Horse had disbanded, Bessie still wore the uniform and the cap with her hair, no less kinky but now gray, peeking out. The outfit was too large for her tiny frame, but I hardly noticed. She had such a presence. I was drawn to her facial expression as she grinned at me. Even through her thick eyeglasses, I saw the spirit her eyes.
As noted on my home page, I wondered why the unconventional Bessie Stringfield was not in any black or women's history books. I realized it was because Bessie's story had been overlooked, like that of so many accomplished black people, especially women.  In many cases, the passing down of their stories was done orally; generally, it was not written down or recorded in any other way. I saw the importance of recording Bessie's oral history on tape while there was still time. At Bessie's request and with her blessing, I became the only person to record the voice and the stories of Bessie Stringfield as told by the woman herself. Then with Bessie's permission, I began to write her life.
Sadly, Bessie passed away before my first story was published. It was her eulogy. Throughout the years I continued to write about Bessie and the significance of her achievements for an international readership. Yet there is much more that I have never released. The culmination of my efforts will be my forthcoming book African American Queen of the Road: The Untold Story of Bessie Stringfield: A Memoir of Race, Resilience and the Road.
With Bessie's trust and reliance on my skills and experience as a storyteller of women's lives, I became the steward of the nearly lost legacy of Bessie Stringfield. With our friendship—elder to younger, woman to woman, road-junkie mentor to road-junkie protégé—Bessie and I formed a bond that transcended our racial, regional, ethnic and generational differences.
I listened while this exceptional woman looked back for me on the spectrum of her life, including the hidden parts, which I have yet to release. Interestingly, neither one of us had the structure or support of family. We were essentially misfits, lone wolves who took community where we could find it at different times. Even after all these years, whenever I face a challenge—and I've faced many—I never ask myself, What would my mother have told me to do? Instead, I still ask myself, What would Bessie have told me to do? 
© Copyright-registered material.
© Copyright-registered material.
Bessie's wartime courier trips — especially with her being a black woman amongst the segregated army—were intriguing to me. My father was a World War II army sergeant and my mother had been a stenographer for a defense contractor in New York in the 1940s. As their daughter, I have always had the greatest respect for the Greatest Generation, and a particular interest in women's roles in the war effort. In my generation, we learned of the Flying Fortress, Ike and Rosie the Riveter, but the wartime contributions of African Americans, especially those of women, were not taught.
I asked, "Aunt Bessie, how did you end up riding your motorcycle during the war? Why didn't you work in a Rosie the Riveter job?"
Bessie replied, "Well, they [the army] heard about me. They said I had plenty of nerve and they could use me."
"They used you for what?" I wanted to know. "You were a courier but what kind of papers did you carry in your saddlebags?"
Friendly but with a calm firmness in her voice, she said: "Whatever I was takin' that's a military secret."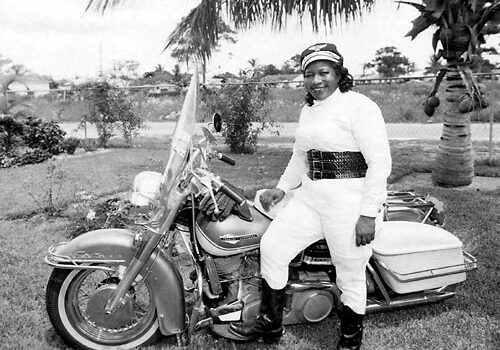 All photos are from the collection of Ann Ferrar and must not be reproduced.
In certain moments over the three-year course of our friendship, puzzles seemed to be part of Bessie's modus operandi. Putting aside that Bessie had asked me to be her biographer, sometimes she seemed to let out a hint of glee when she left me to decode her secrets. At other times she exuded a hint of uneasiness if I asked too many questions. This was one of those times.
In the early 1950s, Bessie bought a house in Opa Locka, a neighborhood in northern Miami now part of Miami Gardens. She cruised the streets standing in the saddle of her Harleys and did her trick riding shows at biker events. Locals dubbed her variously as the Negro Motorcycle Queen, the Motorcycle Lady and the Motorcycle Queen of Miami. This woman lived and breathed to ride. I wrote about the time Bessie snuck into a flat-track race, a rough-and-tumble cycle sport not for the faint of heart. "I hid my hair under my helmet so they wouldn't see I was a girl," she told me conspiratorially. "I won the race, took off my helmet and tossed my hair. But they didn't give me the prize money."
Impressed with her nerve and initiative, in my early stories I proclaimed that Bessie Stringfield was like a one-woman Civil Rights movement. While she was not a Civil Rights marcher, I meant that Bessie, as one woman, had navigated through racial and gender barriers in her own singular way. Bessie was an unusual black woman in her era—in any era—who had chosen a challenging path, dealt with the consequences and lived to tell the tale. But there could be no movement of black women rallying behind her on motorcycles. Most black women, as well as whites, were not positioned in society to let loose, hop on a Harley and ride away from maternal duties and "women's jobs." The Iron Horse Motorcycle Club broke up around 1970 and Bessie was alone again. She divorced the last of her six husbands and never remarried. She'd agreed to keep the surname of her third husband, Stringfield, at his request. I believed this was a deliberate choice on Bessie's part, another way to shed her early past.
© Copyright-registered material.
© Copyright-registered material.
During the first three years of my own road trips—1990 to 1993—often I phoned Bessie from spartan motel rooms in the evenings. I, too, rode tens of thousands of miles alone, with nothing but the drone of the wind and my engine inside my helmet. We traded stories of her experiences as a black Southern woman on a persnickety Harley in a segregated era, and mine as a white, Brooklyn-born woman, zooming along the asphalt slabs of America on a high-tech bike. I rode on paved roads and had my pick of motels and diners. I was alone, but not alone in society as Bessie could be when trying to find access even to life's bare necessities in the South.
Unlike Bessie, I was never denied lodging, gas, or a meal at a diner. Never did I have to ride my mechanically sound bike on a creepy backroad as the only route available to avoid the Klan. Never did I have to swerve around beer cans deliberately tossed in my path by rednecks. And unlike Bessie, I was never stalked by a bigot in a pickup truck who ran me off the road, wrecking my bike and scraping me up. Bessie Stringfield went through all that while retaining her composure. I asked her how she got through such times while retaining her dignity, and how she felt about the people who had tried, yet failed, to take it from her.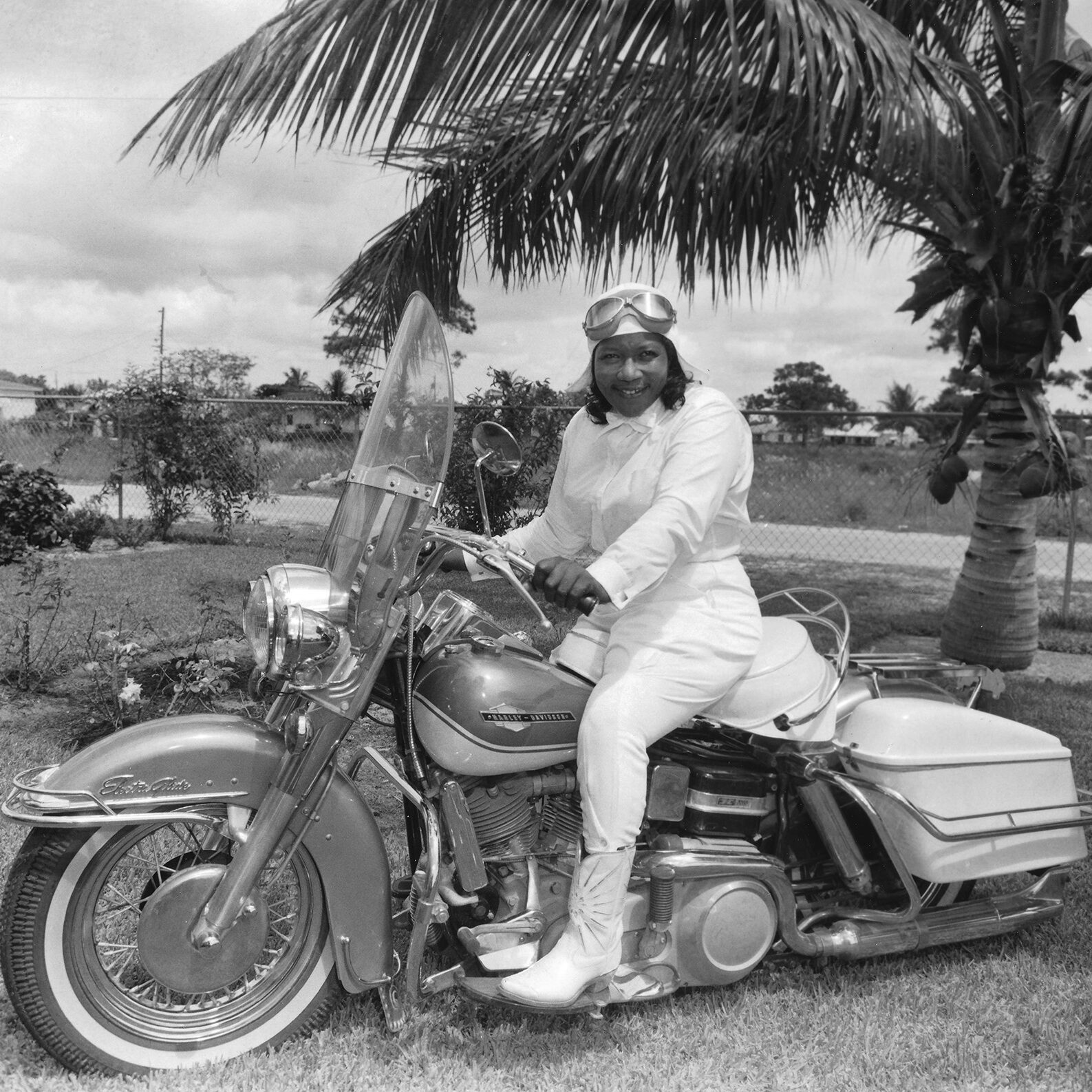 All photos are from the collection of Ann Ferrar and must not be reproduced.
Bessie did not need to ponder the answer. "I knew Jesus Christ and I know Him now," she said. "Those men did not know Jesus Christ. He was always with me. They couldn't see Him, but I felt Him. Oh, I was tested a few times to find the good in some people. In the end, no matter what happens in our lives, it's got to be about love. That is the final conclusion you must always try to attain."
That is why Bessie also experienced an abundance of positive, life-affirming encounters with whites and other ethnic people in her 60 years of riding around America. She met locals who were curious and friendly, and white gas station owners who were both amused and impressed at her nerve, some even filling her tanks for free. She told me, "All along the way, wherever I rode, the people was [sic] overwhelmed to see a Negro woman ridin' a motorcycle."
Still, Bessie always had to look over her shoulder for Jim Crow. "If you had black skin, you couldn't get a place to stay," she said. "I slept with people's children a lot because no one would rent me a motel room." I wrote of how sometimes, Bessie slept on her bike at gas stations, using her rolled-up jacket as a pillow across the handlebars, while resting her feet on the rear fender.
I said, "Aunt B, even with your faith, in a deserted situation like that on this earth, you were so alone. Are you sure when you tell me that you were never afraid?"
Downplaying her courage, she replied, "Nobody killed me, thank God."
From our many candid talks, I knew that Bessie considered all of it—the bad with the good—as part of the journey. The woman didn't waste energy on anger or resentment; besides, she didn't have the time. Still, I was astounded by her vulnerable position on the road alone, and told her so.
"I didn't worry about it," she said. "I knew the Lord would take care of me, and He did."
So, Bessie relied on her faith more than the Green Book, a travel guide for black people described in the 2018 movie of the same name. It was used by some black families to find welcoming places to stay overnight. Today, it has become almost trendy in some circles to talk about the Green Book because of the film. However, it is naive to think that all those places in the guide were safe, or even welcoming, for a woman traveling alone. Neither were they necessarily located along her routes.
Twenty-nine years ago, I was moved when Bessie asked me to write her biography, entrusting me with the privilege and the right to do so. With the wisdom and maturity that comes from facing challenges in my own life, I can expand upon my earlier stories about Bessie from a deeper and more personal perspective, that of two different women—one elder, one younger, one black, one white—who shared an unusual kinship.
Our legacy project was rewarding for both of us as we utilized our respective gifts. Bessie relived her extraordinary life and achievements for an avid listener, and with my writings, I brought Bessie's story to life on the page and online when she was gone. Our friendship and desire to prevent Bessie from slipping through the cracks of history transcended racial, ethnic, regional and generational differences. In our own quiet way, we contributed something to the human experience that grew to become larger than ourselves. 
When I called Bessie from motel rooms during my own road trips between 1990 and 1993, Bessie always said a prayer for me out loud or read me a psalm. Sometimes she sang hymns over the phone, the same ones she sang to herself while riding mid-century. She filled my ears with the likes of Precious Lord, Take My Hand and other gospel songs, in a voice that was thin with age but still full of spirit. Ever conscious of a Higher Power, this was how Bessie asked Him to keep me safe. I don't know if He heard her frail voice. All I know is this: I had some close calls on my motorcycles that could have gone either way. Yet I'm still here to finish Bessie's story that I began so long ago, and with my writing, breathe new life into her legacy.
.
For those who may have missed this message, I must state once again: My book, my earlier stories, and my sound recordings of Bessie are all copyright-protected. These materials are not in the public domain. Derivative, adaptive and other imitative works on Bessie Stringfield by other parties in any media, in any format, non-fiction or fiction, are all prohibited. The life story of Bessie Stringfield belongs to two women: Bessie who lived it, and this author who recorded and wrote it with Bessie's blessing and permission. Please respect my rights and properties and the wishes of my late friend and collaborator Bessie Stringfield. — Ann Ferrar
© Copyright-registered material.