Writing Bessie Stringfield's Life: A Dual Legacy
Here, I continue to shine light on the hidden achievements of Bessie Stringfield. Defying the odds, she found freedom riding her Harleys around mid-20th century America. I recall the day in 1990 that I first met Bessie at a motorcycle museum; it was the start of our friendship and working relationship to record and preserve her unknown life story, and for me to write it. I reflect on Bessie's humanity and her impact on today's generation of women bikers. My coming book, "African American Queen of the Road: The Untold Story of Bessie Stringfield, A Memoir of Race, Resilience and the Road," is delving deeper into the private Bessie Stringfield I knew. The upcoming book, my earlier stories and my sound recordings of Bessie are copyright-protected. Derivative works by other parties are prohibited.
© Copyright-registered material. Detailed copyright notice posted at bottom.
Bessie Stringfield and I first met in the summer of 1990 at a niche motorcycle museum near Columbus, Ohio. At age 79 and with more than 60 years of riding under her belt, Bessie was part of an exhibit on women bikers. She was the only African American woman in the group, an unwitting testament to her singularity.
I was among the Women in the Wind motorcycle club on that August day as we rumbled into the parking lot of the American Motorcycle Heritage Museum. I was 35 and wore a black T-shirt and leather riding chaps over my jeans. My goggles were pulled up over my head with my wind-blown hair askew. I drifted away from the group and strolled the exhibit with a notebook and pen. I was working on Hear Me Roar: Women, Motorcycles and the Rapture of the Road (NY: Crown, 1996, 1st ed). This was my first book of narrative non-fiction, in which I would introduce Bessie to a world of readers.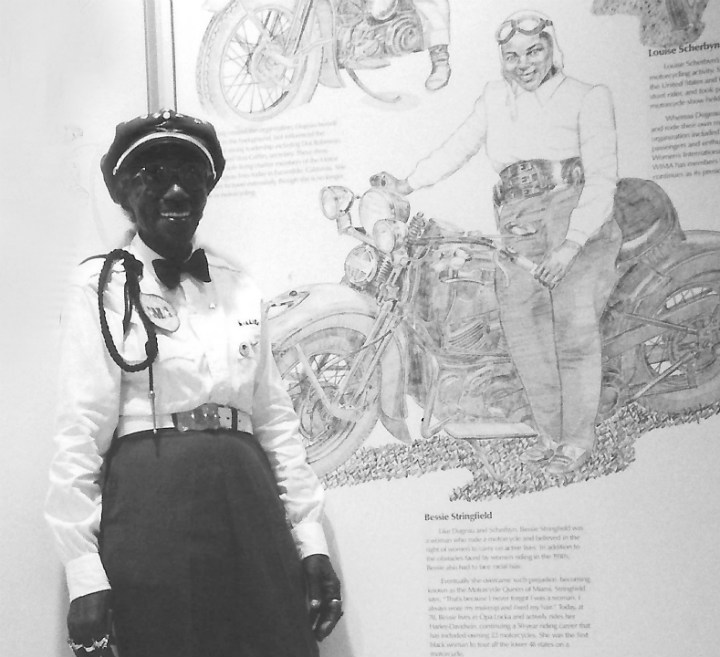 All photos are from the collection of Ann Ferrar and must not be reproduced.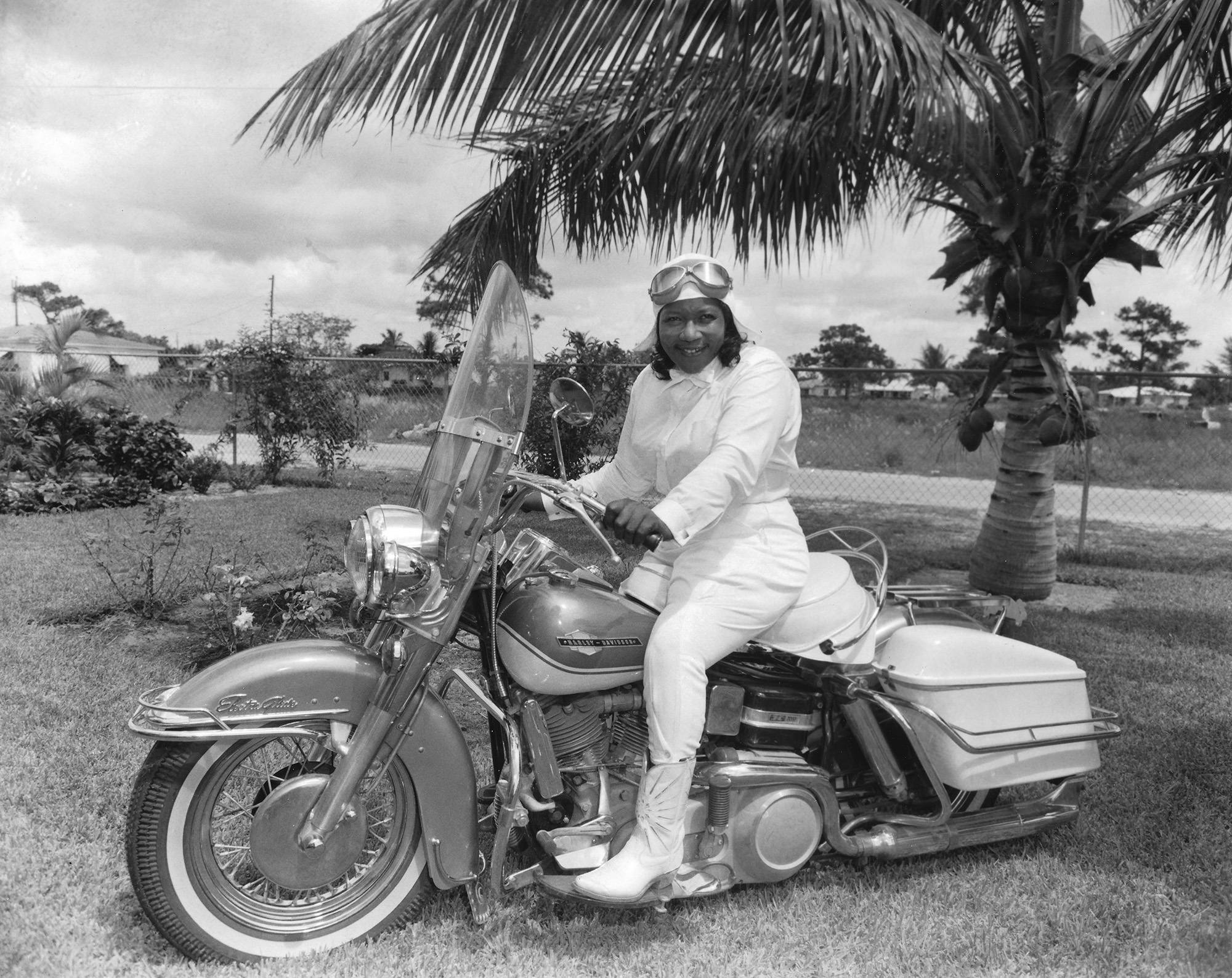 At the museum, I noticed that an elderly African American woman, standing alone, had been watching me. Quite thin and and tiny at less than five feet, she wore a uniform of blue and white, her kinky gray ponytail peeking out from the back of her cap. Behind her on the wall was an artist's drawing of a young, robust black woman leaning on a vintage Harley. The figure in the drawing wore breeches, a wide kidney belt, a cloth helmet with goggles pulled up over her head—and a mischievous look. The elder and I beamed at each other as I came closer. Peering past her thick glasses into her eyes, I saw the same mischievous look. As if reading my mind, she spun around to face the portrait and declared: "Hello, Miss! I'm Bessie Stringfield! That's me on the wall!"
That first encounter was akin to an electrical jolt. In me, Bessie saw a slice of her adventurous youth, but she also intuited the old soul in me. In Bessie, I saw a piece of living history, a model of courage to be respected. This mutual recognition was the start of a conversation between us that lasted for the next three years until she passed away in 1993. With her trust and confidence in me, it was also the first step in my documentation of the life history of Bessie Stringfield. Bessie gave me the gift of her life story, known more tangibly these days as her life rights. I gave her the gift of remembrance with my writings, so that her legacy could be known and carried on. From the seeds of my early stories, word of Bessie Stringfield was spread exponentially on the Internet and social media.
During my friendship with Bessie, and as our legacy project unfolded, I came to feel that Bessie needed a title, even if just between us two. I thought of her as My African American Queen of the Road. One day, when I trotted that out in conversation, Bessie cackled with glee and bemusement. Characteristically, she said, "If you say I am a queen in your mind, I won't take away how you feel. But if I am any kind of queen, it is because Jesus put me there. He is the King. His mother Mary is The Queen. I know those Dominican nuns in Brooklyn taught you that." I had gone to Catholic grammar school as a kid, and since Bessie was a devout Catholic, faith came up a lot in our conversations.
Bessie was a role model in my own life as I made the passage into my prime. As a biker I, too, had sidestepped expectations of my gender. She gave me some candid, plain-spoken advice that I certainly could not have heard from anyone else. She became like my surrogate aunt. Often I called her Aunt Bessie, Aunt B, or My Bessie, and she loved this. Sometimes I took to her nickname, BB, the initials for Bessie Beatrice, her first and middle names. She called me Ann or Miss Ann in the Southern tradition. In biker tradition, she gave me a nickname, too: Opal, for the blue-white stone that changes colors with the light, "just like your moods," she once quipped. Bessie reserved Opal for times when I was not at my best. There came a surprising day when Aunt B sent me a ring with a small opal stone. I still wear it on blue or daunting days. I regard the ring as a way of conjuring Bessie's strength and resilience.
Bessie was well equipped to give advice and feedback that made sense to me. On some levels, my adult life path had followed Bessie's more closely than that of my own mother's, curiously enough. My mother was a creature of Italian tradition: family first and Sunday feasts where the women always served the men and always cleaned up. My mother was no dummy but she didn't "get" what I did as a professional writer, not to mention it scared her to death that her daughter became a biker. Bessie "got it" and we shared a wanderlust and a penchant for being tomboys, although naturally we were quite different in other ways.
© Copyright-registered material.
© Copyright-registered material.
Bessie B. Stringfield was steeped in the South, a product of an earlier generation where she was comfortable calling herself a Negro. Bessie was in her forties, settled in Miami and working when Rosa Parks refused to give up her seat on the bus in 1955. That was the year I was born in Brooklyn, New York—the south end, near Sheepshead Bay and Coney Island. As a young child, I spent summers with my extended Italian American family at a storied place along the boardwalk called Steeplechase Park. My father and uncles bought season's passes to get us all in. I was too young in the 1950s to wonder why there were never any black kids to play with. By the mid-1960s, I understood why as the Civil Rights struggle played out on the living room TV during the 6 o'clock news. I never saw discriminatory signage on the public Coney Island boardwalk, but the private owners of Steeplechase Park shut it down rather than let black families in. I was saddened and sickened by this. Bearing witness to bigotry so close to home was the single incident that effectively ended the innocence of my childhood.
Bessie Beatrice was born in 1911 and raised in North Carolina. Despite what you may have read elsewhere, Bessie's roots were mixed: African American, Native American and white. Flaws in census-taking in the early 20th century and other variables led to both parents being listed as "negroes." Nevertheless, my current crop of African American road queens—strong black women who have given me candid feedback—inform me that calling Bessie black, or African American today, is acceptable and expected in the context of the "one-drop rule" in which Bessie lived. With her dark complexion, and in the colloquial language of her era, Bessie identified as a "negro" or "colored" woman throughout her life.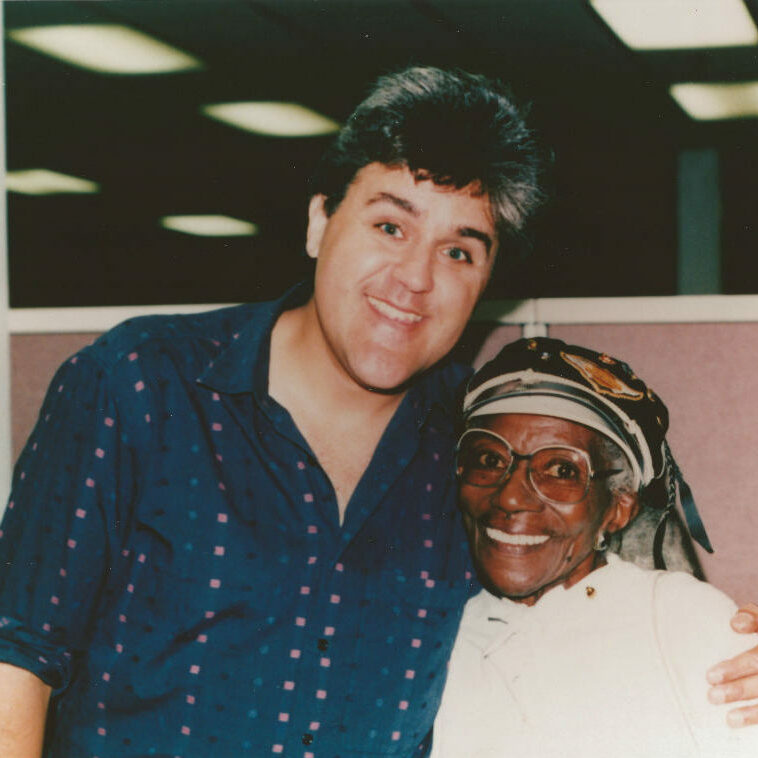 As I grew to know Bessie, I gleaned that she had conflicts in her past and chose to escape from them. Those were the difficult areas for her to talk about and for me to write about. And at her request, I didn't. For most of her adult life, Bessie told everyone she'd been born in Kingston, Jamaica to a white Dutch mother who died and that she was brought to New England by her black father, who abandoned her there to be raised by rich Catholic whites. Hence the adjective Dickensian that came to be used by The New York Times and others today in puzzling over her childhood retrospectively.
Yet Bessie had left her Southern relatives while still a stubborn teenager. "They told me good girls didn't ride a motorcycle," Bessie complained. "I wanted a motorcycle and I got it!" In my stories, I described how the girl wrote letters to the Man Upstairs and put them under her pillow. She insisted to me that He taught her how to operate the gears and ride the bike around the neighborhood. Then Bessie left home. She revealed to me that as a young wife, she had been a mother, briefly. Two premature infants and one tiny girl died, crushing Bessie's spirits and—I believe—her ability to commit to marriage or any semblance of family ties thereafter. Bessie drew lines around herself that could not be crossed by others; thus, the humble beginnings, the lost relatives, and later the six spouses, upon whom she turned her back.
All photos are from the collection of Ann Ferrar and must not be reproduced.
Yet in the last three years of her life, Bessie enjoyed playing Auntie to me, this New York woman with whom she shared no past. Through the long-distance land lines of old Ma Bell, Miami to Manhattan, Bessie doled out equal parts wisdom and levity. In our many telephone talks, she enjoyed hearing about my life in the city, my progress on Hear Me Roar, my adventures and travails on the road. She did not use the word "vicarious," but she said that in a sense, she was reliving her own road adventures through hearing about mine. It brought her satisfaction to shoot the breeze with another woman biker who "got it." There had never been another serious female motorcycle rider, white or black, in her life with whom she could share this type of camaraderie. During Bessie's mid-century prime, there was only one white women's biker club with chapters in different parts of the country. They excluded Bessie because she was black.
© Copyright-registered material.
© Copyright-registered material.
I understood implicitly that in Bessie's mind, the Jamaican-New England connection to her early life was an essential—even humanistic—part of her identity. As Bessie's biographer and friend, I knew it was embedded in the woman as much as it was in the tapes of her oral history that I exclusively recorded. It was part of the elder Bessie Stringfield whom I knew and loved. As such, it was reflected in my earlier written interpretations of her life, which were then spread exponentially by others. Even The New York Times acknowledged that the very same Bessie Stringfield evolved into the magnetic figure whose achievements have inspired many African American and female admirers today. That is why the paper chose to include Bessie among other notable yet forgotten women in their "Overlooked" obituary series last year.
Bessie told me that in the 1950s, she became a licensed practical nurse, or LPN. She was no stranger to regular jobs—but always with a twist. At different times, Bessie Stringfield was a practical nurse, cook, housekeeper and even a nanny of white children. Except unlike other domestics, Bessie Stringfield showed up on a Harley for work. Bessie could be willful—even wily at times—yet she exuded a natural warmth.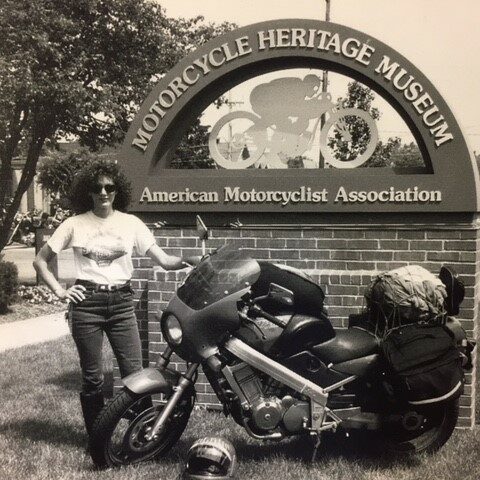 All photos are from the collection of Ann Ferrar and must not be reproduced.
Bessie loved shooting the breeze about her biker past and she had a healthy curiosity about my present. She enjoyed hearing about my nights and weekends hanging out in the city's emergent café biker scene in the early to mid-1990s, where I became a savvy and assertive urban rider. With my big hair blowing from the back of my helmet, I rode my red Honda Hawk GT650 to watering holes like the Sidewalk Café in East Greenwich Village, with its craggy crew of local and international bikers. One guy dubbed me the Literary Biker Chick. I've been called a few things; I wish that one had stuck. Grinning, I did point out to Bessie that in a sense, we were a pair of literary biker chicks, her part in our project being oral, mine being written.
Bessie shared her modest home in Opa Locka, now part of Miami Gardens, with her two little dogs. At this quiet phase of her life, I visited her there. This was a privilege, since Bessie rarely had visitors to her house, which three decades earlier had echoed with the sounds of biker gatherings. She invited me to peruse her personal biker history, which was displayed around the rooms. Atop her TV set was a 1990 photograph of us standing together on the day we met at the museum. It is a rare view of Bessie as an elderly woman. She had been quite the camera vamp in her younger years, but she preferred not to be photographed at home in the thin, frail condition of her old age. She wanted to be remembered as the robust woman she had been in her prime. I understood and respected her wishes.
She gave me instead gorgeous vintage photos of herself with her Harleys. I noted that some of them had police-style windshields and I teased her about this. Bessie had told me earlier that she didn't like windshields because they slowed her down.
Notwithstanding her one Indian Scout, I asked her, "Why only Harleys?"
"I like the sound," was all my elder friend needed to tell me. Devotees of Harley V-twins understand this very well.
Bessie also gave me some personal items and mementos reflecting her Catholic beliefs and some other, surprising pieces of her life. So while the beautiful vintage photographs are treasures that I cherish, in fact the greatest gift I received from Bessie was both intangible and priceless, the gift of her life story. And the rest, quite literally, is history.
Back in New York, I was sad for Bessie when she confided something so poignant to me over the phone in 1991. She said, "I've lived most of my life alone, lookin' for a family. I found my family in motorcycling." But her glory days were in the past and her motorcycle cronies were gone. The Man Upstairs was the only man to whom she had ever made a life-long commitment. I wanted to hug her at that moment, but the conversation was via long-distance. We were 1,200 miles apart, she at her home in Miami, me at my day job in Manhattan.
As a senior, Bessie was still riding Harleys for as long as she was physically able, but for the last decade of her life, she gradually retreated as her social circle dwindled. As her health declined, she was forced to retreat from the road as well. Proudly, she gave me beautiful vintage photos of herself in her prime with her Harleys, a few of which are posted on this site. Toward the end of her life, Bessie thought about what legacy she wanted to leave. That's when I walked into her life with my inherent respect for her elder status and for all she had lived through.
© Copyright-registered material.
© Copyright-registered material.
Two years later, Bessie passed into what she believed would be her greatest glory, to be received by the Man Upstairs. She died in 1993 from chronic heart disease at the age of 82. Against doctor's orders, Bessie had stayed in the saddle for as long as she could, insisting, "If I don't ride, I won't live long." But Bessie was crushed when her last Harley was badly vandalized in a robbery attempt, though by then she was too frail to ride anyway. She told me, "They say my heart is three times the size it's supposed to be." I've always felt this was an apt metaphor for a woman with such heart and spirited determination.
Today, a new generation of female voyagers see Bessie Stringfield as a role model for freedom and an inspiration for their own long-distance journeys. Bessie's individuality and bravery as a woman of color resound in today's wave of heroines past and present. Students write me to ask about Bessie for school projects. Seeing this, I know I fulfilled my promise as the steward of Bessie's legacy in ways that neither of us could have predicted.
From the wide-ranging interest I've received, I know that Bessie's story of determination has struck a chord with a new generation. This same generation is standing up over race and gender issues on a scale not seen since the modern Civil Rights and women's movements (1950s through the 1970s). So in today's social context, it's not surprising that Bessie's story of has raised awareness of, and pride in, race and gender today. Men write to tell me that they, too, are impressed by Bessie; she represents the underdog who made the upset victory. I am heartened to know that Bessie's courage has inspired so many, and that my stories and perspectives on Bessie have such great relevance today. But for all of her sass and boldness depicted in the viral video, I want my readers to know that the much older Bessie was equally brave when facing serious challenges of a different kind. That is a facet of her private life. That is what me cherish her and step up to the plate for her memory.
When I began writing Bessie's life a quarter-century ago, my pen and low-tech notebooks proved mightier than 20 million mouse-clicks. There are no cyber-substitutes for the human connection I made with an elderly woman who did not look, sound or lead her life like a rebel icon of someone else's invention. I knew that the younger Bessie—she of faith, vulnerability, risk and resilience—was still inside my Bessie, the elder woman who became my surrogate aunt, my mentor and creative muse.
And that is why today, all of the many secondary roads on the information highway concerning Bessie lead directly back to my seminal stories. I am the only primary source for the complete spectrum of her life. My stories include Bessie Stringfield: A Tribute to a Life-Long Harley Girl. In essence it was a eulogy, published as an article in 1993 in American Iron, an international magazine for aficionados of American-made motorcycles.
Then I wrote Bessie B. Stringfield: The Color Blue, a biographical profile featured in Hear Me Roar, my 1996 book of narrative non-fiction. I wrote Bessie Stringfield: Inducted 2002 for the website of the American Motorcycle Hall of Fame museum. This story, adapted by me from Hear Me Roar, introduced Bessie to a wide global audience just as Internet use took off in a major way. Longer and shorter versions of this bio have been variously posted on the museum website, where they have been read by thousands ever since. Those who missed the first, most colorful version are out of luck; I abridged the bio last year. Then there was an article for American Motorcyclist magazine. And for many years I rotated stories on my erstwhile Authors Guild website, the former annferrar.com.
It has taken a quarter-century of accumulated wisdom and perspective for this author to decide the best way to do justice to Bessie Stringfield's truth on a deeper level. Given her enduring legacy, the tremendous interest in Bessie around the world, and my personal connection to her, I am doing so in a book that combines two literary forms, biography and memoir. My new book is well underway and copyright-protected, as are my earlier stories and my proprietary sound recordings of Bessie. These materials are not in the public domain. Derivative, adaptive and other imitative works on Bessie Stringfield by other parties in any media, in any format, non-fiction or fiction, are all prohibited. The life story of Bessie Stringfield belongs to two women: Bessie who lived it, and this author who recorded and wrote it with Bessie's blessing and permission. Please respect my copyrights and the wishes of Bessie Stringfield.
Bessie's life and legacy are indelibly linked to her experiences of race, gender, faith, love and her resilience, as well as wanderlust for the road on her Harleys, and her relationships with a diverse array of people. All of my stories and readings on Bessie have conveyed her expansiveness and humanity, and so will my forthcoming book. Bessie's legacy is reflected in something she said to me when describing her reaction to bigotry that was directed at her on the road: "In the end, no matter what happens in our lives, it's got to be about love. That is the final conclusion you must always try to attain."  —Ann Ferrar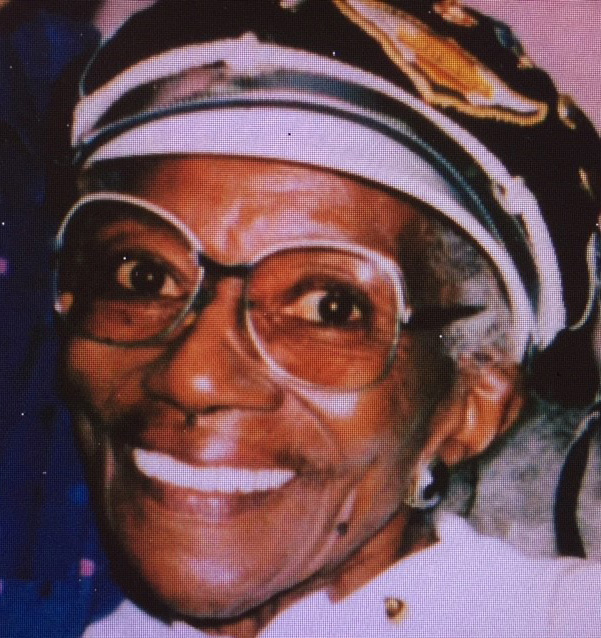 All photos are from the collection of Ann Ferrar and must not be reproduced.
© Copyright-registered material.