All content (text and photos) on this website Copyright © 1990 - 2018, Ann Ferrar. As Bessie Stringfield's authorized biographer and recordist, Ann Ferrar is the author-originator, primary source and sole rights-holder of this material, its previous variations, and the oral history of Bessie Stringfield as told by Ms. Stringfield to Ms. Ferrar and as recorded by the author. Library of Congress Registration Numbers TX0004341049; TX8473178; and 1-635-1434791. The author reserves all rights to her works and properties. This website provides a glimpse into the only authorized book - biography of Miami's black motorcycle queen Bessie Stringfield, who defied racial & gender barriers on her Harleys in the pre-Civil Rights era. This content is based on the author's collected writings, including: her upcoming book My African American Queen of the Road, The Untold Story of Bessie Stringfield and Me (pub date TBA) and her story "Bessie B. Stringfield: The Color Blue" from her book Hear Me Roar: Women, Motorcycles and the Rapture of the Road (NY: Crown, 1996). The author's excerpts from "Hear Me Roar/Color Blue" were published and read globally on the American Motorcycle Hall of Fame Museum website, on AnnFerrar.com and in periodicals (1993-present). The author's print books, articles, web biographies and oral readings on Ms. Stringfield are the author's intellectual property and are not in the public domain. Ann Ferrar's stories, story elements and storylines, ideas, perspectives, conclusions and other essential content (read here and elsewhere) must not be pirated, imitated, adapted to other media, duplicated, scanned, stored, or otherwise plagiarized in any media by other parties. Thank you for respecting the rights of the author-originator and the wishes of Bessie Stringfield.
Bessie Stringfield—Aunt Bessie to me—
was known as the Motorcycle Queen of Miami to her fans in South Florida back in the 1950s and '60s. Arguably, to the Miami PD, Bessie with her antics was a bit of a nuisance. And vice versa. She got pulled over so many times on her Harley, that finally she complained to the precinct captain. He doubted that any woman, especially a "Negro," should be riding a Hog around town. He tested Bessie's riding skills in a parking lot, she bowled him over with her prowess, and the harassment stopped.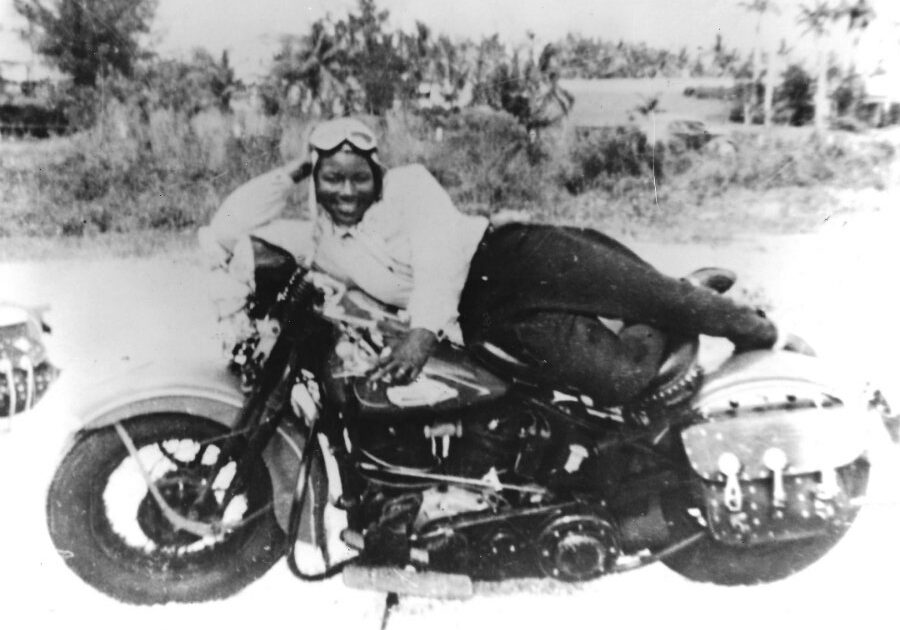 Bessie was daring and had done a lot outside the norm for women of color—indeed, for all women—before she died in 1993. I discovered that she'd done it mostly from a space usually reserved for men: the saddles of the 27 Harley-Davidson motorcycles she had owned in her lifetime. Bessie lived to be 82 and told me all about her escapades during our friendship in the last three years of her life.
We met in 1990 when Bessie was 79 years old. I was 35 and a novice rider in my native New York City. It's hard to believe looking back, but America's biker subculture was still mainly a man's world. I had a lot to learn from Bessie and I hung on every word spoken to me by this amazing woman. She became my surrogate aunt.
Bessie Stringfield had an aura even in her twilight years. She was the first woman of color known to ride motorcycles around the United States—eight times, she declared—during the pre-Civil Rights decades of the 1930s and 1940s, when racial prejudice was a threat to her safety. Bessie's favorite method of planning her routes—NOT!—was to toss a penny over a map and ride to wherever it landed. This style of travel was called gypsy touring. She told me how she dodged more than a few hard-balls that Jim Crow and even the Klan itself flung at her along the way. The mechanical issues of the older bikes and the rutted, muddy roads didn't deter this woman either.
Listening to Bessie, I gleaned that she had been a maverick even during the World War II years. She told me how she rode her own Harley for the army as a civilian dispatch rider on the home-front. Bessie said she was the only woman in a unit of six black men. At just five feet tall, Bessie described training rigorously to navigate her motorcycle on almost any terrain. Small wonder that the "little woman" bowled over that police captain.
"The roads must have been hell," I said, picturing the mud and ruts of the continent's unpaved roads before the interstates were built. "How many unplanned dismounts did you have?"
Bessie chuckled. "Well I had a few, but mostly the Lord held me up." Then she proceeded to outline some of her techniques. I learned from her how I—a 105-pound woman at the time—could summon my inner superwoman to lift a fallen motorcycle five times my own weight. (Lower-body strength, women, lower-body strength.)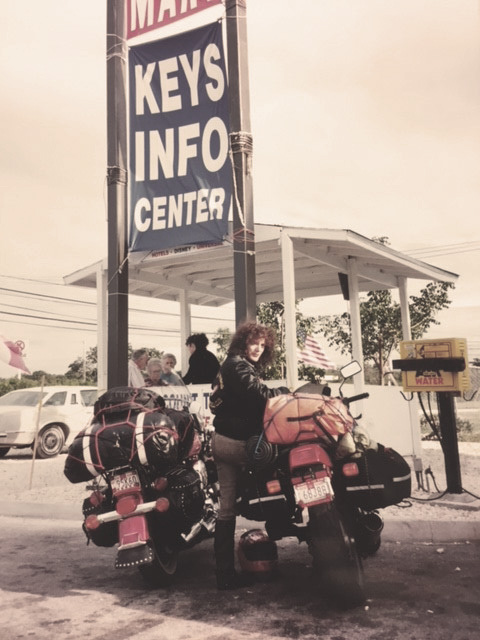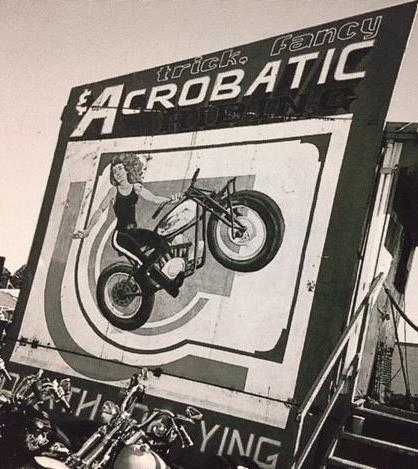 One of the earliest stories I wrote about Bessie recounted her thrill at riding her Indian Scout around the walls of an old wooden motordrome. Called the Wall of Death at carnivals, a motordrome is a huge wooden barrel. The biker rides up the wall and uses speed, momentum and centrifugal force to keep from crashing to the bottom. With Bessie's "I can do anything" attitude, I could easily picture her doing it.
"Amazing," I said. "How did you learn to ride the wall?"
"The Man Upstairs taught me," said Bessie, "and the motorcycle knows what to do. You have to trust it."
"Yeah, that," I responded. "But you believed in yourself and your skills."
"If you say so," she said simply.
After the war on her Harley, Bessie told me she did trick riding on terra firma at motorcycle shows. She described to me how she stood in the saddle and performed other fancy moves on the rolling bike. In the soulful '60s, Bessie was literally the leader of the pack—presiding over a group of mostly black men in her own motorcycle club that she founded in Miami.
My Aunt Bessie Stringfield was surely unconventional—iconoclastic, in my view. I wondered, Why wasn't this queen in black or women's history books? I saw the importance of recording her oral history while there was still time. With her blessing and encouragement, I became the only author to exclusively record the voice and the stories of Bessie Stringfield as told by Bessie herself.
With Bessie's trust and reliance on my skills and experience as a storyteller of women's lives, I became her authorized biographer at her request. Further, with our bond of friendship—elder to younger, woman to woman, road-junkie mentor to road-junkie protégé—I became the steward of the nearly lost legacy of Bessie Stringfield. She and I formed a bond that transcended our racial, regional, ethnic and generational differences. It was a rare and beautiful thing.
I listened while this incredible woman looked back for me on the spectrum of her life. My book will reveal hidden information about Bessie from parts of her oral history and from our many other conversations, preserved in my diaries, that I have never released before. The narrative looks back on Bessie's life in the context of our unusual friendship. The book is called African American Queen of the Road—The Untold Story of Bessie Stringfield, A Memoir of Race, Friendship, Resilience and the Road.
As you know by now, I've written about Bessie before. But this time it's different. Since Bessie's passing, it's taken a quarter-century of accumulated wisdom to gain my deeper insights. Race, friendship, resilience and the road—and even our Catholic faith, too—were the pillars that surrounded Bessie Stringfield and me within our friendship and beyond it. Neither one of us had the structure or support of a nuclear family. We were essentially misfits who took community where we could find it at different times. Even after all these years, whenever I face a challenge—and I've faced many—I still ask myself, What would Bessie have told me to do? I've been in far too many situations where I could never have asked that question or received a real-world answer from my own conventional mother. For the short time that I had her, Aunt B filled that void.
Photos are from the collection of Ann Ferrar. May not be used without permission.
Bessie's wartime road trips — especially with her being a black woman in the segregated army—were intriguing to me. As a baby boomer, I have always been keen on the Greatest Generation. My dad was a World War II veteran and my mom was a stenographer for a defense contractor in the 1940s.
I asked, "Aunt Bessie, how did you end up riding your motorcycle during the war? Why didn't you work in a Rosie the Riveter job?"
A seasoned raconteur, Bessie replied, "Well, they [the army] heard about me. They said I had plenty of nerve and they could use me."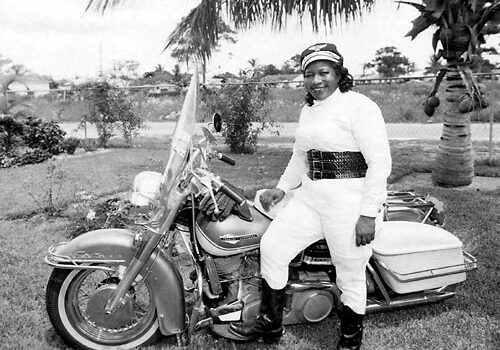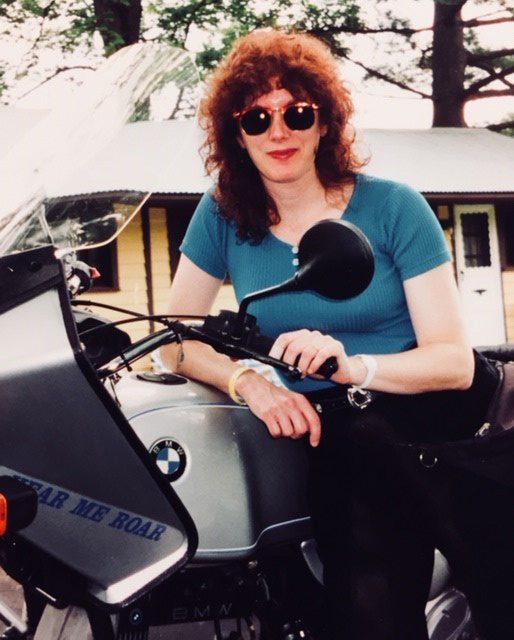 "They used you for what?" I wanted to know. "What kind of papers did you carry in your saddlebags?"
Coyly: "Whatever I was takin' that's a military secret."
Riddles were part of Bessie's modus operandi. She let out a hint of glee whenever she left me to decode her secrets.
In the early 1950s, Bessie bought a house in Opa Locka, a neighborhood in northern Miami. She cruised the streets standing in the saddle of her Harleys and did her trick riding shows at biker events. Locals dubbed her variously as the Negro Motorcycle Queen, the Motorcycle Lady and the Motorcycle Queen of Miami. This woman lived and breathed to ride. Bessie told me the details behind the time she snuck into a flat-track race, a rough-and-tumble cycle sport not for the faint of heart. "I hid my hair under my helmet so they wouldn't see I was a girl," she told me conspiratorially on tape. "I won the race, took off my helmet and tossed my hair. But they didn't give me the prize money."
In awe of her moxie and initiative, in my early writings I said Bessie was like a one-woman Civil Rights movement. While she was not a Civil Rights marcher, I concluded that Bessie Stringfield overcame both racial and gender barriers in her own singular way.
In the 1960s, Bessie led the men of her Iron Horse Motorcycle Club, even using her home as the clubhouse. Yet when the group disbanded, Bessie was alone again, as she divorced the last of her six husbands, too. She'd agreed to keep the surname of her third husband, Stringfield, at his request, since she had "made it famous."
Photos are from the collection of Ann Ferrar. May not be used without permission.
During the first three years of my own motorcycle road trips—1990 to 1993—often I phoned Bessie from spartan motel rooms. I, too, rode tens of thousands of miles alone, with nothing but the drone of the wind and my engine inside my helmet. We traded stories of her experiences as a black Southern woman on a persnickety Harley in a segregated era, and mine as a white, Brooklyn-born woman, zooming along on a high-tech bike. I rode on paved roads and had my pick of motels and diners. I was alone, but not alone against the world as Bessie had been.
Unlike Bessie, I was never denied lodging, gas, or a meal at a diner. Never did I have to ride my mechanically sound bike on a creepy backroad as the only route available to avoid the Klan. Never did I have to swerve around beer cans deliberately tossed in my path. And unlike Bessie, I was never stalked by a bigot in a pickup truck who ran me off the road, wrecking my bike and scraping me up. Bessie Stringfield went through all that and more.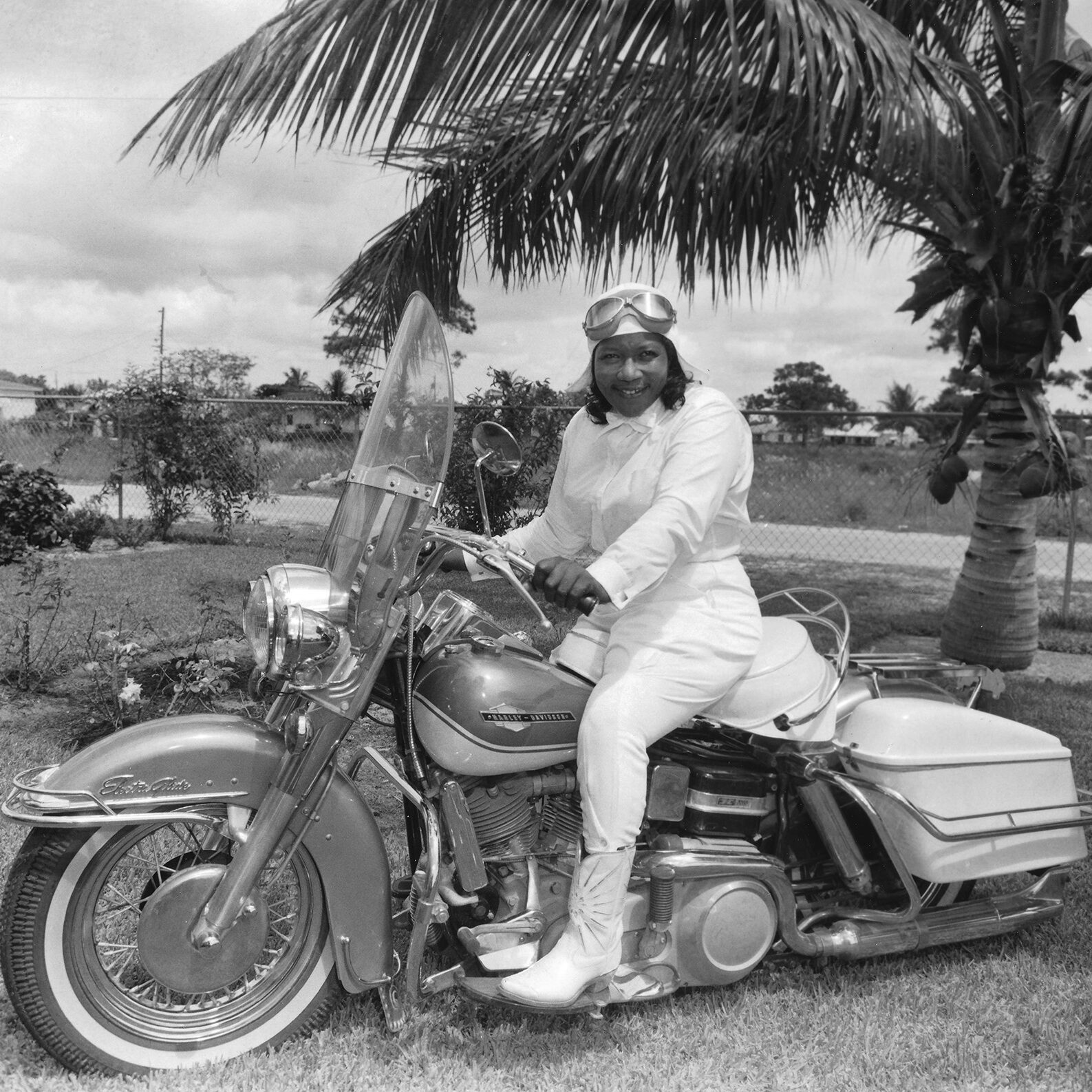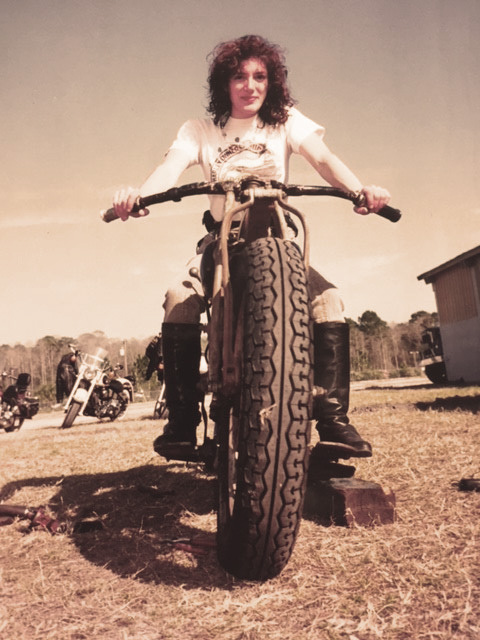 Yet Bessie also had many happy, life-affirming encounters with whites and other ethnic people. She met curious locals and amused white gas station owners, some of whom filled her tanks for free. She told me, "All along the way, wherever I rode, the people was [sic] overwhelmed to see a Negro woman ridin' a motorcycle."
Still, Bessie always had to look over her shoulder for Jim Crow. "If you had black skin, you couldn't get a place to stay," she said. "I slept with people's children a lot because no one would rent me a motel room." Bessie described to me how sometimes, she slept on her bike at gas stations, using her rolled-up jacket as a pillow across the handlebars, while resting her feet on the rear fender.
"Aunt B, you were so alone," I said. "You weren't afraid?"
Downplaying her courage, she replied, "Nobody killed me, thank God."
From our many intimate, frank conversations, I knew that Bessie considered all of it—the good with the bad—as part of the journey. The woman didn't waste energy on anger or resentment; besides, she didn't have the time. Still, I was astounded by her vulnerability and told her so.
"I didn't worry about it," she said. "I knew the Lord would take care of me, and He did."
When I called her from the road, Bessie sang hymns to me over the phone, the same ones she sang aloud to herself while riding mid-century. She filled my ears with the likes of Precious Lord, Take My Hand and other gospel songs. Ever conscious of a Higher Power, this was how Bessie asked Him to keep me safe, too. I don't know if He heard her frail voice. All I know is this: I had some close calls on my bikes that could have gone either way, and I'm still here.
Like "African American Queen of the Road" on Social Media
Photos are from the collection of Ann Ferrar. May not be used without permission.