All content (text and photos) on this website Copyright © 1990 - 2018, Ann Ferrar. As Bessie Stringfield's authorized biographer and recordist, Ann Ferrar is the author-originator, primary source and sole rights-holder of this material, its previous variations, and the oral history of Bessie Stringfield as told by Ms. Stringfield to Ms. Ferrar and as recorded by the author. Library of Congress Registration Numbers TX0004341049; TX8473178; and 1-635-1434791. The author reserves all rights to her works and properties. This website provides a glimpse into the only authorized book - biography of Miami's black motorcycle queen Bessie Stringfield, who defied racial & gender barriers on her Harleys in the pre-Civil Rights era. This content is based on the author's collected writings, including: her upcoming book My African American Queen of the Road, The Untold Story of Bessie Stringfield and Me (pub date TBA) and her story "Bessie B. Stringfield: The Color Blue" from her book Hear Me Roar: Women, Motorcycles and the Rapture of the Road (NY: Crown, 1996). The author's excerpts from "Hear Me Roar/Color Blue" were published and read globally on the American Motorcycle Hall of Fame Museum website, on AnnFerrar.com and in periodicals (1993-present). The author's print books, articles, web biographies and oral readings on Ms. Stringfield are the author's intellectual property and are not in the public domain. Ann Ferrar's stories, story elements and storylines, ideas, perspectives, conclusions and other essential content (read here and elsewhere) must not be pirated, imitated, adapted to other media, duplicated, scanned, stored, or otherwise plagiarized in any media by other parties. Thank you for respecting the rights of the author-originator and the wishes of Bessie Stringfield.
On the road and in life, Bessie Stringfield coped with racial as well as gender prejudice, while I dealt with only the latter. I was single and viewed through judgmental lenses about the "type" of women who ride motorcycles. I swam in a fishbowl, caught between the vogue 1990s motorcycle fashion fad, tired stereotypes about the presumed sexuality of female bikers, and my feminist beliefs amidst the so-called "backlash" against women who achieved too much.
Issues of personal safety have always dictated where a woman can go alone. One night on a midwestern interstate, I called Bessie from a truck stop. I'd been hypnotized by the white lines on the highway and needed sleep. "Aunt Bessie, I'm exhausted," I moaned. "I'm riding and shutting one eye at a time." Some bikers have a great name for this, the long blink. "I can't go on," I continued, "but there's nowhere except this truck stop. They have a dirty room for ten bucks. Do you think it's safe for me to stay over?"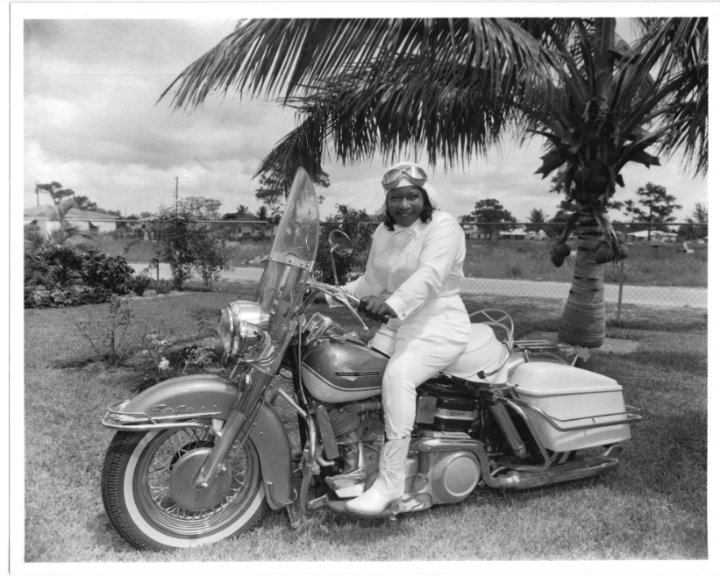 "NO!" she exclaimed. "It is never safe for a woman in a place like that, Ann! Find yourself some woods, push your bike in there, and stay put until morning."
But I was no Bessie Stringfield. I thought, Could be bodies buried in them thar woods. I stayed at the truck stop in the flea-bag room. I shoved a dresser and my saddlebags against the door and put my pepper-spray on the nightstand. Bone-tired, I slept fully clothed even down to my boots.
Photos are from the collection of Ann Ferrar. May not be used without permission.
Bessie and I first met in the summer of 1990 at a niche motorcycle museum near Columbus, Ohio. At age 79 and with 60 years of riding under her belt, Bessie was part of an exhibit on women bikers.
I was among the Women in the Wind motorcycle club, Toledo Chapter, on that August day as we rumbled into the parking lot of the Motorcycle Heritage Museum. I wore a black T-shirt and leather riding chaps over my jeans. My goggles were pulled up over my head with my wind-blown hair askew. I drifted away from the group and strolled the exhibit with a notebook and pen. I was working on Hear Me Roar: Women, Motorcycles and the Rapture of the Road (NY: Crown, 1996). This was my first book of narrative non-fiction, in which I would introduce Bessie to a world of readers.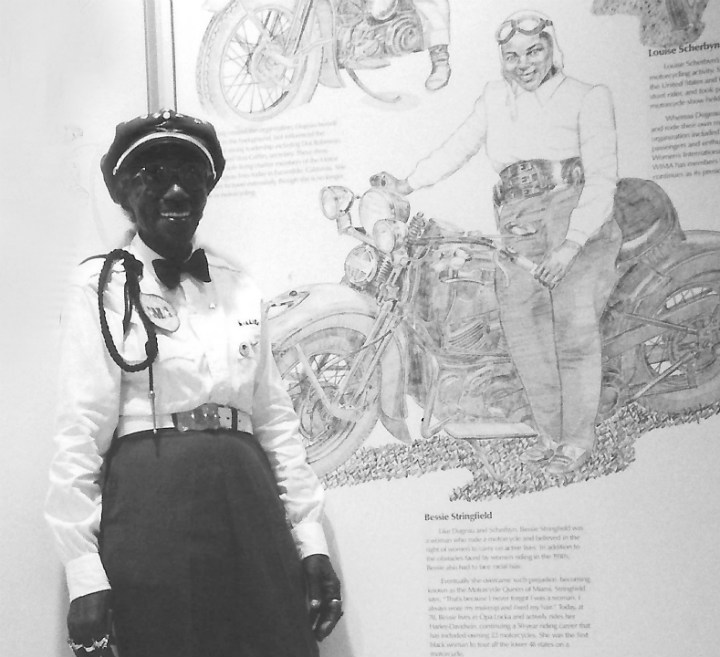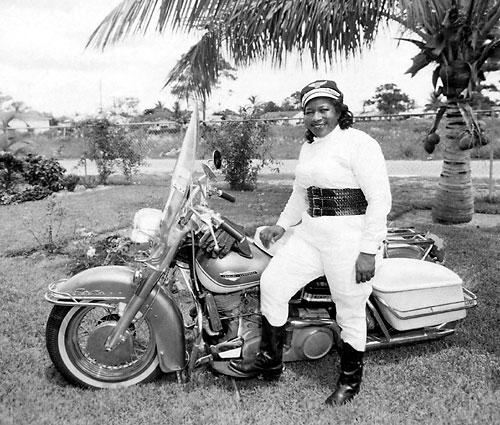 At the museum, I noticed that an elderly African American woman, standing alone, had been watching me. Thin as a wisp and tiny at less than five feet, she wore a uniform of blue and white, her kinky gray ponytail peeking out from the back of her cap. Behind her on the wall was an artist's drawing of a young, robust black woman leaning on a vintage Harley. The figure wore breeches, a wide kidney belt, a cloth helmet with goggles pulled up over her head—and a mischievous look.
The elder and I beamed at each other as I came closer. Peering past her thick glasses into her eyes, I saw the same mischievous look. As if reading my mind, she declared:
"Hello, Miss! I'm Bessie Stringfield! That's me on the wall!"
That first encounter was akin to an electrical jolt. In me, Bessie saw a slice of her adventurous youth, but she also intuited the old soul in me. In Bessie, I saw a piece of living history, a model of quiet courage to be respected, and an elder to be cherished. This mutual recognition was the start of a friendship and a conversation between us that lasted for the next three years until she passed away in 1993.
As mentioned earlier, Bessie and I formed a bond that transcended our racial, regional, ethnic and generational differences. It was a rare and beautiful friendship. With her trust and confidence in me, it was also the first step in my documentation, preservation and writing about the largely hidden history of Bessie Stringfield.
At the same time, Bessie was a role model in my own life. As a biker I, too, had sidestepped expectations of my gender. With her candid advice, Bessie helped me navigate the passage into my prime. With my long-form biographical memoir of Bessie, I will shine new light on this unconventional woman who influenced me and who has captured the imagination of a new generation today.
Photos are from the collection of Ann Ferrar. May not be used without permission.
Bessie Stringfield became my mentor in womanhood and in the man's world of motorcycling, filling a role that my conventional mother never could. As Bessie's protégé, friend and biographer, I held a special place in Bessie's later life, too. She had me promise to keep her legacy alive in my writings—to tell her truth and to hold off on certain things until well after her passing.
I kept my promise as a labor of love. With the exclusive oral history tapes and my personal perspectives as a springboard, I wrote several feature articles on the life of Bessie Stringfield, published between 1990 and 2003 in magazines, on the web, and in Hear Me Roar. In so doing, I introduced Bessie and her achievements to a world of readers far beyond Miami, in print and on the Internet even before the age of social media.
During the years of my friendship with Bessie, I lived in Tribeca in Lower Manhattan and had a day job as a writer for a national non-profit. I worked many nights, partial weekends and "vacation" days on Hear Me Roar. On Sundays, I donned my leathers and rode my motorcycle to points near and far, either alone or as the solo woman rider among a group of male bikers.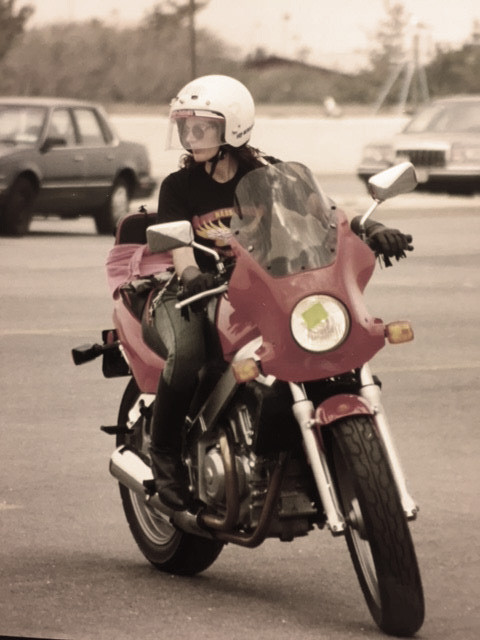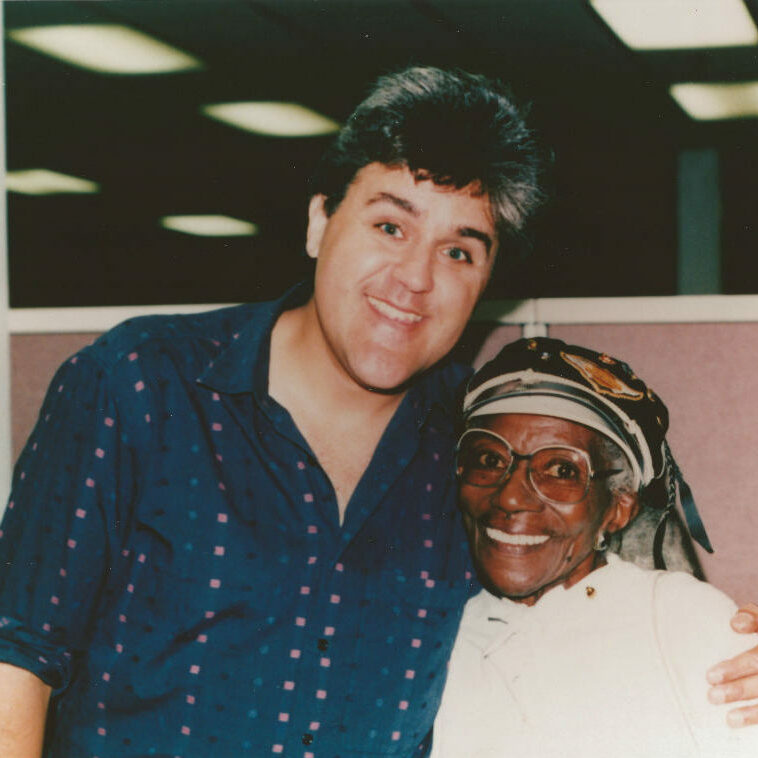 Bessie was as curious about my eccentric, creative, driven life as I was about her eccentric, adventurous, iconoclastic life. We shared a wanderlust and a penchant for being tomboys, but naturally, we were so different in other ways.
Bessie was steeped in the South, a product of an earlier generation where she was comfortable calling herself a Negro. Bessie was in her forties, settled in Miami and working when Rosa Parks refused to give up her seat on the bus in 1955. That was the year I was born—in Brooklyn, New York from a long line of Southern Italian stock. I was in college during the women's movement and student protests against the Vietnam War in the early to mid-1970s. What two women could be more motley than Bessie Stringfield and me?
Bessie B. Stringfield, born in 1911, was raised in North Carolina. Her roots were African American with strains of white and Native American. Bessie had conflicts in her past and chose to escape from them, both physically and mentally, and leave them behind. For most of her adult life, she told everyone she'd been born in Kingston, Jamaica to a white Dutch mother who died and that she was brought to New England by her father, who abandoned her there to be raised by rich Catholic whites.
Yet Bessie had left her Southern relatives while still a stubborn teenager. "They told me good girls didn't ride a motorcycle," Bessie complained. "I wanted a motorcycle and I got it!" Then she left home. As a young wife, Bessie had been a mother, briefly. Two infants and one tiny girl died, crushing Bessie's spirits and—I believe—her ability to commit to marriage and any semblance of family ties. Bessie drew lines around herself that could not be crossed by others; hence the humble beginnings, relatives, reminders, and later, the spouses, upon whom she turned her back.
During the 1940s when Bessie was a motorcycle courier, she did pause in the mid-Atlantic states to visit selected relations, from whose lives she later vanished. Yet the youngsters never forgot the vision of the worldly, mysterious aunt who took them for scary joyrides on her Harley.
Photos are from the collection of Ann Ferrar. May not be used without permission.
I understood implicitly that the Jamaican-New England connection to Bessie's early life was an essential—even humanistic—part of her identity, embedded in the woman as much as it was in the tapes of her oral history. It was part of the elder Bessie Stringfield whom I knew and loved, and as such, it was reflected in my earlier interpretations of her life. That same woman evolved into the magnetic, singular figure who made a tremendous impact on me and countless others. Bessie could be willful—even wily at times—yet she charmed almost everyone who met her.
In the 1950s, Bessie became a licensed practical nurse, or LPN. She was no stranger to regular jobs—but always with a twist. At different times, Bessie Stringfield was the nurse, cook, housekeeper and even the nanny of white children who showed up on her Harley.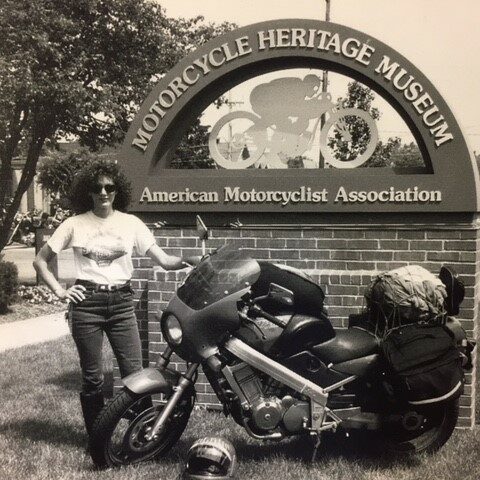 Bessie loved shooting the breeze about her biker past and my present. I hung out in the city's emergent biker scene in the early to mid-1990s, where I became a savvy and assertive urban rider. With my big hair blowing from the back of my helmet in the wind, I rode my red café racer—a Honda Hawk GT650 that I named "Lady Hawk"—to watering holes like the Sidewalk Café in East Greenwich Village, with its craggy crew of local and international bikers. One guy dubbed me the "Literary Biker Chick." I've been called a few things; I wish that one had stuck.
I visited Bessie a couple of times at her modest house in Opa Locka, which she shared with her two little dogs. Bessie invited me to peruse her personal biker history and gave me gorgeous vintage photos of herself with her bikes, along with some personal items and mementos reflecting hidden pieces of her life and spiritual beliefs. Most importantly, she gave me the gift of her life story. And in keeping with biker tradition, she even gave me a nickname: Opal, for the imperfect, blue-white fire opal that changes colors with the light ("just like your moods," she once said). When we weren't together, Bessie heard about my adventures and travails through the long-distance land lines of old Ma Bell, Manhattan to Miami. Bessie loved playing Auntie, doling out equal parts wisdom and levity.
I was sad for Bessie as I recalled something so poignant that she told me over the phone in 1991: "I've lived most of my life alone, lookin' for a family. I found my family in motorcycling." I wanted to hug her so badly but we were 1,200 miles apart, she at her home in Miami, me at my day job in New York.
Bessie died two years later of a chronic heart condition at the age of 82. Against doctor's orders, Bessie had stayed in the saddle for as long as she could. She was crushed when her last Harley was badly vandalized in a robbery attempt, but she was too frail to ride anyway. She told me, "They say my heart is three times the size it's supposed to be." I've always felt this was an apt metaphor for a woman with such heart and spirited determination.
Photos are from the collection of Ann Ferrar. May not be used without permission.
When Bessie was inducted posthumously to the American Motorcycle Hall of Fame in 2002, I returned to her oral history that I'd recorded, excerpted part of Hear Me Roar and wrote her biography for the museum website. Countless people were inspired by Bessie's story as I had written it, especially the longer version of the bio that was posted for 16 years. From my written work on that venue, word spread exponentially in cyberspace.
Today, a new generation of female voyagers see Bessie as a role model for freedom and an inspiration for their own journeys. Seeing this, I know I fulfilled my role as her biographer and as her friend in her final years. A quarter-century after her passing, Bessie Stringfield became an Internet sensation, without my even knowing it at first. She went viral on social media when a short video, based partly on Hear Me Roar, was posted on Facebook and attracted millions of views. Now, Bessie's name is appearing in anthologies of deserving but little-known heroines, and educators are starting to introduce Bessie to children.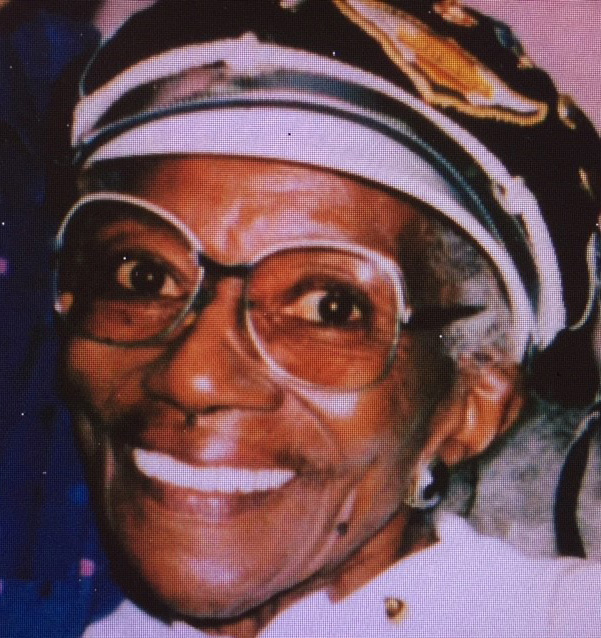 During our unusual friendship, Bessie and I revealed ourselves to be headstrong, resilient, complicated women. Each of us defied gender expectations in our different milieus. We were stubborn and imperfect, reveling in our independence even as we dealt with the price of it. With the variables of race and social circumstance, this self-knowledge determined the respective destinies of the Motorcycle Queen of Miami and her younger friend, the Literary Biker Chick of Manhattan.
In African American Queen of the Road—The Untold Story of Bessie Stringfield, A Memoir of Race, Friendship, Resilience and the Road, I am drawing upon the exclusive oral history tapes of Bessie Stringfield that I recorded, plus our countless conversations, my diaries, and times I spent and spoke with Bessie's contemporaries.
My perspectives and conclusions on Bessie's life and her choices reflect her voice in the forefront and mine in the background. My interpretation of Bessie's story stems from my personal experience of the singular Bessie Stringfield; thus, it is a unique story that no one else can tell. Think of Bessie and me as a pair of dolphins swimming together and let no pirates tear us asunder.
I hope you have enjoyed your visit with Bessie and me and will click on the Facebook button to like us on social media. (BTW, the Facebook page for the book is simply called "Bessie Stringfield Biography.")
Speaking of social media, check out the updated video from Timeline Media that went viral. This updated version has new information that wasn't in the original, so it's different. For a short, spirited and inspiring view of the new video, scroll down a bit and click on the photo of Bessie. —Ann Ferrar
Watch Timeline's "Meet Bessie Stringfield, the Black Motorcycle Queen of Florida," now showing on Facebook
Like "African American Queen of the Road" on Social Media
Photos are from the collection of Ann Ferrar. May not be used without permission.